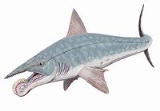 Eugeneodontida
Eugeneodontida
is an extinct and poorly known order of bizarre
shark
Shark
Sharks are a type of fish with a full cartilaginous skeleton and a highly streamlined body. The earliest known sharks date from more than 420 million years ago....
s. They possessed a unique "tooth-whorl" on the
symphysis
Symphysis
A symphysis is a fibrocartilaginous fusion between two bones. It is a type of cartilaginous joint, specifically a secondary cartilaginous joint.1.A symphysis is an amphiarthrosis, a slightly movable joint.2.A growing together of parts or structures...
of the lower jaw as well as pectoral fins supported by long radials. The
palatoquadrate
Palatoquadrate
In some fishes, the palatoquadrate is the dorsal component of the mandibular arch, the ventral one being Meckel's cartilage....
was either fused to the skull or reduced. It is possible that they may belong to
Holocephali
Holocephali
The subclass Holocephali is a taxon of cartilaginous fish, of which the order Chimaeriformes is the only surviving group.Holocephali has an extensive fossil record that starts during the Devonian period. However, most fossils are teeth, and the body forms of numerous species are not known, or, at...
.
Taxonomy
Superfamily Caseodontoidea

Genus Campodus

Campodus

Campodus is an extinct genus of eugeneodontid from the Carboniferous....



Genus Chiastodus
Family Caseodontidae
Family Eugeneodontidae

Genus Bobbodus
Genus Eugeneodus
Genus Gilliodus

Superfamily Edestoidea

Family Agassizodontidae

Agassizodontidae

The Agassizodontidae are an extinct and poorly known family of bizarre sharks. They possessed a unique "tooth-whorl" on the symphysis of the lower jaw as well as pectoral fins supported by long radials.-External links:* at paleos.com** at Denovian Times...




Genus Agassizodus
Genus Arpagodus
Genus Campyloprion
Genus Helicoprion

Helicoprion

Helicoprion was a long-lived genus of shark-like cartilaginous fish that first arose in the oceans of the late Carboniferous , survived the Permian-Triassic Extinction Event, and eventually went extinct during the early Triassic some ....



Genus Parahelicoprion

Parahelicoprion

Parahelicoprion is an extinct genus of eugeneodontid, shark-like cartilaginous fish....



Genus Sarcoprion

Sarcoprion

Sarcoprion is an extinct genus of cartilaginous fish from the Permian of Greenland....



Genus Toxoprion

Family Edestidae

Edestidae

Edestidae is an extinct and poorly known family of sharks. They possessed a unique "tooth-whorl" on the symphysis of the lower jaw as well as pectoral fins supported by long radials. The palatoquadrate was either fused to the skull or reduced. It is possible that they may belong to...




Genus Edestus

Edestus

Edestus is a genus of shark that lived throughout the world's oceans during the late Carboniferous. All of the species are known only from their teeth...



Genus Helicampodus
Genus Listracanthus
Genus Lestrodus
Genus Metaxyacanthus
Genus Parahelicampodus
Genus Physonemus
Genus Prospiraxis
Genus Syntomodus
External links