 Estakhri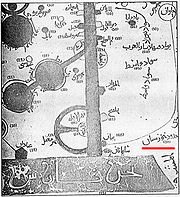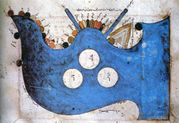 Abu Ishaq Ibrahim ibn Muhammad al-Farisi al Istakhri
(aka
Estakhri
, Persian: استخری, i.e. from the city of Estakhr, b. - d. 957 AD [346AH]) was a medieval Persian geographer in the 10th century.
Career
It was Estakhri who created the earliest known account of
windmill
Windmill
A windmill is a machine which converts the energy of wind into rotational energy by means of vanes called sails or blades. Originally windmills were developed for milling grain for food production. In the course of history the windmill was adapted to many other industrial uses. An important...
s. His Arabic language works included
Al-masaalik al-mamaalik
(المسالك الممالك, "Traditions of Countries") and
Suwar al-Aqaaleem
( صور الاقاليم, "Shapes of the Climes").
See also
"Estakhri" in the Great Encyclopedia of Islam: http://www.cgie.org.ir/shavad.asp?id=123&avaid=3609 (in Persian)
List of Iranian scientists
Encyclopaedia of Islam

Encyclopaedia of Islam

The Encyclopaedia of Islam is an encyclopaedia of the academic discipline of Islamic studies. It embraces articles on distinguished Muslims of every age and land, on tribes and dynasties, on the crafts and sciences, on political and religious institutions, on the geography, ethnography, flora and...


, Artikel al-Masalik wa`l-Mamalik