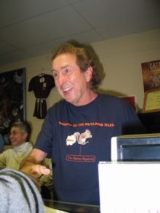 Eric Idle
Eric Idle is an English comedian, actor, author, singer, writer, and comedic composer. He was as a member of the British comedy group
Monty Python
Monty Python
Monty Python was a British surreal comedy group who created their influential Monty Python's Flying Circus, a British television comedy sketch show that first aired on the BBC on 5 October 1969. Forty-five episodes were made over four series...
, a member of the
The Rutles
The Rutles
The Rutles are a band that are known for their visual and aural pastiches and parodies of The Beatles. Originally created by Eric Idle and Neil Innes as a fictional band to be featured as part of various 1970s television programming, the group recorded, toured, and released two UK chart hits in...
on
Saturday Night Live
Saturday Night Live
Saturday Night Live is a live American late-night television sketch comedy and variety show developed by Lorne Michaels and Dick Ebersol. The show premiered on NBC on October 11, 1975, under the original title of NBC's Saturday Night.The show's sketches often parody contemporary American culture...
and author of the play,
Spamalot
Spamalot
Monty Python's Spamalot is a musical comedy "lovingly ripped off from" the 1975 film Monty Python and the Holy Grail. Like the film, it is a highly irreverent parody of the Arthurian Legend, but it differs from the film in many ways, especially in its parodies of Broadway theatre...
.
Idle was born in
South Shields
South Shields
South Shields is a coastal town in Tyne and Wear, England, located at the mouth of the River Tyne to Tyne Dock, and about downstream from Newcastle upon Tyne...
, County Durham in Harton Village, the son of Nora Barron (née Sanderson), a
health visitor
Health visitor
Health visitors are UK community health nurses who have undertaken further training to work as part of a primary health care team. As their name suggests, their role is to promote mental, physical and social well-being in the community by giving advice and support to families in all age groups...
, and Ernest Idle. His father served in the
Royal Air Force
Royal Air Force
The Royal Air Force is the aerial warfare service branch of the British Armed Forces. Formed on 1 April 1918, it is the oldest independent air force in the world...
and survived
World War II
World War II
World War II, or the Second World War , was a global conflict lasting from 1939 to 1945, involving most of the world's nations—including all of the great powers—eventually forming two opposing military alliances: the Allies and the Axis...
, only to be killed in a hitch-hiking accident on Christmas Eve 1945.
Basically, the Germans came to us and said, "We don't have a sense of humour."

Answering the question "Why did you do two episodes in German?" on an HBO March 1998 Python reunion special.
Typical Hollywood crowd - all the kids are on drugs, and all the adults are on roller skates.

Monty Python Live at the Hollywood Bowl
American Beer is a lot like making love on a canoe - it's fucking close to water.

Monty Python Live at the Hollywood Bowl