 Encaustic painting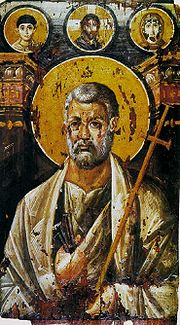 For encaustic tiles see Encaustic tile

Encaustic tile

Encaustic tiles are ceramic tiles in which the pattern or figure on the surface is not a product of the glaze but of different colors of clay. They are usually of two colors but a tile may be composed of as many as six. The pattern is inlaid into the body of the tile, so that the design remains as...



Encaustic painting
, also known as
hot wax painting
, involves using heated
beeswax
Beeswax
Beeswax is a natural wax produced in the bee hive of honey bees of the genus Apis. It is mainly esters of fatty acids and various long chain alcohols...
to which colored
pigment
Pigment
A pigment is a material that changes the color of reflected or transmitted light as the result of wavelength-selective absorption. This physical process differs from fluorescence, phosphorescence, and other forms of luminescence, in which a material emits light.Many materials selectively absorb...
s are added. The liquid/paste is then applied to a surface—usually prepared wood, though
canvas
Canvas
Canvas is an extremely heavy-duty plain-woven fabric used for making sails, tents, marquees, backpacks, and other items for which sturdiness is required. It is also popularly used by artists as a painting surface, typically stretched across a wooden frame...
and other materials are often used. The simplest encaustic mixture can be made from adding pigments to beeswax, but there are several other recipes that can be used — some containing other types of
wax
Wax
thumb|right|[[Cetyl palmitate]], a typical wax ester.Wax refers to a class of chemical compounds that are plastic near ambient temperatures. Characteristically, they melt above 45 °C to give a low viscosity liquid. Waxes are insoluble in water but soluble in organic, nonpolar solvents...
es, damar resin,
linseed oil
Linseed oil
Linseed oil, also known as flaxseed oil, is a clear to yellowish oil obtained from the dried ripe seeds of the flax plant . The oil is obtained by cold pressing, sometimes followed by solvent extraction...
, or other ingredients. Pure, powdered pigments can be purchased and used, though some mixtures use oil paints or other forms of pigment.
Metal tools and special brushes can be used to shape the paint before it cools, or heated metal tools can be used to manipulate the wax once it has cooled onto the surface. Today, tools such as heat lamps, heat guns, and other methods of applying heat allow artists to extend the amount of time they have to work with the material. Because wax is used as the pigment binder, encaustics can be sculpted as well as painted. Other materials can be encased or
collage
Collage
A collage is a work of formal art, primarily in the visual arts, made from an assemblage of different forms, thus creating a new whole....
d into the surface, or layered, using the encaustic medium to adhere it to the surface.
History
This technique was notably used in the
Fayum mummy portraits
Fayum mummy portraits
Mummy portraits or Fayum mummy portraits is the modern term given to a type of naturalistic painted portraits on wooden boards attached to mummies from the Coptic period. They belong to the tradition of panel painting, one of the most highly regarded forms of art in the Classical world...
from
Egypt
Egypt
Egypt , officially the Arab Republic of Egypt, Arabic: , is a country mainly in North Africa, with the Sinai Peninsula forming a land bridge in Southwest Asia. Egypt is thus a transcontinental country, and a major power in Africa, the Mediterranean Basin, the Middle East and the Muslim world...
around 100-300 AD, in the
Blachernitissa
Blachernitissa
Blachernitissa , also called Theotokos of Blachernae or Our Lady of Blachernae , is a 7th-century encaustic icon representing the Most Holy Theotokos and Ever-Virgin Mary...
and other early icons, as well as in many works of 20th-century
American artists
Visual arts of the United States
American art encompasses the history of painting and visual art in the United States. In the late eighteenth and early nineteenth centuries, artists primarily painted landscapes and portraits in a realistic style. A parallel development taking shape in rural America was the American craft movement,...
, including
Jasper Johns
Jasper Johns
Jasper Johns, Jr. is an American contemporary artist who works primarily in painting and printmaking.-Life:Born in Augusta, Georgia, Jasper Johns spent his early life in Allendale, South Carolina with his paternal grandparents after his parents' marriage failed...
and Fernando Leal Audirac. Kut-kut, a lost art of the
Philippines
Philippines
The Philippines , officially known as the Republic of the Philippines , is a country in Southeast Asia in the western Pacific Ocean. To its north across the Luzon Strait lies Taiwan. West across the South China Sea sits Vietnam...
, implements
sgraffito
Sgraffito
Sgraffito is a technique either of wall decor, produced by applying layers of plaster tinted in contrasting colors to a moistened surface, or in ceramics, by applying to an unfired ceramic body two successive layers of contrasting slip, and then in either case scratching so as to produce an...
and encaustic techniques. It was practiced by the indigenous tribe of
Samar
Samar
Samar, formerly and also known as Western Samar, is a province in the Philippines located in the Eastern Visayas region. Its capital is Catbalogan City and covers the western portion of Samar as well as several islands in the Samar Sea located to the west of the mainland...
island around 1600 to 1800. Artists in the
Mexican muralism
Mexican Muralism
Mexican muralism is a Mexican art movement. The most important period of this movement took place primarily from the 1920s to the 1960s, though it exerted an influence on later generations of Mexican artists...
movement, such as Diego Rivera and Jean Charlot sometimes used encaustic painting.
In the 20th century, painter Fritz Faiss (1905-1981), a student of
Paul Klee
Paul Klee
Paul Klee was born in Münchenbuchsee, Switzerland, and is considered both a German and a Swiss painter. His highly individual style was influenced by movements in art that included expressionism, cubism, and surrealism. He was, as well, a student of orientalism...
and
Wassily Kandinsky
Wassily Kandinsky
Wassily Wassilyevich Kandinsky was an influential Russian painter and art theorist. He is credited with painting the first purely-abstract works. Born in Moscow, Kandinsky spent his childhood in Odessa. He enrolled at the University of Moscow, studying law and economics...
at the
Bauhaus
Bauhaus
', commonly known simply as Bauhaus, was a school in Germany that combined crafts and the fine arts, and was famous for the approach to design that it publicized and taught. It operated from 1919 to 1933. At that time the German term stood for "School of Building".The Bauhaus school was founded by...
, together with Dr. Hans Schmid, rediscovered the so-called "Punic wax" technique of encaustic painting. Faiss held two German patents related to the preparation of waxes for encaustic painting. One covered a method for treating beeswax so that its melting point was raised from 60 degrees Celsius to 100 degrees Celsius (from 140 to 212 °F). This occurred after boiling the wax in a solution of sea water and soda three successive times. The resulting, harder wax is the same as the Punic wax referred to in ancient Greek writings on encaustic painting.
Encaustic art has seen a resurgence in popularity since the 1990s with people using electric irons, hotplates and heated stylus on a variety of different surfaces including card, paper and even pottery. The iron makes producing a variety of artistic patterns elementary. However, the medium is not limited to just simple designs; it can be used to create complex paintings, just as in other media such as
oil
Oil painting
Oil painting is the process of painting with pigments that are bound with a medium of drying oil—especially in early modern Europe, linseed oil. Often an oil such as linseed was boiled with a resin such as pine resin or even frankincense; these were called 'varnishes' and were prized for their body...
and
acrylic
Acrylic painting techniques
Acrylic painting techniques are different styles of manipulating and working with polymer-based acrylic paints. Acrylics differ from oil paints in that they have shorter drying times and are soluble in water. These types of paint eliminate the need for turpentine and gesso, and can be applied...
.
External links