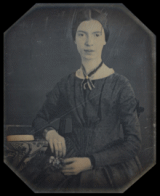 Emily Dickinson
Emily Elizabeth Dickinson
(December 10, 1830 – May 15, 1886) was an American
poet
Poet
A poet is a person who writes poetry. A poet's work can be literal, meaning that his work is derived from a specific event, or metaphorical, meaning that his work can take on many meanings and forms. Poets have existed since antiquity, in nearly all languages, and have produced works that vary...
. Born in
Amherst, Massachusetts
Amherst, Massachusetts
Amherst is a town in Hampshire County, Massachusetts, United States in the Connecticut River valley. As of the 2010 census, the population was 37,819, making it the largest community in Hampshire County . The town is home to Amherst College, Hampshire College, and the University of Massachusetts...
, to a successful family with strong community ties, she lived a mostly introverted and reclusive life. After she studied at the Amherst Academy for seven years in her youth, she spent a short time at Mount Holyoke Female Seminary before returning to her family's house in Amherst. Thought of as an eccentric by the locals, she became known for her penchant for white clothing and her reluctance to greet guests or, later in life, even leave her room.
IF I can stop one heart from breaking, I shall not live in vain; If I can ease one life the aching, Or cool one pain, Or help one fainting robin Unto his nest again, I shall not live in vain.

p. 6. Life.
MUCH madness is divinest sense To a discerning eye; Much sense the starkest madness. 'T is the majority In this, as all, prevails. Assent, and you are sane; Demur,—you 're straightway dangerous, And handled with a chain.

p. 9. Life.
I NEVER hear the word "escape" Without a quicker blood, A sudden expectation, A flying attitude. I never hear of prisons broad By soldiers battered down, But I tug childish at my bars,— Only to fail again!

p. 22. Life.
SURGEONS must be very careful When they take the knife! Underneath their fine incisions Stirs the culprit,—Life!

p. 25. Life.
IT tossed and tossed,— A little brig I knew,— O'ertook by blast, It spun and spun, And groped delirious, for morn. It slipped and slipped, As one that drunken stepped; Its white foot tripped, Then dropped from sight. Ah, brig, good-night To crew and you; The ocean's heart too smooth, too blue, To break for you.

p. 30. Life.
I TOOK my power in my hand And went against the world; 'T was not so much as David had, But I was twice as bold. I aimed my pebble, but myself Was all the one that fell. Was it Goliath was too large, Or only I too small?

p. 33. Life.
MINE enemy is growing old,— I have at last revenge. The palate of the hate departs; If any would avenge,— Let him be quick, the viand flits, It is a faded meat. Anger as soon as fed is dead; 'T is starving makes it fat.

p. 38. Life.
IT 'S such a little thing to weep, So short a thing to sigh; And yet by trades the size of these We men and women die!

p. 50. Life.
DROWNING is not so pitiful As the attempt to rise. Three times, 't is said, a sinking man Comes up to face the skies, And then declines forever To that abhorred abode Where hope and he part company,— For he is grasped of God. The Maker's cordial visage, However good to see, Is shunned, we must admit it, Like an adversity.

p. 50-51. Life.