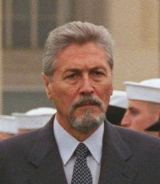 Emil Constantinescu
Emil Constantinescu
was
President
President of Romania
The President of Romania is the head of state of Romania. The President is directly elected by a two-round system for a five-year term . An individual may serve two terms...
of
Romania
Romania
Romania is a country located at the crossroads of Central and Southeastern Europe, on the Lower Danube, within and outside the Carpathian arch, bordering on the Black Sea...
from 1996 to 2000.
He graduated from the law school of the
University of Bucharest
University of Bucharest
The University of Bucharest , in Romania, is a university founded in 1864 by decree of Prince Alexander John Cuza to convert the former Saint Sava Academy into the current University of Bucharest.-Presentation:...
, and subsequently started a career as a geologist. Beginning in 1966, Constantinescu taught in the Geology Faculty of the University of Bucharest, where he also became Propaganda Secretary of the local organisation of the
Romanian Communist Party
Romanian Communist Party
The Romanian Communist Party was a communist political party in Romania. Successor to the Bolshevik wing of the Socialist Party of Romania, it gave ideological endorsement to communist revolution and the disestablishment of Greater Romania. The PCR was a minor and illegal grouping for much of the...
.
After the
Romanian revolution
Romanian Revolution of 1989
The Romanian Revolution of 1989 was a series of riots and clashes in December 1989. These were part of the Revolutions of 1989 that occurred in several Warsaw Pact countries...
in 1989, Constantinescu became a founding member and vice president of the
Civic Alliance
Civic Alliance
Civic Alliance may refer to any of the following organizations:* Civic Alliance Foundation, an NGO in Romania** the Civic Alliance Party that emerged from it* Civic Alliance of Kosovo, a political party in Kosovo...
.