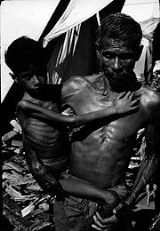 Emaciation
Emaciation
occurs when an organism loses substantial amounts of much needed fat and often muscle tissue, making that organism look extremely thin. The cause of emaciation is a lack of nutrients,
starvation
Starvation
Starvation is a severe deficiency in caloric energy, nutrient and vitamin intake. It is the most extreme form of malnutrition. In humans, prolonged starvation can cause permanent organ damage and eventually, death...
, or disease.
Many women (and some men) have targeted the emaciation look, and such is the result of
eating disorder
Eating disorder
Eating disorders refer to a group of conditions defined by abnormal eating habits that may involve either insufficient or excessive food intake to the detriment of an individual's physical and mental health. Bulimia nervosa, anorexia nervosa, and binge eating disorder are the most common specific...
s such as
anorexia nervosa
Anorexia nervosa
Anorexia nervosa is an eating disorder characterized by refusal to maintain a healthy body weight and an obsessive fear of gaining weight. Although commonly called "anorexia", that term on its own denotes any symptomatic loss of appetite and is not strictly accurate...
and bulimia. The shape of the bones in a severely-emaciated person is distinguishable, the shoulder blades are prominently sharp, and the ribs and spine can be clearly seen, while the arms and legs are not significantly wider than the bones that support them. Death may occur.
Although this condition can be acquired by humans deliberately, it is often also the case of many starving animals and peoples across the planet due to lack of food or unsanitary living conditions.
See also