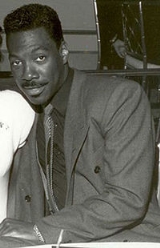 Eddie Murphy
Edward Regan
"
Eddie
"
Murphy
(born April 3, 1961) is an
American
People of the United States
The people of the United States, also known as simply Americans or American people, are the inhabitants or citizens of the United States. The United States is a multi-ethnic nation, home to people of different ethnic and national backgrounds...
stand-up comedian, actor, writer, singer, director, and musician.
Box office takes from Murphy's films make him the second-highest grossing actor in the United States. He was a regular cast member on
Saturday Night Live
Saturday Night Live
Saturday Night Live is a live American late-night television sketch comedy and variety show developed by Lorne Michaels and Dick Ebersol. The show premiered on NBC on October 11, 1975, under the original title of NBC's Saturday Night.The show's sketches often parody contemporary American culture...
from 1980 to 1984 and has worked as a stand-up comedian. He was ranked #10 on
Comedy Central
Comedy Central
Comedy Central is an American cable television and satellite television channel that carries comedy programming, both original and syndicated....
's list of the 100 Greatest Stand-ups of All Time.
He has received
Golden Globe Award
Golden Globe Award
The Golden Globe Award is an accolade bestowed by the 93 members of the Hollywood Foreign Press Association recognizing excellence in film and television, both domestic and foreign...
nominations for his performances in
48 Hrs
,
Beverly Hills Cop
Beverly Hills Cop
Beverly Hills Cop is a 1984 American comedy-action film directed by Martin Brest and starring Eddie Murphy, Lisa Eilbacher, John Ashton, Judge Reinhold, and Ronny Cox...
series,
Trading Places
Trading Places
Trading Places is a 1983 American comedy film, of the satire genre, directed by John Landis, starring Dan Aykroyd and Eddie Murphy. It tells the story of an upper class commodities broker and a homeless street hustler whose lives cross paths when they are unknowingly made part of an elaborate bet...
, and
The Nutty Professor
The Nutty Professor (1996 film)
The Nutty Professor is a 1996 science fiction-romantic comedy film starring Eddie Murphy. It is a remake of the 1963 film of the same name, starring Jerry Lewis. The original music score was composed by David Newman. The film won an Academy Award for Makeup.Murphy plays benevolent university...
.
There's somethin' about singing, that is the business! You sing, women go crazy! 'Cause Mick Jagger is an ugly motherfucker...with big-ass lips! Mick Jagger's lips so big, black people be goin', 'He got some big-ass lips! These are big motherfuckin' lips!'

Michael Jackson, who can sing, and is a good lookin' guy...but ain't the most masculine fellow in the world.'

You don't even have to be able to talk. Just sing and get famous. 'Cause James Brown's been singin' 30 years. I don't know what the fuck James is talkin' about!

Make a special wonton soup for him.

from Delirious, his comedy show.
I have nothing against homosexuals. I think an orgasm is your thing, and you should fuck whoever the fuck you feel like fucking. Whoever makes you come the hardest. Anybody who says you shouldn't, politely tell them to mind their own business.

Playboy|Playboy interview, February 1990.