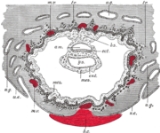 Ectoderm
The "ectoderm" is one of the three primary germ cell layers in the very early embryo. The other two layers are the
mesoderm
Mesoderm
In all bilaterian animals, the mesoderm is one of the three primary germ cell layers in the very early embryo. The other two layers are the ectoderm and endoderm , with the mesoderm as the middle layer between them.The mesoderm forms mesenchyme , mesothelium, non-epithelial blood corpuscles and...
(middle layer) and
endoderm
Endoderm
Endoderm is one of the three primary germ cell layers in the very early embryo. The other two layers are the ectoderm and mesoderm , with the endoderm as the intermost layer...
(most proximal layer), with the ectoderm as the most exterior (or distal) layer. It emerges first and forms from the outer layer of germ cells.
Generally speaking, the ectoderm differentiates to form the
nervous system
Nervous system
The nervous system is an organ system containing a network of specialized cells called neurons that coordinate the actions of an animal and transmit signals between different parts of its body. In most animals the nervous system consists of two parts, central and peripheral. The central nervous...
(spine, peripheral nerves and brain), tooth
enamel
Tooth enamel
Tooth enamel, along with dentin, cementum, and dental pulp is one of the four major tissues that make up the tooth in vertebrates. It is the hardest and most highly mineralized substance in the human body. Tooth enamel is also found in the dermal denticles of sharks...
and the
epidermis
(the outer part of
integument
Integumentary system
The integumentary system is the organ system that protects the body from damage, comprising the skin and its appendages...
). It also forms the lining of mouth, anus, nostrils, sweat glands, hair and nails.
In
vertebrate
Vertebrate
Vertebrates are animals that are members of the subphylum Vertebrata . Vertebrates are the largest group of chordates, with currently about 58,000 species described. Vertebrates include the jawless fishes, bony fishes, sharks and rays, amphibians, reptiles, mammals, and birds...
s, the ectoderm has three parts: external ectoderm (also known as
surface ectoderm
Surface ectoderm
The surface ectoderm forms the following structures:*Skin...
), the
neural crest
Neural crest
Neural crest cells are a transient, multipotent, migratory cell population unique to vertebrates that gives rise to a diverse cell lineage including melanocytes, craniofacial cartilage and bone, smooth muscle, peripheral and enteric neurons and glia....
, and
neural tube
Neural tube
In the developing vertebrate, the neural tube is the embryo's precursor to the central nervous system, which comprises the brain and spinal cord...
. The latter two are known as
neuroectoderm
Neuroectoderm
Neuroectoderm is the term for ectoderm which receives Bone Morphogenetic Protein-inhibiting signals from proteins such as noggin, which leads to the development of the nervous system from this tissue....
.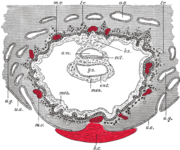 See also