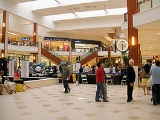 Economy of the United States
Throughout this article, the unqualified term "dollar" and the $ symbol refer to the US dollar.
The
economy of the United States
is the world's largest national economy. Its nominal GDP was estimated to be nearly $14.5 trillion in 2010, approximately a quarter of
nominal global GDP
.