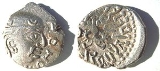 Economy of India
"Dollar" and "$" refer throughout to the US dollar.
The
Economy of India
is the
ninth largest
in the world by
nominal GDP
Gross domestic product
Gross domestic product refers to the market value of all final goods and services produced within a country in a given period. GDP per capita is often considered an indicator of a country's standard of living....
and the
fourth largest
by
purchasing power parity
(PPP).
"God forbid that India should ever take to industrialism after the manner of the west... keeping the world in chains. If our nation took to similar economic exploitation, it would strip the world bare like locusts."

"Democracy must in essence, therefore, mean the art and science of mobilising the entire physical, economic and spiritual resources of all the various sections of the people in the service of the common good of all."