 East Island (Ashmore and Cartier Islands)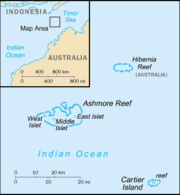 East Island
is one of three
islet
Islet
An islet is a very small island.- Types :As suggested by its origin as islette, an Old French diminutive of "isle", use of the term implies small size, but little attention is given to drawing an upper limit on its applicability....
s on Ashmore Reef. It is located at 12º15'S 123º05'E, about midway between Australia and Timor. It is often referred to as
East Islet
, a name that is used, for example, in
The World Factbook
The World Factbook
The World Factbook is a reference resource produced by the Central Intelligence Agency of the United States with almanac-style information about the countries of the world. The official paper copy version is available from the National Technical Information Service and the Government Printing Office...
; the islet's gazetted name is, however,
East Island
.
It has an area of around 25,000 square metres. Like the other islands on the reef, it is unpopulated. Politically it is part of
Ashmore and Cartier Islands
Ashmore and Cartier Islands
The Territory of the Ashmore and Cartier Islands is an external territory of Australia consisting of two groups of small low-lying uninhabited tropical islands in the Indian Ocean situated on the edge of the continental shelf north-west of Australia and south of the Indonesian island of...
, an external territory of Australia. Some Indonesian groups dispute Australia's claim to these island, however.