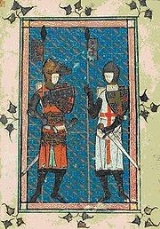 Earl of Lancaster
The title of
Earl of Lancaster
was created in the
Peerage of England
Peerage of England
The Peerage of England comprises all peerages created in the Kingdom of England before the Act of Union in 1707. In that year, the Peerages of England and Scotland were replaced by one Peerage of Great Britain....
in 1267, merging in the crown in 1399. See also
Duke of Lancaster
Duke of Lancaster
There were several Dukes of Lancaster in the 14th and early 15th Centuries. See also Duchy of Lancaster.There were three creations of the Dukedom of Lancaster....
.
Earls of Lancaster (1267)
Portrait
Name
Earl From
Earl Until
Relationship with Predecessor(s)
|align="center"|Edmund Crouchback

Edmund Crouchback, 1st Earl of Lancaster

Edmund of Crouchback, 1st Earl of Leicester and Lancaster , was the second surviving son of King Henry III of England and Eleanor of Provence. In his childhood he had a claim on the Kingdom of Sicily. His nickname refers to his participation in the Ninth Crusade.-Childhood:Edmund was born in London...



1st Earl of Lancaster
30 June 1267
5 June 1296
Thomas of Lancaster
2nd Earl of Lancaster
8 September 1298
22 March 1322
Son of Edmund Crouchback
|align="center"|Henry of Lancaster

Henry, 3rd Earl of Lancaster

Henry , 3rd Earl of Leicester and Lancaster was an English nobleman, one of the principals behind the deposition of Edward II of England.-Family and lineage:...



3rd Earl of Lancaster
26 October 1326
22 September 1345
Brother of Thomas of Lancaster, son of Edmund Crouchback
Henry of Grosmont

Henry of Grosmont, 1st Duke of Lancaster

Henry of Grosmont, 1st Duke of Lancaster, 4th Earl of Leicester and Lancaster, KG , also Earl of Derby, was a member of the English nobility in the 14th century, and a prominent English diplomat, politician, and soldier...



4th Earl, 1st Duke of Lancaster
22 September 1345
23 March 1361
Son of Henry of Lancaster
John of Gaunt

John of Gaunt, 1st Duke of Lancaster

John of Gaunt, 1st Duke of Lancaster , KG was a member of the House of Plantagenet, the third surviving son of King Edward III of England and Philippa of Hainault...



5th Earl, 1st Duke of Lancaster
14 August 1361
3 February 1399
Son-in-law of Henry of Grosmont
Henry Bolingbroke

Henry IV of England

Henry IV was King of England and Lord of Ireland . He was the ninth King of England of the House of Plantagenet and also asserted his grandfather's claim to the title King of France. He was born at Bolingbroke Castle in Lincolnshire, hence his other name, Henry Bolingbroke...



6th Earl, 2nd Duke of Lancaster
3 February 1399
30 September 1399
Son of John of Gaunt