 E Company, 506th Infantry Regiment (United States)
Easy Company, 2nd Battalion
of the 506th Parachute Infantry Regiment of the
101st Airborne Division
101st Airborne Division
The 101st Airborne Division—the "Screaming Eagles"—is a U.S. Army modular light infantry division trained for air assault operations. During World War II, it was renowned for its role in Operation Overlord, the D-Day landings on 6 June 1944, in Normandy, France, Operation Market Garden, the...
, the "Screaming Eagles", is one of the most well-known
companies
Company (military unit)
A company is a military unit, typically consisting of 80–225 soldiers and usually commanded by a Captain, Major or Commandant. Most companies are formed of three to five platoons although the exact number may vary by country, unit type, and structure...
in the
United States Army
United States Army
The United States Army is the main branch of the United States Armed Forces responsible for land-based military operations. It is the largest and oldest established branch of the U.S. military, and is one of seven U.S. uniformed services...
. Their experiences in
World War II
World War II
World War II, or the Second World War , was a global conflict lasting from 1939 to 1945, involving most of the world's nations—including all of the great powers—eventually forming two opposing military alliances: the Allies and the Axis...
are the subject of the HBO miniseries
Band of Brothers
based on the book of the same name by historian
Stephen Ambrose
Stephen Ambrose
Stephen Edward Ambrose was an American historian and biographer of U.S. Presidents Dwight D. Eisenhower and Richard Nixon. He was a long time professor of history at the University of New Orleans and the author of many best selling volumes of American popular history...
. In 2009, twenty of the last few remaining survivors from Easy Company recounted their stories in the oral-history book project
We Who Are Alive and Remain: Untold Stories From the Band of Brothers
We Who Are Alive and Remain
We Who Are Alive and Remain: Untold Stories from the Band of Brothers is a military non-fiction book published in 2009 by Penguin/Berkley-Caliber publishers. Journalist Marcus Brotherton is credited with the book's authorship. Brotherton also co-wrote Call of Duty with Lt...
.
History
The 506th PIR was an experimental airborne regiment created in 1942 at
Camp Toccoa
Camp Toccoa
Camp Toccoa was a United States Army paratrooper training camp during World War II west of Toccoa, Georgia. It was first planned in 1938, constructed by the Georgia National Guard and the Works Projects Administration beginning 17 January 1940, and was dedicated 14 December 1940. The U.S. Army...
, Georgia. Easy Company missions were to involve being parachuted from C-47 transport airplanes over hostile territory.
Major Richard Winters described the original organization of Easy company as follows:
"[Easy] company included three rifle platoons and a headquarters section. Each platoon contained three twelve-man rifle squads and a six-man mortar team squad. Easy also had one machine gun attached to each of its rifle squads, and a 60mm mortar in each mortar team."
The training was not easy. Besides attending the standard airborne school, the unit had to perform battle drills and excruciating amounts of physical training. One of the more famous exercises was the regular running of Currahee, a large, steep hill. The phrase "3 miles up, 3 miles down" was derived from this run. Easy Company, while training at Toccoa, was under the command of
Herbert Sobel
, who was known for his extreme strictness.
Also as part of their physical training, the members of Easy Company performed formation runs in three-four column running groups. The purpose of this training was to push the soldiers to their limits, and to teach them how to work together as a team.
Operation Overlord (D-Day)
For
Operation Overlord
Operation Overlord
Operation Overlord was the code name for the Battle of Normandy, the operation that launched the invasion of German-occupied western Europe during World War II by Allied forces. The operation commenced on 6 June 1944 with the Normandy landings...
, Easy Company's mission was to capture the entrances to and clear any obstacles around "Causeway 2", a pre-selected route off
Utah Beach
Utah Beach
Utah Beach was the code name for the right flank, or westernmost, of the Allied landing beaches during the D-Day invasion of Normandy, as part of Operation Overlord on 6 June 1944...
for the troops landing from the sea a few hours later. The company departed from Upottery airbase in Devon, England, and dropped over the
Cotentin Peninsula
Cotentin Peninsula
The Cotentin Peninsula, also known as the Cherbourg Peninsula, is a peninsula in Normandy, forming part of the north-western coast of France. It juts out north-westwards into the English Channel, towards Great Britain...
of Normandy, France in the early hours of the morning of 6 June 1944. After assembling on the ground, the men of Easy Company
disabled a battery of four German heavy guns
Brécourt Manor Assault
The Brécourt Manor Assault during the U.S. parachute assault of the Normandy Invasion of World War II is often cited as a classic example of small-unit tactics and leadership in overcoming a larger enemy force.-Objective:...
on D-Day that threatened forces coming along Causeway 2.
Eindhoven, Holland
Easy Company was assigned to support the British forces around
Eindhoven
, by defending the roads so that the British armoured divisions could advance into
Arnhem
Arnhem
Arnhem is a city and municipality, situated in the eastern part of the Netherlands. It is the capital of the province of Gelderland and located near the river Nederrijn as well as near the St. Jansbeek, which was the source of the city's development. Arnhem has 146,095 residents as one of the...
and force a crossing over the major bridge across the Rhine River in September 1944. The story of the ill-fated
Operation Market Garden
Operation Market Garden
Operation Market Garden was an unsuccessful Allied military operation, fought in the Netherlands and Germany in the Second World War. It was the largest airborne operation up to that time....
is told in the book
A Bridge Too Far
A Bridge Too Far (book)
A Bridge Too Far, a non-fiction book by Cornelius Ryan published in 1974, tells the story of Operation Market Garden, a failed Allied attempt to break through German lines at Arnhem across the river Rhine in the occupied Netherlands during World War II in September 1944. The title of the book comes...
by Cornelius Ryan.
At the conclusion of Market Garden, Easy Company was involved in the rescue of over 100 British troops trapped outside Arnhem. Operation Pegasus was a military operation carried out on the Lower Rhine near the village of Renkum, close to Arnhem in the Netherlands. Overnight on the 22–23 October 1944, the Allies successfully evacuated a large group of men trapped in German occupied territory who had been in hiding since the Battle of Arnhem. On the south bank of a Dutch river, engineers and a patrol of E Company observed the signal and immediately launched their boats, but the British were some 500-800m upriver of the crossing point. Upon reaching the north bank E Company established a small perimeter while men headed east to locate the evaders. The men quickly moved downstream and in the next 90 minutes all of them were evacuated, with the exception of a Russian who was caught and arrested by the Germans. The Germans opened fire sporadically and some
mortar
Mortar (weapon)
A mortar is an indirect fire weapon that fires explosive projectiles known as bombs at low velocities, short ranges, and high-arcing ballistic trajectories. It is typically muzzle-loading and has a barrel length less than 15 times its caliber....
rounds fell near the crossing, but the fire was inaccurate. Once on the other side the escapees were led to a farmhouse for refreshments, before being driven to Nijmegen where Dobie had arranged a party and champagne. The men were later flown back to the UK, rejoining the men who had escaped in Operation Berlin.
Battle of the Bulge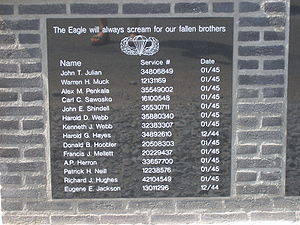 During December 1944 and January 1945, Easy Company and the rest of the 101st Airborne Division fought in Belgium in the
Battle of the Bulge
Battle of the Bulge
The Battle of the Bulge was a major German offensive , launched toward the end of World War II through the densely forested Ardennes mountain region of Wallonia in Belgium, hence its French name , and France and...
. The 101st was in France in December when the Germans launched their offensive in the Ardennes. They were told to hold the vital cross-roads at
Bastogne
Bastogne
Bastogne Luxembourgish: Baaschtnech) is a Walloon municipality of Belgium located in the province of Luxembourg in the Ardennes. The municipality of Bastogne includes the old communes of Longvilly, Noville, Villers-la-Bonne-Eau, and Wardin...
and were soon encircled by the Germans. Easy Company fought in cold weather under German artillery fire without winter clothing and with limited rations and ammunition. The Allies successfully defeated the German offensive. Afterward, Easy Company and the rest of the 506th PIR moved into Germany.
Occupation duties
Toward the end of the war, Easy Company was assigned to occupation duty in Germany, specifically to
Berchtesgaden
Berchtesgaden
Berchtesgaden is a municipality in the German Bavarian Alps. It is located in the south district of Berchtesgadener Land in Bavaria, near the border with Austria, some 30 km south of Salzburg and 180 km southeast of Munich...
, which was home to Adolf Hitler's famous
Eagle's Nest
Kehlsteinhaus
The Kehlsteinhaus is a chalet-style structure erected on a subpeak of the Hoher Göll known as the Kehlstein. It was built as an extension of the Obersalzberg complex erected in the mountains above Berchtesgaden...
. Following Berchtesgaden, Easy Company moved in to Austria for further occupation duty. The company mostly attended to various patrols, awaiting the end of the war.
Post-war
Easy Company and the rest of the 506th PIR was disbanded in November 1945, and was reactivated in 1954, as a training unit.
Higher authorities
Major General Maxwell Davenport Taylor

Maxwell D. Taylor

General Maxwell Davenport "Max" Taylor was an United States Army four star general and diplomat of the mid-20th century, who served as the fifth Chairman of the Joint Chiefs of Staff after having been appointed by the President of the United States John F...


(101st Airborne Division CO) (26 August 1901 – 19 April 1987)
Brigadier General Anthony Clement McAuliffe

Anthony McAuliffe

General Anthony Clement "Nuts" McAuliffe was the United States Army general who commanded the 101st Airborne Division troops defending Bastogne, Belgium during the Battle of the Bulge in World War II...


(101st Airborne Division Artillery Officer, later acting 101st Airborne Division CO) (2 July 1898 – 11 August 1975)
Colonel Robert Frederick Sink

Robert Sink

Lieutenant General Robert Frederick Sink was a United States Army officer during World War II, the Korean War, and early parts of the Vietnam War, though he was most famous for his command of the 506th Parachute Infantry Regiment of the 101st Airborne Division...


(506th Regiment CO) (3 April 1905 – 13 December 1965)
Lieutenant Colonel Robert L. Strayer (2nd Battalion

Battalion

A battalion is a military unit of around 300–1,200 soldiers usually consisting of between two and seven companies and typically commanded by either a Lieutenant Colonel or a Colonel...


CO, 506 PIR XO) (2 March 1912 – 18 December 2002)
Major Richard D. Winters

Richard Winters

Major Richard "Dick" D. Winters was a United States Army officer and decorated war veteran. He commanded Company "E", 2nd Battalion, 506th Parachute Infantry Regiment, 101st Airborne Division, during World War II....


(2nd Battalion XO, later acting 2nd Battalion

Battalion

A battalion is a military unit of around 300–1,200 soldiers usually consisting of between two and seven companies and typically commanded by either a Lieutenant Colonel or a Colonel...


CO) (21 January 1918 – 2 January 2011)
Major Clarence Hester (506 PIR S-3)
Captain Salve H. Matheson (506 PIR S-4) (11 August 1920 – 8 January 2005)
Major Oliver M. Horton (2nd Battalion XO) (d. 5 October 1944)
Captain Lewis Nixon (2nd Battalion S-2, 506 PIR S-2, 2nd Battalion S-3) (30 September 1918 – 11 January 1995)
Captain Herbert M. Sobel (506 PIR S-4) (26 January 1912 – 30 September 1987)
First Lieutenant Henry Jones (506 PIR) (21 May 1922 – 21 July 1947)
Commanding officers
Other officers
First Lieutenant Robert B. Brewer
First Lieutenant Lynn D. Compton

Lynn Compton

Lynn D. "Buck" Compton is a retired California Court of Appeals judge who served as the lead prosecutor in Sirhan Sirhan's trial for the murder of Robert F. Kennedy. From 1946-1951, Compton served with the Los Angeles Police Department...


(b. 31 December 1921)
First Lieutenant Robert H. Cowing (4 January 1922 – 15 April 2005)
First Lieutenant James K. Davis
then-First Lieutenant Jack Edward Foley

Jack E. Foley

-External links:**...


(18 August 1922 – 14 September 2009)
First Lieutenant Roy Paul Gates (b. 25 July 1921)
First Lieutenant Sterling W. Horner (12 July 1926 – 13 February 2001)
First Lieutenant Richard H. Hughes II
First Lieutenant George Lavenson (d. July 1944)
First Lieutenant Robert I. Matthews (d. 6 June 1944)
First Lieutenant Walter L. Moore
First Lieutenant Francis L. O'Brien (d. December 1944)
First Lieutenant Thomas A. Peacock
First Lieutenant Ben M. Perkins
First Lieutenant John E. Pisancin (21 December 1917 – May 1983)
First Lieutenant Warren R. Rousch (16 November 1916 – 4 February 1999)
First Lieutenant Raymond G. Schmitz (d. 22 September 1944)
First Lieutenant Edward David Shames (b. 13 June 1922)
First Lieutenant JB Stokes (b. 1922)
First Lieutenant Patrick J. Sweeney
First Lieutenant Harry F. Welsh

Harry Welsh

-External links:**...


(27 September 1918 – 21 January 1995)
Second Lieutenant Archibold Smith Barnwell
Second Lieutenant James L. Diel (1922 – 19 September 1944)
Second Lieutenant Charles A. Hudson
then-Second Lieutenant Henry Jones Jr. (21 May 1922 – 21 July 1947)
Second Lieutenant Clifford Carwood Lipton (30 January 1920 – 16 December 2001)
Second Lieutenant Charles R. Rexrode (13 May 1921 – 30 December 2003)
Second Lieutenant Ralph D Richey, Jr.
Enlisted men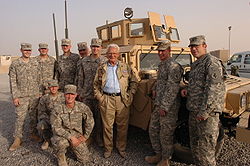 In order of rank, then alphabetically by last name.

First Sergeant William S. Evans (d. 6 June 1944)
Technical Sergeant Burton Pat Christenson (23 July 1922 – 15 December 1999)
Technical Sergeant Donald George Malarkey

Donald Malarkey

Technical Sergeant Donald G. Malarkey is a former non-commissioned officer with Easy Company, 2nd Battalion, 506th Parachute Infantry Regiment, in the 101st Airborne Division of the United States Army during World War II...


(b. 31 July 1921)
Staff Sergeant Norman A. Ford
Staff Sergeant Charles E. Grant

Charles E. Grant

-External links:*...


(1922–1984)
Staff Sergeant William Joseph Guarnere

William Guarnere

Staff Sergeant William J. Guarnere was a non-commissioned officer with Easy Company, 2nd Battalion, 506th Parachute Infantry Regiment, in the 101st Airborne Division of the United States Army during World War II. Guarnere was portrayed in the HBO miniseries Band of Brothers by Frank John Hughes...


(b. 28 April 1923)
Staff Sergeant Earl L. Hale (17 January 1915 – 7 April 1999)
Staff Sergeant Steven A. Kudla
Staff Sergeant Albert L. Mampre (b. May 1922)
Staff Sergeant John W. Martin (12 May 1922 – 26 January 2005)
Staff Sergeant Leo Joseph Matz (b. 1925)
Staff Sergeant Darrell C. Powers

Darrell Powers

-External links:***...


(13 March 1923 – 17 June 2009)
Staff Sergeant Murray B. Roberts (d. 6 June 1944)
Staff Sergeant Frank Joseph Soboleski (b. 18 June 1925)
Staff Sergeant Floyd M. Talbert (26 August 1923 – 10 October 1982) (served as First Sergeant for a time, requested demotion)
Staff Sergeant Joseph J. Toye (14 March 1919 – 3 September 1995)
Staff Sergeant Denver Randleman

Denver Randleman

-External links:* on Peter van de Wal's website**...


(20 November 1920 – 26 June 2003)
Staff Sergeant Robert T. Smith
Staff Sergeant Joseph E. Stedman (4 April 1921 – 12 February 1995)
Staff Sergeant Joseph P. Whitecavage (15 May 1921 – July 1972)
Sergeant James H. Alley, Jr. (20 July 1922 – 14 March 2008)
Sergeant Roderick Bain (b. 1922)
Sergeant Paul L. Becker
Sergeant Leo D. Boyle (6 October 1913 – 22 December 1997)
Sergeant Gordon F. Carson (5 August 1923 – 13 November 1998)
Sergeant James Coombs
Sergeant Bernard S. Cunningham (14 December 1920 – 20 June 1992)
Sergeant Lloyd D. Guy (26 December 1921 – 22 April 1995)
Sergeant Taskel Ellis (15 October 1921 - 17 July 2001)
Sergeant Hanes
Sergeant Herman E. Hanson (d. 1971)
Sergeant Hayden
Sergeant Haynes
Sergeant J. D. Henderson (21 November 1921 – 15 February 2002)
Sergeant Walter L. Hendrix (20 December 1924 – 15 February 2000)
Sergeant Sherman M. Irish (4 July 1921 – April 1986)
Sergeant William F. Kiehn (1921 – 10 February 1945)
Sergeant Clancy Odel Lyall (b. 14 October 1925)
Sergeant John C. Lynch
Sergeant Robert A. Mann
Sergeant Robert K. Marsh (5 June 1924 – 30 July 2005)
Sergeant Thomas A. McCreary (3 March 1914 – 23 April 1989)
Sergeant Kenneth D. Mercier (1 April 1920 – 24 July 1990)
Sergeant Harvey H. Morehead (14 November 1917 – October 1979)
Sergeant Warren H. Muck

Warren Muck

-External links:**...


(31 January 1922 – 10 January 1945)
Sergeant Elmer L. Murray Jr (1921 – 6 June 1944)
Sergeant Richard E. Owen (d. 6 June 1944)
Sergeant Robert J. Rader (9 October 1923 – 5 April 1997)
Sergeant Robert Burr Smith (2 May 1924 – January 1983)
Sergeant Myron Ranney (21 November 1922 – 23 September 1988)
Sergeant Carl N. Riggs (1920 – 6 June 1944)
Sergeant Paul Clifford Rogers (b. 12 July 1918)
Sergeant James B. Sholty (22 July 1925 – 1991)
Sergeant Wayne A. Sisk (4 March 1922 – 13 July 1999)
Sergeant Roderick G. Strohl (b. 1922)
Sergeant Amos J. Taylor (September 1918 - 25 August 2011)
Sergeant Edward J. Tipper (b. 3 August 1921)
Sergeant Clarence M. Tridle (29 July 1918 – 2 December 1996)
Sergeant Richard M. Wright (13 September 1918 – 5 September 2004)
Sergeant Robert E. Wynn (10 July 1921 – March 2000)
Sergeant Arthur C. Youman (17 December 1921 – December 1974)
Technician Fourth Class George Luz, Sr.

George Luz

-External links:**...


(17 June 1921 – 15 October 1998)
Technician Fourth Class Frank Joseph Perconte

Frank Perconte

-External links:*...


(b. 10 March 1917)
Technician Fourth Class Charles E. Rhinehart
Technician Fourth Class Eugene Gilbert Roe, Sr.

Eugene Roe

-External links:*****...


(17 October 1921 – 30 December 1998)
Technician Fourth Class Richard C. Rowles (3 May 1923 – 21 May 2006)
Technician Fourth Class Carl C. Sawosko (24 November 1920 – 13 January 1945)
Technician Fourth Class Benjamin J. Stoney (1921 – 6 June 1944)
Corporal Kenneth T. Baldwin (22 February 1916 – 30 November 2003)
Corporal James V. Benton (26 January 1921 – 26 December 2007)
Corporal James D. Campbell (d. 8 October 1944)
Corporal William Dukeman Jr. (3 September 1922 – 5 October 1944)
Corporal John P. Fieguth (3 August 1917 – January 1994)
Corporal Walter Scott Gordon, Jr. (15 April 1920 – 19 April 1997)
Corporal Forrest L. Guth

Forrest Guth

-External links:...


(6 February 1921 – 8 August 2009)
Corporal George Higgins
Corporal "A.P." Herron (1923 – d. 13 January 1945)
Corporal Donald B. Hoobler

Donald Hoobler

-External links:*...


(June 1923 – 3 January 1945)
Corporal Donald L. King (9 November 1921 – 11 August 2003)
Corporal Thomas Maitland
Corporal Earl Ervin McClung (b. 27 April 1923)
Corporal Francis J. Mellet (d. 13 January 1945)
Corporal Stanley F. Motowski
Corporal Lavon P. Reese (d. 1975)
Corporal Harvey G. Robinson (3 April 1921 – 13 June 2009)
Corporal Edward H. Stein (27 April 1916 – 8 December 2001)
Technician Fifth Class Leopollo P. Carillo
Technician Fifth Class Herman F. Collins (12 July 1924 – 6 June 1944)
Technician Fifth Class William A. Howell
Technician Fifth Class Joseph D. Liebgott (17 May 1915 – 28 June 1992)
Technician Fifth Class John G. Mayer
Technician Fifth Class William C. Maynard (1923 - 24 September 2011)
Technician Fifth Class John McGrath (b. 1920)
Technician Fifth Class Ledlie R. Pace
Technician Fifth Class Campbell T. Smith (3 October 1921 – August 1982)
Technician Fifth Class Ralph I. Stafford
Technician Fifth Class William H. Wagner
Technician Fifth Class Jerry A. Wentzel (d. 6 June 1944)
Technician Fifth Class Ralph Hansel Wimer (5 July 1921 – 6 June 1944)
Private First Class Aldrich
Private First Class Raymond L. Ballew (13 February 1921 – 20 October 1988)
Private First Class Conrad M. Bay
Private First Class Salvatore F. Bellino (02 July 1920 - 06 October 2005)
Private First Class Edward J. Bernat (b. 1923)
Private First Class Burden
Private First Class Thomas H. Burgess (26 July 1921 – 7 February 1995)
Private First Class Matthew J. Carlino (3 June 1921 – 13 June 2001)
Private First Class Maxwell M. Clark (22 June 1922 – 14 March 2008)
Private First Class Vincent S. Collette (4 August 1922 – 1 August 1997)
Private First Class Seth O. Crosby (1 January 1918 – 28 July 1989)
Private First Class Richard P. Davenport (10 September 1924 – 18 June 1999)
Private First Class Edward J. Donahue
Private First Class Carl F. Eckstrom (27 August 1922 – June 1972)
Private First Class Carl L. Fenstermaker (1 February 1923 – 30 June 1988
Private First Class Fernandez
Private First Class Gerald L. Flurie (18 July 1921 – September 1986)
Private First Class Richard R. Garrod (24 January 1920 – 15 February 1988)
Private First Class John E. Gathings (7 March 1925 – 15 October 1999)
Private First Class Jack O. Ginn (19 October 1914 – May 1980)
Private First Class Walter E. Hanson
Private First Class Siles E. Harrellson
Private First Class Dale L. Hartley
Private First Class Edward James Heffron

Edward Heffron

-External links:**...


(b. 16 May 1923)
Private First Class Elwood Hertzog
Private First Class Hickman
Private First Class Joseph E. Hogan
Private First Class Walter G. Howard (8 June 1921 – 25 May 2010)
Private First Class Clarence S. Howell (5 November 1918 – 25 August 2000)
Private First Class Hudson
Private First Class Warren C. Huntley (4 May 1921 – 21 January 1993)
Private First Class Eugene E. Ivie (16 September 1920 – October 1982)
Private First Class Coburn M. Johnson (22 September 1921 – 11 June 1996)
Private First Class George E. Jones
Private First Class Robert Van Klinken (1919 – 20 September 1944)
Private First Class Kohler
Private First Class Harry R. Lager (24 January 1923 – 10 December 2005)
Private First Class Robert T. Leonard
Private First Class Quinton E. Lindler (17 October 1919 – 9 December 1950 {Korea})
Private First Class Dewitt Lowrey (b. 22 April 1922)
Private First Class Arthur J. Mauzerall (31 August 1924 – 11 June 1988)
Private First Class John McBreen
Private First Class Walter L. McKay
Private First Class James A. McMahon
Private First Class William E. Medved
Private First Class William T. Miller (d. 20 September 1944)
Private First Class David E. Morris (19 April 1924 – 21 October 1996)
Private First Class Norman W. Neitzke (12 February 1926 – 8 December 2008)
Private First Class Henry E. Nelson
Private First Class Ralph J. Orth
Private First Class Alex M. Penkala, Jr. (1924 – 10 January 1945)
Private First Class Edwin E. Pepping (b. 4 July 1922)
Private First Class Farris O. Rice (1 January 1921 – 16 December 2002)
Private First Class Woodrow W. Robbins (23 December 1916 – 1 June 1996)
Private First Class John W. Rossman
Private First Class Edward F. Sabo (29 January 1918 – 20 June 1998)
Private First Class Elmer N. Schuyler (8 February 1921 – May 1978)
Private First Class John L. Sheehy (29 May 1922 – 20 May 2000)
Private First Class John P. Sheeley (17 September 1921 – 30 January 1994)
Private First Class Garland R. Smith
Private First Class Gerald R. Snider (26 March 1922 – 28 August 2002)
Private First Class Paul J. Sullivan
Private First Class Felix J. Tokarzewski (4 July 1918 – 20 September 1990)
Private First Class Ralph J. Trapuzzano (10 March 1925 – 11 March 1996)
Private First Class Andrew Uuban
Private First Class Alexander Vittorre
Private First Class Paul Wagner
Private First Class David Kenyon Webster

David Kenyon Webster

-External links:*...


(2 June 1922 – 9 September 1961)
Private First Class James W. Welling (29 September 1914 – 24 September 1997)
Private First Class Daniel B. West (16 September 1923 – 15 May 2005)
Private First Class Melvin O. Winn (1 May 1924 – 19 October 1996)
Private First Class William H. Woodcock (27 June 1916 – June 1996)
Private First Class George F. Yochum
Private First Class Frank J. Zastawniak (24 June 1924 – November 1969)
Private First Class Henry Charles Zimmerman (26 March 1925 - 3 October 2011)
Private Owen L. Andrews (24 November 1920 – 5 February 1990)
Private Kieth Ansell
Private Baker
Private Frederick C. Bealke (29 December 1924 – 13 March 2005)
Private Richard F. Berg
Private Homer T. Blake (28 October 1915 – 17 July 2005)
Private Albert Blithe

Albert Blithe

-External links:****...


(25 June 1923 – 17 December 1967)
Private Robert J. Bloser (d. 7 June 1944)
Private Donald S. Bond (b. 29 January 1926)
Private Richard L. Bray
Private Charles P. Broska (23 November 1919 - June 1978)
Private Earl V. Bruce (19 July 1924 – 9 January 1999)
Private John J. Capoferri (7 December 1924 – 24 March 1996)
Private Ora M. Childers (27 August 1922 – June 1980)
Private Chow
Private Robert T. Cipriano (14 May 1923 – 21 July 1990)
Private Roy W. Cobb (18 June 1914 – January 1990)
Private James F. Coleman
Private James Comba
Private John G. Connell (15 July 1916 – 24 June 1999)
Private Conway
Private Philip Coviello
Private Samuel M. Cowthu
Private Cushman
Private Damon
Private Barry J. Dassault
Private Edward R. De Tuncq
Private Jay S. Dickerson
Private Rudolph Dittrich (3 January 1927 – 8 March 1944)
Private John Doe
Private Joseph Dominguez
Private Walter F. Eggert
Private George Elliot (d. 6 June 1944)
Private Chester R. Eschenbach (18 February 1922 – December 1969)
Private John L. Eubanks (23 December 1920 – 25 April 1997)
Private Bradford C. Freeman (b. 1925)
Private Antonio C. Garcia (17 January 1925 – 18 August 2005)
Private John L. Geraghty (3 March 1925 – 14 August 1988)
Private William D. Gier (5 December 1922 – 18 March 2000)
Private Terry G. Giles
Private Eugene S. Gilmore (27 February 1920 – February 1984)
Private Milton B. Glass
Private Frank B. Grant
Private Everett J. Gray (d. 8 June 1944)
Private Genoa H. Griffith (16 February 1916 – 21 May 2003)
Private Stephen E. Grodski (d. 2002)
Private Stanley L. Hagerman (12 Aug 1918 – 22 Mar 2009)
Private Franklin W. Hale (31 July 1925 – April 1983)
Private Elwood Hargroves
Private Thomas A. Harrell
Private Terrence C. Harris (d. 18 June 1944)
Private George B. Hartsuff (15 March 1916 – 24 September 1989)
Private Lester A. Hashey (23 February 1925 – 11 December 2002)
Private Verlin V. Hawkins (8 August 1919 – August 1980)
Private Harold G. Hayes (d. December 1944)
Private Cyril B. Heckler
Private Robert B. Hensley
Private George W. Hewitt
Private Paul A. Hite (13 January 1925 – May 1986)
Private Owen V. Holbrook (30 April 1916 – May 1978)
Private John R. Holland
Private David L. Holton
Private Bruce A. Hudgens
Private Richard J. Hughes (d. 9 January 1945)
Private Charles F. Hussion (6 June 1922 – 25 January 1996)
Private Eugene E. Jackson (1925 – 15 February 1945)
Private John A. Janovec (1913 - May 1945)
Private Robert Jarrett
Private Edward J. Joint (b. 18 February 1923)
Private Joseph M. Jordan (d. 6 June 1944)
Private Vernon Jordan
Private John T. Julian (d. 1 January 1945)
Private John R. Korb (23 September 1921 – 5 November 2002)
Private William N. Kratzer
Private Paul E. Lamoureux (19 May 1925 – 15 January 2005)
Private Lewis Lampos
Private Joseph A. Lesniewski

Joseph Lesniewski

-External links:* *...


(b. 29 August 1920)
Private Philip E. Longo (16 June 1922 – 2 February 2005)
Private John Lusty
Private A. Mahmood
Private Walter E. Martin
Private Michael V. Massaconi (9 April 1921 – 11 February 1999)
Private Jack F. Matthews
Private Edward A. Mauser (18 December 1916 – 21 January 2011)
Private Robert Maxwell
Private Carl F. McCauley
Private William T. McGonigal Jr (d. 6 June 1944)
Private Joachim Melo (b. 1924)
Private Ynez M. Mendoza (b 1925)
Private Vernon J. Menze (10 September 1924 – 20 September 1944)
Private Max M. Meth (4 October 1910 – 23 August 2001)
Private Elmer T. Meth
Private William S. Metzler (1922 – June 1944)
Private James W. Miller (1923 – 20 September 1944)
Private John N. Miller (d. 6 June 1944)
Private Franklin Milo
Private Elmer J. Minne (12 February 1924 – 7 June 2004)
Private Alfred B. Montes
Private Donald J. Moone
Private Alton More (22 April 1920 – July 1958)
Private William E. Morris
Private Sergio G. Moya (1921 – 6 June 1944)
Private Gordon L. Nevenfeldt (26 April 1922 – 31 January 1992)
Private Patrick H. Neill (1926 – 13 January 1945)
Private Marshall Clayton Oliver (d. 1956)
Private Ernest I. Oats (1921 – 6 June 1944)
Private Patrick S. O'Keefe (3 April 1926 – 8 February 2003)
Private Gordon H. Oien
Private Cecil M. Pace
Private Philip P. Perugini (b. 1922)
Private Cleveland O. Petty (19 May 1924 – March 1961)
Private Roy E. Pickel, Sr. (22 May 1922 – 2 January 2008)
Private David R. Pierce
Private John Plesha, Jr. (21 March 1918 – 13 December 2004)
Private George L. Potter, Jr. (d. 1985)
Private Charles W. Pyle
Private Alex R. Raczkowski (20 February 1921 – 15 December 2007)
Private George J. Rajner (12 April 1917 – July 1944)
Private Joseph Ramirez
Private Gregory C. Rotella
Private James Sarago
Private William D. Serilla ( 29 July 1924 – August 1984)
Private John E. Shindell (1925 – 13 January 1945)
Private Urban M. Shirley
Private George H. Smith, Jr.
Private Gerald B. Snider (d. 6 June 1944)
Private James L. Sowell (12 July 1920 – 10 January 1993)
Private Ralph Francis Spina (5 October 1919 – 11 April 2007)
Private Robert L. Steele
Private Joseph Stickley
Private Herbert J. Suerth, Jr. (b. 28 October 1924)
Private Paul Supko
Private Elmer I. Telstad (d. 6 June 1944)
Private George W. Thomason
Private Raymond H. Thompson
Private John Toner
Private Eugene R. Tremble (4 August 1922 – 6 February 2004)
Private Norman Tremonti (15 September 1925 – 15 November 1993)
Private Allen E. Vest
Private Thomas W. Warren (d. 6 June 1944)
Private Kenneth J. Webb (1920 - 13 January 1945)
Private Harold D. Webb (1925 - 13 January 1945)
Private John M. West (b 2 October 1922)
Private James W. Wheeler (12 March 1921 - 23 December 1999)
Private Elijah D. Whytsell (b. 1925)
Private William T. Wingett (b. July 1922)
Private Donald S. Wiseman (17 February 1917 – September 1972)
Private Ronald V. York
Private Jerry G. Young (28 July 1921 – 10 August 1994)
External links