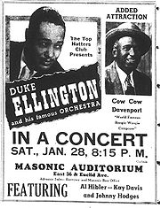 Duke Ellington
Edward Kennedy "Duke" Ellington
(April 29, 1899 – May 24, 1974) was an American composer, pianist, and
big band
Big band
A big band is a type of musical ensemble associated with jazz and the Swing Era typically consisting of rhythm, brass, and woodwind instruments totaling approximately twelve to twenty-five musicians...
leader
Bandleader
A bandleader is the leader of a band of musicians. The term is most commonly, though not exclusively, used with a group that plays popular music as a small combo or a big band, such as one which plays jazz, blues, rhythm and blues or rock and roll music....
. Ellington wrote over 1,000 compositions. In the words of Bob Blumenthal of
The Boston Globe
The Boston Globe
The Boston Globe is an American daily newspaper based in Boston, Massachusetts. The Boston Globe has been owned by The New York Times Company since 1993...
"In the century since his birth, there has been no greater composer, American or otherwise, than Edward Kennedy Ellington."
A major figure in the history of
jazz
Jazz
Jazz is a musical style that originated at the beginning of the 20th century in African American communities in the Southern United States. It was born out of a mix of African and European music traditions. From its early development until the present, jazz has incorporated music from 19th and 20th...
, Ellington's music stretched into various other genres, including
blues
Blues
Blues is the name given to both a musical form and a music genre that originated in African-American communities of primarily the "Deep South" of the United States at the end of the 19th century from spirituals, work songs, field hollers, shouts and chants, and rhymed simple narrative ballads...
,
gospel
Gospel music
Gospel music is music that is written to express either personal, spiritual or a communal belief regarding Christian life, as well as to give a Christian alternative to mainstream secular music....
,
film score
Film score
A film score is original music written specifically to accompany a film, forming part of the film's soundtrack, which also usually includes dialogue and sound effects...
s,
popular
Popular music
Popular music belongs to any of a number of musical genres "having wide appeal" and is typically distributed to large audiences through the music industry. It stands in contrast to both art music and traditional music, which are typically disseminated academically or orally to smaller, local...
, and
classical
Classical music
Classical music is the art music produced in, or rooted in, the traditions of Western liturgical and secular music, encompassing a broad period from roughly the 11th century to present times...
.
Playing "Bop" is like playing Scrabble with all the vowels missing.

Look (10 August 1954)
It's like an act of murder; you play with intent to commit something.

On jazz New York Herald Tribune (9 July 1961)
Every man prays in his own language.

Section title and eponymous song of A Concert of Sacred Music (1965)
Fate is being kind to me. Fate doesn't want me to be too famous too young.

At age 66, on being passed over for an award (Pulitzer Prize for music) in 1965, as quoted in The Christian Science Monitor (24 December 1986)
Roaming through the jungle of "oohs" and "ahs," searching for a more agreeable noise, I live a life of primitivity with the mind of a child and an unquenchable thirst for sharps and flats.

Music Is My Mistress (1973)
If it sounds good, it IS good.

J.D. Moore's Ten Commandments for The Studio
There's two kinds of music: good and bad. I like both.

A problem is a chance for you to do your best.

Art is dangerous. It is one of the attractions: when it ceases to be dangerous you don't want it.