 Driving range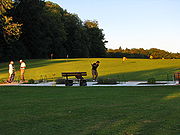 A
driving range
is an area where
golf
Golf
Golf is a precision club and ball sport, in which competing players use many types of clubs to hit balls into a series of holes on a golf course using the fewest number of strokes....
ers can practice their swing. It can also be a recreational activity itself for amateur golfers or when enough time for a full game is not available. Many
golf course
Golf course
A golf course comprises a series of holes, each consisting of a teeing ground, fairway, rough and other hazards, and a green with a flagstick and cup, all designed for the game of golf. A standard round of golf consists of playing 18 holes, thus most golf courses have this number of holes...
s have a driving range attached and they are also found as stand-alone facilities, especially in urban areas. They are typically run by businesses or sometimes by universities
http://www.stanfordgolfcourse.com/range.htm
. Distances are usually marked by target greens at regular distances. Driving ranges may have natural grass, similar to a golf course, or players may have to use synthetic mats that resemble real turf. Often, the grass area is available only for an extra fee, around $5.
Golfers pay for various sizes of buckets of balls, usually designated as small (30–50 balls), medium (50-80 balls), and large (80-100 balls), and hit at their leisure. Often there are golf professionals available to give lessons and instruction. Balls are retrieved by a specialty cart with a brush and roller attachment that automatically picks up balls and a cage that protects the driver from incoming balls. In urban and suburban areas, large nets protect surrounding people and structures from errant balls. Driving ranges are particularly popular in Japan where golf courses are overcrowded and often very expensive. Many commercial driving ranges are seen in conjunction with other sports-related practice areas such as
batting cage
Batting cage
A batting cage is an enclosed cage for baseball players to practice the skill of batting.It is usually made of netting or a chain-link fence and rectangular in shape. A batter stands at one end of the cage, with a pitching machine at the opposing end...
s or
miniature golf
Miniature golf
Miniature golf, or minigolf, is a miniature version of the sport of golf. While the international sports organization World Minigolf Sport Federation prefers to use the name "minigolf", the general public in different countries has also many other names for the game: miniature golf, mini-golf,...
, for entertainment. Some driving ranges also offer areas for practice chip shots, bunker shots, and putting.
Driving ranges may use
golf ball
Golf ball
A golf ball is a ball designed to be used in the game of golf.Under the Rules of Golf, a golf ball weighs no more than 1.620 oz , has a diameter not less than 1.680 in , and performs within specified velocity, distance, and symmetry limits...
s that differ significantly from those used on the golf course. Range balls, as they are known, are often cheap and specially designed with a harder cover to make them more durable. As such they also may not necessarily conform to the
rules of golf
Rules of golf
The rules of golf are a standard set of regulations and procedures by which the sport of golf should be played. They are jointly written and administered by the R&A the governing body of golf worldwide except in the United States and Mexico, which are the responsibility of the United States Golf...
. In order to distinguish them from other type of ball, they may have a distinct coloring or colored band and be stamped with the word "range".