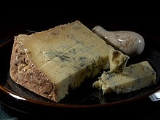 Dorset Blue Vinney cheese
Dorset Blue Vinney
is a traditional blue
cheese
Cheese
Cheese is a generic term for a diverse group of milk-based food products. Cheese is produced throughout the world in wide-ranging flavors, textures, and forms....
made near Sturminster Newton in
Dorset
Dorset
Dorset , is a county in South West England on the English Channel coast. The county town is Dorchester which is situated in the south. The Hampshire towns of Bournemouth and Christchurch joined the county with the reorganisation of local government in 1974...
, England, from
skimmed
Skimmed milk
Skimmed milk , or skim milk is made when all the cream is removed from whole milk .Sometimes only half the cream is removed, this is called semi-skimmed milk....
cows' milk. It is a hard, crumbly cheese. "Vinney" is a local Dorset term related to the obsolete word "vinew", which means to become mouldy. Another explanation has it that "vinny" is a corruption of "veiny", referring to the blue veins running throughout the cheese.
Historically the cheese was merely a by-product of the much more lucrative butter market. Milk was of little value before the railways as it couldn't be brought to market before it went off, thus cheese and butter production was the main focus of dairy farms. Dorset butter was highly regarded in
London
London
London is the capital city of :England and the :United Kingdom, the largest metropolitan area in the United Kingdom, and the largest urban zone in the European Union by most measures. Located on the River Thames, London has been a major settlement for two millennia, its history going back to its...
where it fetched a premium price but making butter left the farmers with large quantities of skimmed milk which they turned into a hard, crumbly cheese.
While the cheese was a common farmhouse cheese in Dorset for hundreds of years, production dried up around 1970 and the cheese became extinct. However, in the 1980s Woodbridge Farm in Dorset revived the old recipe, and it is now producing the cheese again.
In his poem
Praise O' Do'set
, the Dorset poet
William Barnes
William Barnes
William Barnes was an English writer, poet, minister, and philologist. He wrote over 800 poems, some in Dorset dialect and much other work including a comprehensive English grammar quoting from more than 70 different languages.-Life:He was born at Rushay in the parish of Bagber, Dorset, the son of...
asks,
Woont ye have brown bread a-put ye,
An' some vinny cheese a-cut ye?
It is often made from unpasteurised milk. This is considered healthy by some and risky by others due to the potential for
tuberculosis
Tuberculosis
Tuberculosis, MTB, or TB is a common, and in many cases lethal, infectious disease caused by various strains of mycobacteria, usually Mycobacterium tuberculosis. Tuberculosis usually attacks the lungs but can also affect other parts of the body...
from infected cows passing into the milk. It has a strong taste and smell.
Blue Vinney goes well with Dorset Knobs, another traditional product from Dorset. The cheese was
Thomas Hardy
Thomas Hardy
Thomas Hardy, OM was an English novelist and poet. While his works typically belong to the Naturalism movement, several poems display elements of the previous Romantic and Enlightenment periods of literature, such as his fascination with the supernatural.While he regarded himself primarily as a...
's favourite.
External links