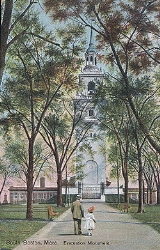 Dorchester Heights
Dorchester Heights
is the central area of South Boston. It is the highest area in the neighborhood and commands a view of both Boston Harbor and downtown.
Dorchester Heights was and is remembered in American history for an action in the
American Revolutionary War
American Revolutionary War
The American Revolutionary War , the American War of Independence, or simply the Revolutionary War, began as a war between the Kingdom of Great Britain and thirteen British colonies in North America, and ended in a global war between several European great powers.The war was the result of the...
known as the
Fortification of Dorchester Heights
Fortification of Dorchester Heights
The Fortification of Dorchester Heights was a decisive action early in the American Revolutionary War that precipitated the end of the siege of Boston and the withdrawal of British troops from that city....
. After the battles of
Lexington and Concord
Battles of Lexington and Concord
The Battles of Lexington and Concord were the first military engagements of the American Revolutionary War. They were fought on April 19, 1775, in Middlesex County, Province of Massachusetts Bay, within the towns of Lexington, Concord, Lincoln, Menotomy , and Cambridge, near Boston...
, Revolutionary sentiment within New England reached a new high, and thousands of militiamen from the Northern colonies converged on Boston, pushing the British back within what where then relatively narrow city limits.