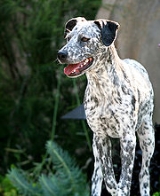 Dog hybrids and crossbreeds
A
dog hybrid
is a crossbreed of two or more different recognized breeds of dog.
The
Encyclopædia Britannica
Encyclopædia Britannica
The Encyclopædia Britannica , published by Encyclopædia Britannica, Inc., is a general knowledge English-language encyclopaedia that is available in print, as a DVD, and on the Internet. It is written and continuously updated by about 100 full-time editors and more than 4,000 expert...
traces the term "designer dog" to the late 20th century, when breeders began to cross purebred
poodle
Poodle
The Poodle is a breed of dog. The poodle breed is found officially in toy, miniature, and standard sizes, with many coat colors. Originally bred as a type of water dog, the poodle is highly intelligent and skillful in many dog sports, including agility, obedience, tracking, and even herding...
s with other purebred breeds in order to obtain a dog with the poodles' hypoallergenic coat, along with various desirable characteristics from other breeds.
One
connotation
Connotation
A connotation is a commonly understood subjective cultural or emotional association that some word or phrase carries, in addition to the word's or phrase's explicit or literal meaning, which is its denotation....
of the term "designer dog" is that the breeding is by design, between a deliberately chosen sire and dam, as opposed to an accidental breeding.