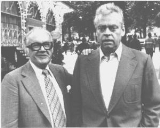 Dirch Passer
Dirch Hartvig Passer
was a celebrated
Danish
Denmark
Denmark is a Scandinavian country in Northern Europe. The countries of Denmark and Greenland, as well as the Faroe Islands, constitute the Kingdom of Denmark . It is the southernmost of the Nordic countries, southwest of Sweden and south of Norway, and bordered to the south by Germany. Denmark...
actor. He was greatly renowned for his improvisational skills and, with a filmography comprising 90 movies, one of Denmark's most prolific actors.
When he was young, Passer was very shy, and had a dream of becoming an actor, but consented to his father's wishes by attending J. Lauritzen's sea training school near
Svendborg
Svendborg
Svendborg is a town on the island of Funen in south-central Denmark. The town is in Svendborg municipality . Svendborg is the second-largest city on Funen and has a population of 27,009 ....
in 1944. But since he had ongoing problems with seasickness, he later started at
De frederiksbergske teatres Elevskole
.
During the 1950s he formed a duo with his colleague and friend
Kjeld Petersen
Kjeld Petersen
Kjeld Petersen was a Danish film actor. He appeared in 41 films between 1945 and 1962.He was born in Copenhagen, Denmark and died in Denmark.-Filmography:*Den usynlige hær - 1945*Far betaler' - 1946...
. Their revue sketches, based upon the contrast between Petersen's mixture of joviality and desperate anger and Passer's deadpan responses, are still considered classics by the public. The sudden death of Kjeld Petersen in 1962 led Passer to avoid revues for five years, but he built up an individual reputation and in 1967 he returned to the revue gaining new victories. Many thin jokes in the scripts were greatly improved by his performance. In particular, his many amiable eccentrics and "nature experts" together with his sketch roles as a baby and as a nonsense "Russian"-speaking clown made him famous. From his later years must be mentioned an almost silent sketch in which he portrays a man's vain attempt to stop smoking (also shown in West German TV). It was told that he could speak any language, however he wouldn't understand any of it, which was one of his good qualities.
He was often referred to as a loud actor in spite of the fact that under-acting was responsible for much of his force. A Danish critic, Jens Kistrup, once said that one of the secrets behind the comedy of Passer was its combination of elements that are normally regarded as incompatible. He possessed noisiness and discretion, loudness and quietness, boundlessness and complete control, craziness and softness — all this combined with a special intimacy with the audience. Among his inspirations he mentioned
Joe E. Brown
Joe E. Brown (comedian)
Joseph Evans Brown was an American actor and comedian, remembered for his amiable screen persona, comic timing, and enormous smile. In 1902 at the age of nine, he joined a troupe of circus tumblers known as the Five Marvelous Ashtons which toured the country on both the circus and vaudeville...
but he was also known for his admiration of the British comedian
Tommy Cooper
Tommy Cooper
Thomas Frederick "Tommy" Cooper was a very popular British prop comedian and magician from Caerphilly, Wales.Cooper was a member of The Magic Circle, and respected by traditional magicians...
. In his films, which were of very mixed quality, he often played kind and somewhat crazy "Everymen" or antiheroes. Among his best movie roles were stage roles transferred to film; here must be mentioned the hero in
Charley's Aunt
(1959), Celestin-Floridor in
Frøken Nitouche
Frøken Nitouche
Frøken Nitouche is a 1963 Danish comedy film directed by Annelise Reenberg and starring Lone Hertz. Based on Mam'zelle Nitouche-Cast:* Lone Hertz - Frk...
(1963) and Leopold in
Summer in Tyrol
Summer in Tyrol
Summer in Tyrol is a 1964 Danish comedy film directed by Erik Balling and starring Dirch Passer.-Cast:* Dirch Passer - Leopold Ulrik Joackim Brantmeyer* Susse Wold - Josepha Gabriela Maria Vogelhuber* Ove Sprogøe - Sigismund Sülzheimer...
(i.e.
The White Horse Inn
The White Horse Inn
Im weißen Rößl is an operetta or musical comedy set in the picturesque Salzkammergut region of Upper Austria. It is about the head waiter of the White Horse Inn in St. Wolfgang who is desperately in love with the owner of the inn, a resolute young woman who at first only has eyes for one of her...
, 1964).
Numerous Danish actors see him as a role model. In day-to-day life he was quite shy in behaviour, somewhat the opposite of his theatrical appearances. He collapsed just off stage, moments before curtains were to go up for the season premiere of Tivolirevyen, dressed as a clown for the opening number, and died shortly after arrival at the hospital.
His life is depicted in the Danish semi-biographical movie
A Funny Man
(2011, Danish title
Dirch
) directed by Martin Zandvliet.
Filmography
Sikken en nat (1947)
Lykke på rejsen

Lucky Journey

-Cast:* Erling Schroeder - Grev Klaus Segeberg* Ingeborg Brams - Dagny, Klaus' kone* Asbjørn Andersen - Godsejer Joachim Fries-Olsen* Peter Malberg - Grev Mathias Broholt* Maria Garland - Priorinde Heralda Broholt* Else Kourani - Betty van Holten...


(1947)
Stjerneskud

Stjerneskud

Stjerneskud is a 1947 Danish comedy film directed by Jon Iversen and Alice O'Fredericks. The film marked the debut of Dirch Passer.Stjerneskud is the Danish word for Meteor.-Cast:*Osvald Helmuth*Einar Sissener*Betty Helsengreen*Sigrid Horne-Rasmussen...


(1947)
Den opvakte jomfru

Den opvakte jomfru

Den opvakte jomfru is a 1950 Danish family film directed by Lau Lauritzen, Jr. and Alice O'Fredericks.-Cast:* Marguerite Viby - Skønjomfruen Anne Pedersdatter* Helge Kjærulff-Schmidt - Profossor Ebenezer Steenhammer* Lisbeth Movin - Frk. Grøndal...


(1950)
Som sendt fra himlen

Som sendt fra himlen

Som sendt fra himlen is a 1951 Danish comedy film directed by Johan Jacobsen.-Cast:* Mogens Wieth - Allan / Alfred Kragh* Birgitte Reimer - Laura Heiberg* Kjeld Petersen - Torsten Vinge* Erik Mørk - Herbert Thorsen* Johannes Meyer - Kommandanten...


(1951)
Dorte

Dorte

Dorte is a 1951 Danish family film directed by Jon Iversen.-Cast:* Ilselil Larsen - Dorte* Ib Schønberg - Direktør Asger Hansen* Preben Neergaard - Steen* Nina Pens Rode - Margot* Johannes Meyer - Prokuristen* Helge Kjærulff-Schmidt - Olsen...


(1951)
Vi arme syndere

Vi arme syndere

Vi arme syndere is a 1952 Danish comedy film directed by Erik Balling and Ole Palsbo.-Cast:* Ib Schønberg - Hannibal Svane* Johannes Meyer - Gulbæk* Ellen Gottschalch - Baronessen* Astrid Villaume - Ulla Blom* Bendt Rothe - Maler Astrup...


(1952)
Vejrhanen

Vejrhanen

Vejrhanen is a 1952 Danish family film directed by Lau Lauritzen, Jr..-Cast:* Johannes Meyer - Theodor Nielsen* Ilselil Larsen - Eva Nielsen* Einar Juhl - Leo Svaneberg* Randi Michelsen - Sigrid Svaneberg* Sigurd Langberg - Købmand Harms...


(1952)
Rekrut 67, Petersen

Rekrut 67, Petersen

Rekrut 67, Petersen is a 1952 Danish family film directed by Poul Bang.-Cast:* Lily Broberg - Grete Petersen* Gunnar Lauring - Kaptajn Fang* Kate Mundt - Anna Mogensen* Ib Schønberg - Dr...


(1952)
Drömsemester

Drömsemester

Drömsemester is a 1952 Swedish film directed by Gösta Bernhard and starring Dirch Passer.-Cast:* Dirch Passer - Mogens Jensen* Stig Järrel - Porter / Police / Newspaper editor / Landlady / Customs officer / Gipsy / Gentleman* Alice Babs - Alice Babs...


(1952)
Ved kongelunden...

Ved kongelunden...

Ved kongelunden... is a 1953 Danish comedy film directed by Poul Bang and starring Dirch Passer.-Cast:* Dirch Passer - Konduktør Svendsen* Ove Sprogøe - Vognstyrer Iversen* Louis Miehe-Renard - Jørgen Rasmussen...


(1953)
Solstik

Sunstroke (film)

Sunstroke is a 1953 Danish comedy film directed by Astrid Henning-Jensen and Bjarne Henning-Jensen.-Cast:* Kjeld Petersen - Portieren* Birgitte Reimer - Frk. Vibeke Søgaard* Preben Neergaard - Teddy / Theodor Winther* Ole Monty - Overlæge Grå...


(1953)
Dirch Passer vælter byen (1954)
Sju svarta be-hå

Sju svarta be-hå

Sju svarta be-hå is a 1954 Swedish crime film directed by Gösta Bernhard and starring Dirch Passer.-Cast:* Dirch Passer - Jens Nielsen* Annalisa Ericson - Gertrud Hall, actress * Åke Grönberg - Sture Kaxe...


(1954)
Sol, sommer og badevand (1954)
I kongens klæ'r

I kongens klæ'r

I kongens klæ'r is a 1954 Danish comedy film directed by Poul Bang and starring Dirch Passer.-Cast:* Dirch Passer - Søren Rask - rekrut 66* Ove Sprogøe - Jens Rasmussen - rekrut 65* Kjeld Petersen - Grosserer Johan Petersen / 67...


(1954)
Far och flyg

Far och flyg

Far och flyg is a 1955 Swedish film directed by Gösta Bernhard and starring Dirch Passer.-Cast:* Dirch Passer - Peder* Åke Grönberg - Hagfors* Irene Söderblom - Agneta Jansson* Georg Adelly - Albin* Rut Holm - Mrs. Hermansson* Arne Källerud - Dröm...


(1955)
Det var paa Rundetaarn

Det var paa Rundetaarn

Det var paa Rundetaarn is a 1955 Danish comedy film directed by Poul Bang and starring Dirch Passer.-Cast:* Dirch Passer - Poul Jensen* Ove Sprogøe - Hans Ramløse* Clara Østø - Fru Hambro* Kjeld Petersen - Landsretsagfører Hartsen...


(1955)
Hvad vil De ha'?

Hvad vil De ha'?

Hvad vil De ha'? is a 1956 Danish comedy film directed by Jens Henriksen and Preben Neergaard and starring Dirch Passer.-Cast:* Asbjørn Andersen - Filmproducenten* Boyd Bachmann - Himself* Paul Hagen - Soldaten* Hans Kurt - Vagabonden...


(1956)
Den store gavtyv

Den store gavtyv

Den store gavtyv is a 1956 Danish comedy film directed by Johan Jacobsen and starring Dirch Passer.-Cast:* Dirch Passer - K.M.M. Mathisen* Ole Monty - S.P.R.F...


(1956)
Færgekroen

Færgekroen

Færgekroen is a 1956 Danish film directed by Poul Bang and starring Dirch Passer.-Cast:* Dirch Passer - Erik Hansen* Ove Sprogøe - Lars Tofte* Kjeld Petersen - Jens Ravn* Lily Broberg - Kamilla* Poul Müller - Niels Ermandsen...


(1956)
Dirch & Kjeld hos C. & G. (1957)
Tag til marked i Fjordby

Tag til marked i Fjordby

Tag til marked i Fjordby is a 1957 Danish comedy film directed by Poul Bang and starring Dirch Passer.-Cast:* Dirch Passer - 'Lange' Emil Andersen* Ove Sprogøe - Knud Tofte* Buster Larsen - Lasse Larsen* Lily Broberg - Gunhild* Sonja Jensen - Lillian...


(1957)
Dirch & Kjeld blir nye mennesker (1958)
Krudt og klunker

Krudt og klunker

Krudt og klunker is a 1958 Danish comedy film directed by Annelise Hovmand and starring Gunnar Lauring.-Cast:* Gunnar Lauring - Professor Edward Jacobsen* Vera Gebuhr - Fru Wilhelmine Jacobsen* Sigrid Horne-Rasmussen - Faster Ragnhild Jacobsen...


(1958)
Styrmand Karlsen

Styrmand Karlsen

Styrmand Karlsen is a 1958 Danish film directed by Annelise Reenberg.-Cast:* Johannes Meyer - Kaptajn Vilhelm Hammer* Frits Helmuth - Styrmand Knud Karlsen* Dirch Passer - Valdemar Bøgelund* Ove Sprogøe - Ole Olsen* Ghita Nørby - Anne Marie Bøgelund...


(1958)
Pigen og vandpytten

Pigen og vandpytten

Pigen og vandpytten is a 1958 Danish family film directed by Bent Christensen and starring Lily Broberg.-Cast:* Lily Broberg - Mai Grøndahl* Preben Mahrt - Erik Thorbjørn* Buster Larsen - Teaterdirektører...


(1958)
Møde ved midnat (1958)
TV te' vands (1959)
Poeten og Lillemor

The Poet and the Little Mother

The Poet and the Little Mother is a 1959 Danish family film directed by Erik Balling and starring Henning Moritzen. It was entered into the 9th Berlin International Film Festival.-Cast:* Henning Moritzen - Poeten* Helle Virkner - Lillemor...


(1959)
Onkel Bill fra New York

Onkel Bill fra New York

Onkel Bill fra New York is a 1959 Danish comedy film directed by Peer Guldbrandsen and starring Dirch Passer.-Cast:* Dirch Passer - Hans Høj* Helle Virkner - Susanne Høj* Ove Sprogøe - Johnny Jensen* Ulla Lock - Kate...


(1959)
Soldaterkammerater rykker ud

Soldaterkammerater rykker ud

Soldaterkammerater rykker ud is a 1959 Danish comedy film directed by Sven Methling and starring Louis Miehe-Renard.-Cast:* Louis Miehe-Renard - Knud Petersen * Ebbe Langberg - Peter 'Ras' Rasmussen * Paul Hagen - Henrik Didriksen...


(1959)
Charles' tante

Charles' Aunt

Charles' Aunt is a 1959 Danish comedy film directed by Poul Bang and starring Dirch Passer.-Cast:* Dirch Passer - Grev Ditlev Lensby* Ove Sprogøe - Charles Smith* Ebbe Langberg - Peter Ahlevig* Ghita Nørby - Laura Hornemann...


(1959)
Vi er allesammen tossede

Vi er allesammen tossede

Vi er allesammen tossede is a 1959 Danish comedy directed by Sven Methling and starring Kjeld Petersen, Buster Larsen, Birgitte Reimer and Dirch Passer. The film relates the story of a confused driver who is mistakenly committed to an insane asylum after he insists to police that his car was...


(1959)
Dyden er ikke dirchefri (1960)
Poeten og Lillemor og Lotte

Poeten og Lillemor og Lotte

Poeten og Lillemor og Lotte is a 1960 Danish comedy film directed by Erik Balling and starring Henning Moritzen.-Cast:* Henning Moritzen - The poet* Helle Virkner - Lillemor* Ove Sprogøe - Anton* Lis Løwert - Vera* Dirch Passer - The baker...


(1960)
Elefanter på loftet

The Greeneyed Elephant

The Greeneyed Elephant is a 1960 Danish family film directed by Peter Guildbrassen and starring Dirch Passer. The story revolves around two aspiring actresses who stumble upon an ancient Aztec sculpture of an elephant that has the power to switch both of their bodies...


(1960)
Baronessen fra benzintanken

Baronessen fra benzintanken

Baronessen fra benzintanken is a 1960 Danish comedy film directed by Annelise Reenberg and starring Maria Garland, Ghita Nørby, Dirch Passer and Ove Sprogøe.-Cast:...


(1960)
Sømand i knibe

Sømand i knibe

Sømand i knibe is a 1960 Danish family film directed by and starring Lau Lauritzen, Jr..-Cast:* Lau Lauritzen, Jr. - Admiral* Ebbe Langberg - Kaptajnløjtnant Poul Adam* Hans Kurt - Fabrikant* Ghita Nørby - Eva Thygesen* Jeanne Darville - Tove Thygesen...


(1960)
Sommar och syndare

Sommar och syndare

Sommar och syndare is a 1960 Swedish film directed by Arne Mattsson and starring Yngve Gamlin.-Cast:* Yngve Gamlin - Prof. Cornelius* Lena Granhagen - Mrs...


(1960)
Skibet er ladet med

Skibet er ladet med

Skibet er ladet med is a 1960 Danish comedy film directed by Peer Guldbrandsen and starring Kjeld Petersen.-Cast:* Kjeld Petersen - Reklamechef Kurt Svendsen* Jørgen Reenberg - Musikforlægger Peter Bangel* Frits Helmuth - Max Ibsen...


(1960)
Panik i paradis

Panic in Paradise (film)

Panic in Paradise is a 1960 Danish comedy film directed by Hagen Hasselbalch and starring Alf Kjellin.-Cast:* Alf Kjellin - Frederik* Katarina Hellberg* Mogens Brandt* Dirch Passer - Greven* William Brüel* Helge Kjærulff-Schmidt - Gas & Vandmesteren...


(1960)
Forelsket i København

Forelsket i København

Forelsket i København is a 1960 Danish romance film directed by Finn Henriksen and starring Siw Malmkvist.-Cast:* Siw Malmkvist - Maj Lindquist* Henning Moritzen - Jan Scharf* Ove Sprogøe - Carni* Jørgen Ryg - Dingo* Perry Knudsen - Stump...


(1960)
Reptilicus

Reptilicus

Reptilicus, a giant monster film about a fictional prehistoric reptile, is a Danish-American co-production, produced by American International Pictures and Saga Studios, and is upon close examination two distinctly different films helmed by two different directors.The original version, which was...


(1961)
Peters baby

Peters baby

Peters baby is a 1961 Danish comedy film directed by Annelise Reenberg and starring Ebbe Langberg.-Cast:* Ebbe Langberg - Peter Bergman* Ghita Nørby - Tony* Dario Campeotto - Sanger* Dirch Passer - William Thorsen* Inger Stender - Peters mor...


(1961)
Poeten og Lillemor i forårshumør

Poeten og Lillemor i forårshumør

Poeten og Lillemor i forårshumør is a 1961 Danish comedy film directed by Erik Balling and starring Henning Moritzen.-Cast:* Henning Moritzen - Poeten* Helle Virkner - Lillemor* Eva Hast Nystad - Lotte * Ove Sprogøe - Anton...


(1961)
Støv på hjernen (1961)
Gøngehøvdingen (1961)
Lykkens musikanter

Lykkens musikanter

Lykkens musikanter is a 1962 Danish film directed by Peer Guldbrandsen and starring Ellen Gottschalch.-Cast:* Ellen Gottschalch - Lydia Wiljengren* Ove Sprogøe - Havemand Texas* Dirch Passer - Elevatorfører Gogol* Kjeld Petersen - Sagfører Dagerman...


(1962)
Han, Hun, Dirch og Dario

Han, Hun, Dirch og Dario

Han, Hun, Dirch og Dario is a 1962 Danish comedy film directed by Annelise Reenberg and starring Ghita Nørby.-Cast:* Ghita Nørby - Marianne Borg* Ebbe Langberg - Poul Borg* Dirch Passer - Eigil Hansen...


(1962)
Det tossede paradis

Crazy Paradise

Crazy Paradise is a 1962 Danish comedy film directed by Gabriel Axel and starring Dirch Passer.-Cast:* Dirch Passer - Angelus Bukke* Ove Sprogøe - Simon* Hans W...


(1962)
Filmdesorientering (1962)
Sømænd og svigermødre

Sømænd og svigermødre

Sømænd og svigermødre is a 1962 Danish comedy film directed by Bent Christensen and starring Dirch Passer.-Cast:* Dirch Passer - Kanusti Mogensen* Ove Sprogøe - Peter Jensen* Kjeld Petersen - Henry Middelboe* Jessie Rindom - Emma Middelboe...


(1962)
Det støver stadig

Det støver stadig

Det støver stadig is a 1962 Danish comedy film directed by Poul Bang and starring Helle Virkner.-Cast:* Helle Virkner – Fru Henriksen* Søren Elung Jensen – Hr. Henriksen* Dirch Passer – Alf Thomsen* Hanne Borchsenius – Frk. Monalisa Jacobsen...


(1962)
Oskar

Oskar (film)

Oskar is a 1962 Danish film directed by Gabriel Axel and starring William Bewer.-Cast:* William Bewer - Chauffør hos Rosentorn* Vera Gebuhr - Charlotte, stuepige* Judy Gringer - Tina, stuepige hos Bang* Lone Hertz - Vibeke Bang, Bernhards datter...


(1962)
Svinedrengen og prinsessen på ærten

Svinedrengen og prinsessen på ærten

Svinedrengen og prinsessen på ærten is a 1962 Danish animated film directed by Poul Ilsøe and starring Dirch Passer.-Cast:* Dirch Passer - voice* Henning Moritzen - voice* Lise Ringheim - voice* Johannes Meyer - voice* Bjørn Spiro - voice...


(1962)
Venus fra Vestø

Venus fra Vestø

Venus fra Vestø is a 1962 Danish drama film directed by Annelise Reenberg and starring Malene Schwartz.-Cast:* Malene Schwartz - Frk. Nicola Egede-Schack* Henning Moritzen - John Morland* Dirch Passer - Ditlev Egede-Schack...


(1962)
Pigen og pressefotografen

The Girl and the Press Photographer

The Girl and the Press Photographer is a 1963 Danish comedy film directed by Sven Methling and starring Dirch Passer.-Cast:* Dirch Passer - Jens August Sebastian 'Bastian' Dusinius* Ghita Nørby - Lene Kristiansen* Paul Hagen - Søren...


(1963)
Vi har det jo dejligt

Vi har det jo dejligt

Vi har det jo dejligt is a 1963 Danish family film directed by Gabriel Axel and starring Dirch Passer.-Cast:* Dirch Passer - Thorvald Madsen* Ebbe Langberg - Henrik Gustafsen* Lone Hertz - Eva Thorsen* Karl Stegger - Fabrikant Thorsen...


(1963)
Hvis lille pige er du?

Hvis lille pige er du?

Hvis lille pige er du? is a 1963 Danish comedy film directed by Erik Balling and starring Ghita Nørby.-Cast:* Ghita Nørby - Eva* Dirch Passer - Hans* Maria Garland - Hans' mor* Johannes Meyer - Zimmermann* Paul Hagen - Benny* Judy Gringer - Susie...


(1963)
Frøken Nitouche

Frøken Nitouche

Frøken Nitouche is a 1963 Danish comedy film directed by Annelise Reenberg and starring Lone Hertz. Based on Mam'zelle Nitouche-Cast:* Lone Hertz - Frk...


(1963)
Bussen

Bussen (film)

Bussen is a 1961 Norwegian comedy film, directed by Arne Skouen and starring Leif Juster, and a strikingly similar 1963 Danish comedy film directed by Finn Henriksen and starring Dirch Passer. The plot and script is essentially the same in both films . The Danish version is made suitable for a...


(1963)
Tre piger i Paris

Three Girls in Paris

Three Girls in Paris is a 1963 Danish family film directed by Gabriel Axel and starring Daniel Gélin.-Cast:* Daniel Gélin - Raymond* Ghita Nørby - Hanne* Susse Wold - Lotte* Hanne Borchsenius - Dorte* Dirch Passer - Kok Harald Mikkelsen...


(1963)
Støv for alle pengene

Støv for alle pengene

Støv for alle pengene is a 1963 Danish comedy film directed by Poul Bang and starring Søren Elung Jensen.-Cast:* Søren Elung Jensen - Hr. Henriksen* Helle Virkner - Bodil Henriksen* Jan Priiskorn-Schmidt - Klaus Henriksen* Dirch Passer - Alf Thomsen...


(1963)
Majorens oppasser

Majorens oppasser

Majorens oppasser is a 1964 Danish comedy film directed by Sven Methling and starring Dirch Passer.-Cast:* Dirch Passer - Thomas Edison Hansen* Ove Sprogøe - Major Clausen* Paul Hagen - 21, Sørensen* Judy Gringer - Lise Clausen...


(1964)
Sommer i Tyrol

Summer in Tyrol

Summer in Tyrol is a 1964 Danish comedy film directed by Erik Balling and starring Dirch Passer.-Cast:* Dirch Passer - Leopold Ulrik Joackim Brantmeyer* Susse Wold - Josepha Gabriela Maria Vogelhuber* Ove Sprogøe - Sigismund Sülzheimer...


(1964)
Blåjackor

Sailors (film)

Sailors is a 1964 Swedish film directed by Arne Mattsson and starring Dirch Passer.-Cast:* Dirch Passer - Sam* Anita Lindblom - Carmen* Åke Söderblom - Nappe von Lohring* Nils Hallberg - Nitouche* Elisabeth Odén - Eva* Per Asplin - Bob...


(1964)
Don Olsen kommer til byen

Don Olsen kommer til byen

Don Olsen kommer til byen is a 1964 Danish comedy film directed by Anker Sørensen. The film stars Dirch Passer.-Cast:*Dirch Passer*Buster Larsen*Bodil Udsen*Birgitte Price*Marguerite Viby*Bendt Rothe*Otto Brandenburg*Daimi Larsen*Karl Stegger...


(1964)
Här kommer bärsärkarna

Här kommer bärsärkarna

Här kommer bärsärkarna is a 1965 Swedish adventure film directed by Arne Mattsson and starring Carl-Gustaf Lindstedt.-Cast:* Carl-Gustaf Lindstedt - Glum* Dirch Passer - Garm* Åke Söderblom - Hjorvard* Nils Hallberg - Cassius...


(1965)
Passer passer piger

Passer passer piger

Passer passer piger is a 1965 Danish comedy film directed by Sven Methling and starring Helle Virkner.-Cast:* Helle Virkner - Fru Henriksen* Poul Reichhardt - Hr. Henriksen* Jan Priiskorn-Schmidt - Peter* Dirch Passer - Alf Thomsen...


(1965)
Flådens friske fyre

It's Nifty in the Navy

It's Nifty in the Navy is a 1965 Danish comedy film directed by Finn Henriksen and starring Dirch Passer.-Cast:* Dirch Passer - Valdemar Jensen* Ghita Nørby - Hanne Hansen* Ove Sprogøe - Knud Hansen* Paul Hagen - Svend Nielsen* Hans W...


(1965)
Pigen og millionæren

The Girl and the Millionaire

The Girl and the Millionaire is a 1965 Danish comedy film directed by Ebbe Langberg and starring Dirch Passer.-Cast:* Dirch Passer - Direktør Jens Møller* Birgitte Bruun - Koncertpianist Marlene Brandt* Malene Schwartz - Britta...


(1965)
Jag - en älskare

I, a Lover

I, a Lover is a 1966 Swedish-Danish comedy film directed by Börje Nyberg and starring Jørgen Ryg.-Cast:* Jørgen Ryg - Peter Isløv* Jessie Flaws - Elizabeth Schmidt* Axel Strøbye - Ole Schmidt* Kerstin Wartel - Sigrid Schmidt...


(1966)
Der var engang

Der var engang

Der var engang is a 1966 Danish family film directed by John Price and starring Birgitte Bruun.-Cast:* Birgitte Bruun - Prinsessen af Illyrien* Hans W...


(1966)
Slap af, Frede!

Relax Freddie

Relax Freddie is a 1966 Danish comedy film directed by Erik Balling and starring Morten Grunwald.-Cast:* Morten Grunwald - Frede Hansen* Ove Sprogøe - Agent Smith* Erik Mørk - Presto* Hanne Borchsenius - Diana* Clara Pontoppidan - Mamma...


(1966)
Pigen og greven

Pigen og greven

Pigen og greven is a 1966 Danish family film directed by Finn Henriksen and starring Dirch Passer.-Cast:* Dirch Passer - Andreas Lillelys* Josephine Passer - Lulu Hansen* Lene Tiemroth - Susanne 'Sus' Hansen* Peter Steen - Grev Ditmar Gyldenstjerne...


(1966)
Copenhagen Design (1967)
Elsk... din næste! (1967)
Onkel Joakims hemmelighed

Onkel Joakims hemmelighed

Onkel Joakims hemmelighed is a 1967 Danish family film directed by Carl Ottosen and starring Gunnar Lauring.-Cast:* Gunnar Lauring - Viktor Erdner* Sigrid Horne-Rasmussen - Emilie Erdner* Vivi Bach - Eva Erdner...


(1967)
Mig og min lillebror

Me and My Kid Brother

Me and My Kid Brother is a 1967 Danish comedy film directed by Lau Lauritzen, Jr. and starring Dirch Passer.-Cast:* Dirch Passer - Søren Severinsen* Poul Reichhardt - Peter Severinsen* Lily Broberg - Annelise Hansen* Jesper Langberg - Jens Olsen...


(1967)
Musikken var af Kai Normann Andersen (1968)
Soldaterkammerater på bjørnetjeneste

Soldaterkammerater på bjørnetjeneste

Soldaterkammerater på bjørnetjeneste is a 1968 Danish comedy film directed by Carl Ottosen and starring Preben Kaas.-Cast:* Preben Kaas - Private 12* Paul Hagen - Private 13* Willy Rathnov - Private 14* Poul Bundgaard - Private 15...


(1968)
Mig og min lillebror og storsmuglerne

Mig og min lillebror og storsmuglerne

Mig og min lillebror og storsmuglerne is a 1968 Danish comedy film directed by Lau Lauritzen, Jr. and starring Dirch Passer.-Cast:* Dirch Passer - Søren* Poul Reichhardt - Peter* Karl Stegger - Thorvald* Guri Richter - Olivia* Lotte Horne - Lone...


(1968)
Min søsters børn vælter byen

Magic in Town

Magic in Town is a 1968 Danish comedy film directed by Annelise Reenberg and starring Jeanne Darville.-Cast:* Jeanne Darville - Else Berg* William Rosenberg - Peter Berg* Pusle Helmuth - Pulse Berg* Jan Priiskorn-Schmidt - Jan Berg...


(1968)
Dyrlægens plejebørn

The Veterinarian's Adopted Children

The Veterinarian's Adopted Children is a 1968 Danish comedy film directed by Carl Ottosen and starring Dirch Passer.-Cast:* Dirch Passer - Dyrlæge Linsager* Ove Sprogøe - Dr. Louis Hansen* Judy Gringer - Birgitte* Carl Ottosen - Dr...


(1968)
Sjov i gaden

Fun in the Streets

Fun in the Streets is a 1969 Danish comedy film directed by Carl Ottosen and starring Dirch Passer.-Cast:* Dirch Passer - Peter Jensen* Winnie Mortensen - Winnie* Ove Sprogøe - Fløjten* Willy Rathnov - Rasmussen* Karl Stegger - Bagermester Jacobsen...


(1969)
Pigen fra Egborg

The Egborg Girl

The Egborg Girl is a 1969 Danish comedy film directed by Carl Ottosen and starring Dirch Passer.-Cast:* Dirch Passer - Skibskok John Søgaard* Willy Rathnov - Student John Søgaard* Karl Stegger - Godsbestyrer Koch* Sisse Reingaard - Marianne Koch...


(1969)
Mig og min lillebror og Bølle

Me and My Kid Brother and Doggie

Me and My Kid Brother and Doggie is a 1969 Danish comedy film directed by Lau Lauritzen, Jr. and Lisbeth Movin and starring Dirch Passer.-Cast:* Dirch Passer - Søren* Poul Reichhardt - Peter* Karl Stegger - Thorvald* Guri Richter - Olivia...


(1969)
Gyldenblonde fortæller, Den (1970)
Kyrkoherden

The Lustful Vicar

The Lustful Vicar is a 1970 Swedish comedy film directed by Torgny Wickman and starring Jarl Borssén.-Cast:* Jarl Borssén - The vicar* Margit Carlqvist - Mother Sibyll* Magali Noël - Countess* Diana Kjær - Sanna* Solveig Andersson - Anita...


(1970)
Amour

Amour (film)

Amour is a 1970 Danish drama film directed by Gabriel Axel and starring Svend Johansen.-Cast:* Svend Johansen - Diderik* Ghita Nørby - Elise* Kim Meyer - Sønnen* Kirsten Lyngholm - Datteren* Tine Bjerregaard - Gundelil* Ole Guldbrandsen - Kjartan...


(1970)
Nøglen til paradis

The Key to Paradise

The Key to Paradise is a 1970 Danish family film directed by Sven Methling and starring Dirch Passer.-Cast:* Dirch Passer - Gudmund * Lone Hertz - Gabriella 'Gaby'* Jørgen Ryg - Portier* Else-Marie - Kontorchef Agnes Kirkegård...


(1970)
Præriens skrappe drenge

Tough Guys of the Prairie

Tough Guys of the Prairie is a 1970 Danish comedy film directed by Carl Ottosen and starring Dirch Passer.-Cast:* Dirch Passer - Jonathan Ignasius Salvatore 'Biggy' Jones* Paul Hagen - Shorty* Preben Kaas - Ben* Willy Rathnov - Sam...


(1970)
Hurra for de blå husarer

Hooray for the Blue Hussars

Hooray for the Blue Hussars is a 1970 Danish comedy film directed by Annelise Reenberg and starring Emil Hass Christensen.-Cast:* Emil Hass Christensen - Oberst Parsdorff* Lone Hertz - Charlotte Parsdorff* Niels Hinrichsen - Løjtnant Adam Lercke...


(1970)
Hvor er liget, Møller?

Where Is the Body, Moeller?

Where Is the Body, Moeller? is a 1971 Danish comedy film directed by Preben Kaas and starring Dirch Passer.-Cast:* Dirch Passer - Vilhelm Hårlung* Preben Kaas - Møller* Sisse Reingaard - Helle Berg* Jean Squerent - Purser* Jack Weiss - Gangster...


(1971)
Guld til præriens skrappe drenge

Gold for the Tough Guys of the Prairie

Gold for the Tough Guys of the Prairie is a 1971 Danish comedy film directed by Finn Karlsson and starring Dirch Passer.-Cast:* Dirch Passer - Biggy* Willy Rathnov - Sam* Paul Hagen - Shorty* Preben Kaas - Ben* Judy Gringer - Swingdoor-Susie...


(1971)
Min søsters børn, når de er værst

My Sisters Children Go Astray

My Sisters Children Go Astray is a 1971 Danish comedy film directed by Annelise Reenberg and starring William Rosenberg.-Cast:* William Rosenberg - Peter Berg* Jeanne Darville - Else Berg* Sonja Oppenhagen - Rikke Berg...


(1971)
Takt og tone i himmelsengen

1001 Danish Delights

1001 Danish Delights is a 1972 Danish comedy film directed by Sven Methling and starring Dirch Passer.-Cast:* Dirch Passer - Grev Axel von Hasteen* Axel Strøbye - Baron Joachim von Hasteen* Poul Bundgaard - Peter, butler...


(1972)
Lenin, din gavtyv

Lenin, You Rascal, You

Lenin, You Rascal, You is a 1972 Danish comedy film directed by Kirsten Stenbæk and starring Peter Steen.-Cast:* Peter Steen - Lenin* Dirch Passer - General Ludendorff* Jørgen Ryg - Ludendorffs Adjudant Mühlhauser* Judy Gringer - Madame Holliday...


(1972)
Solstik på badehotellet

Sunstroke at the Beach Resort

Sunstroke at the Beach Resort is a 1973 Danish comedy film directed by Klaus Pagh and starring Daimi.-Cast:* Daimi - Vibeke / Viggo* Lisbet Lundquist* Lise-Lotte Norup* Klaus Pagh* Dirch Passer - Dr. Grå* Ulf Pilgaard...


(1973)
Mig og mafiaen

Me and the Mafia

Me and the Mafia is a 1973 Danish comedy film directed by Henning Ørnbak and starring Dirch Passer.-Cast:* Dirch Passer - Victor 'Viffer' Hansen* Klaus Pagh - Rikard Abelsteen* Tove Maës - Lily* Poul Bundgaard - Vittorio Ferucci...


(1973)
Mafiaen - det er osse mig!

Me, Too, in the Mafia

Me, Too, in the Mafia is a 1974 Danish comedy film directed by Henning Ørnbak and starring Dirch Passer.-Cast:* Dirch Passer - Victor 'Viffer' Hansen* Freddy Albeck - Don Luigi* Jytte Abildstrøm - Donna Elvira* Dick Kaysø - Dino...


(1974)
Piger i trøjen

Girls at Arms

Girls at Arms is a 1975 Danish comedy film directed by Finn Henriksen and starring Dirch Passer.-Cast:* Dirch Passer - 1st Sergeant Vasby* Birte Tove - Marianne Valdorff* Helle Merete Sørensen - Vibsen* Ulla Jessen - Magda Gammelgaard...


(1975)
Spøgelsestoget

Spøgelsestoget

Spøgelsestoget is a 1976 Danish family film directed by Bent Christensen. It is based on the 1923 play The Ghost Train by Arnold Ridley.-Cast:*Dirch Passer ... Theodor 'Teddy' T. Thönder...


(1976)
Piger i trøjen 2

Girls at Arms 2

Girls at Arms 2 is a 1976 Danish comedy film directed by Finn Henriksen and starring Berrit Kvorning.-Cast:* Berrit Kvorning - Premierløjtnant Merete Clausen* Klaus Pagh - Hermann Clausen* Dirch Passer - Vasby* Karl Stegger - Major Basse...


(1976)
Alt på et bræt

Going for Broke (1977 film)

Going for Broke is a 1977 Danish comedy film directed by Gabriel Axel and starring Preben Kaas.-Cast:* Preben Kaas - Arthur Gabrielsen* Dirch Passer - Alfred Emanuelsen* Jørgen Ryg - Hugo* Lily Broberg - Fru Svendsen* Peter Steen - Betjenten...


(1977)
Piger til søs (1977)
Fængslende feriedage

Fængslende feriedage

Fængslende feriedage is a 1978 Danish family film directed by Finn Henriksen and starring Jørgen Ryg. It was also Dirch Passer's final film.-Cast:* Jørgen Ryg - Henry Villand Møller* Lisbet Dahl - Agnete Møller* Birgitte Federspiel - Cornelia Møller...


(1978)
External links
Collection of original cinema trailers with Dirch Passer