 Dial (measurement)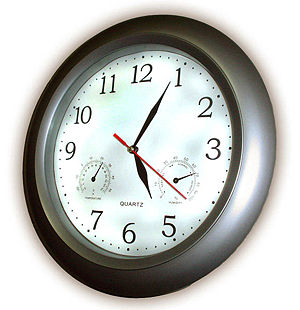 A
dial
is generally a flat surface, circular or rectangular, with numbers or similar markings on it, used for displaying the setting or output of a timepiece,
radio
Radio
Radio is the transmission of signals through free space by modulation of electromagnetic waves with frequencies below those of visible light. Electromagnetic radiation travels by means of oscillating electromagnetic fields that pass through the air and the vacuum of space...
,
clock
Clock
A clock is an instrument used to indicate, keep, and co-ordinate time. The word clock is derived ultimately from the Celtic words clagan and clocca meaning "bell". A silent instrument missing such a mechanism has traditionally been known as a timepiece...
,
watch
Watch
A watch is a small timepiece, typically worn either on the wrist or attached on a chain and carried in a pocket, with wristwatches being the most common type of watch used today. They evolved in the 17th century from spring powered clocks, which appeared in the 15th century. The first watches were...
, or
measuring instrument
Measuring instrument
In the physical sciences, quality assurance, and engineering, measurement is the activity of obtaining and comparing physical quantities of real-world objects and events. Established standard objects and events are used as units, and the process of measurement gives a number relating the item...
. See also "
dial indicator
Dial indicator
Dial indicators, also known as dial gauges and probe indicators, are instruments used to accurately measure small linear distances, and are frequently used in industrial and mechanical processes...
".
The term may also refer to a movable
control knob
used to change the settings of the controlled instrument, for example, to change the frequency of the radio.
See also: dial.