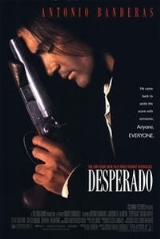 Desperado (film)
Desperado
is a 1995
action
Action film
Action film is a film genre where one or more heroes is thrust into a series of challenges that require physical feats, extended fights and frenetic chases...
thriller film written and directed by
Robert Rodriguez
Robert Rodriguez
Robert Anthony Rodríguez is an American film director, screenwriter, producer, cinematographer, editor and musician. He shoots and produces many of his films in his native Texas and Mexico. He has directed such films as Desperado, From Dusk till Dawn, The Faculty, Spy Kids, Sin City, Planet...
. The film stars
Antonio Banderas
Antonio Banderas
José Antonio Domínguez Banderas , better known as Antonio Banderas, is a Spanish film actor, film director, film producer and singer...
as the former
mariachi
Mariachi
Mariachi is a genre of music that originated in the State of Jalisco, in Mexico. It is an integration of stringed instruments highly influenced by the cultural impacts of the historical development of Western Mexico. Throughout the history of mariachi, musicians have experimented with brass, wind,...
who seeks revenge on the drug lord who killed his lover.
Desperado
is the
sequel
Sequel
A sequel is a narrative, documental, or other work of literature, film, theatre, or music that continues the story of or expands upon issues presented in some previous work...
to Rodriguez's independent film
El Mariachi
El Mariachi
El Mariachi is a 1992 Mexican-American action film that is the debut of writer/director Robert Rodriguez. The Spanish language film was shot in the northern Mexican bordertown of Ciudad Acuña with a mainly amateur cast...
(1992) and the second entry in the "
Mexico Trilogy
Mexico Trilogy
The Mexico Trilogy or Mariachi Trilogy is a series of films— El Mariachi, Desperado and Once Upon a Time in Mexico—all written, produced and directed by Robert Rodriguez, beginning in 1992 and ending in 2003, and distributed by Columbia Tristar...
". It was screened out of competition at the
1995 Cannes Film Festival
1995 Cannes Film Festival
-Jury:*Jeanne Moreau *Gianni Amelio *Jean-Claude Brialy *Nadine Gordimer *Gaston Kabore *Michele-Ray Gavras *Emilio Garcia Riera *Philippe Rousselot *John Waters...
.
An unnamed man (
Steve Buscemi
Steve Buscemi
Steven Vincent "Steve" Buscemi is an American actor, writer and film director. An associate member of the renowned experimental theater company The Wooster Group, Buscemi has starred and supported in successful Hollywood and indie films including New York Stories, Mystery Train, Reservoir Dogs,...
) walks into a bar and begins to tell the bartender (
Cheech Marin
Cheech Marin
Richard Anthony "Cheech" Marin is an American comedian, actor and writer who gained recognition as part of the comedy act Cheech & Chong during the 1970s and early 1980s, and as Don Johnson's partner, Insp. Joe Dominguez on Nash Bridges...
), the bouncer Tavo (
Tito Larriva
Tito Larriva
-Early life:Larriva was born in Ciudad Juárez, Chihuahua, and grew up in Fairbanks, Alaska, and El Paso, Texas. As a child he played the violin in the school orchestra and sang in the church and school choirs where he met his wife Janet Carroll. In 1972 Larriva snuck into Yale University for a full...
) and everyone else that he was in a bar in another town and it was cleaned out by a mysterious man in black looking for a man named "Bucho".
It's strange how pulling a trigger is easier than playing the guitar. Easier to destroy, than to create.

[praying] Give me the strength to be what I was, and forgive me for what I am.

Let's play ...

[ comes back for the guitar-case of weapons that he just threw away] Just in case. It's a long ride to the next town.

Now I wasn't interested in his drink. Nope, I was more interested in what he was carrying when he walked in. Some sort of a suitcase, kind of heavy. He sat that thing on the stool beside him as if it were his girl.

[to El Mariachi] Ya know, one of these days you're gonna lie down too hard on that bed and blow your brains out.

Short Bartender: Bad beer, bad service. Don't people know not to come in here?

He came back to settle the score with someone. Anyone. EVERYONE.