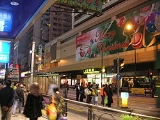 Des Voeux Road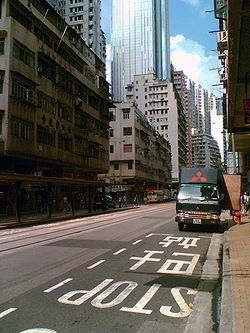 Des Voeux Road Central
and
Des Voeux Road West
are two
road
Road
A road is a thoroughfare, route, or way on land between two places, which typically has been paved or otherwise improved to allow travel by some conveyance, including a horse, cart, or motor vehicle. Roads consist of one, or sometimes two, roadways each with one or more lanes and also any...
s on the north shore of
Hong Kong Island
Hong Kong Island
Hong Kong Island is an island in the southern part of the Hong Kong Special Administrative Region. It has a population of 1,289,500 and its population density is 16,390/km², as of 2008...
,
Hong Kong
Hong Kong
Hong Kong is one of two Special Administrative Regions of the People's Republic of China , the other being Macau. A city-state situated on China's south coast and enclosed by the Pearl River Delta and South China Sea, it is renowned for its expansive skyline and deep natural harbour...
. They were named after the 10th
Governor of Hong Kong
Governor of Hong Kong
The Governor of Hong Kong was the head of the government of Hong Kong during British rule from 1843 to 1997. The governor's roles were defined in the Hong Kong Letters Patent and Royal Instructions...
, Sir George William Des Vœux. The name was predominantly spelt with the
ligature
Ligature (typography)
In writing and typography, a ligature occurs where two or more graphemes are joined as a single glyph. Ligatures usually replace consecutive characters sharing common components and are part of a more general class of glyphs called "contextual forms", where the specific shape of a letter depends on...
œ
Œ
Œ œŒ is a Latin alphabet grapheme, a ligature of o and e. In medieval and early modern Latin, it was used to represent the Greek diphthong οι, a usage which continues in English and French...
in pre-war documents but is nowadays spelt officially as
Des Voeux Road
.
History
Beginning in 1857, the northern shore of Hong Kong Island (also known as Victoria City) underwent a series of
reclamations
Land reclamation in Hong Kong
Land is in short supply in Hong Kong, and land reclamation has been conducted there since the mid-19th century.-Projects:One of the earliest and famous project was the Praya Reclamation Scheme, which added 50 to of land in 1890 during the second phase of construction...
under then-Governor Sir
John Bowring
John Bowring
Sir John Bowring, KCB was an English political economist, traveller, miscellaneous writer, polyglot, and the 4th Governor of Hong Kong.- Early life :...
. The first phase of the
Praya Reclamation Scheme
Praya Reclamation Scheme
The Praya Reclamation Scheme was a large scale reclaimed land project carried out by the Hong Kong Land company in Colonial Hong Kong under Sir Catchick Paul Chater and James Johnstone Keswick.-Early proposal:The project was first proposed in 1855...
had a direct effect on this current street, which used to be known as
Praya Central
Praya
Praya , was a term used in Colonial Hong Kong to refer to a promenade by the waterfront. The name comes from the Portuguese term for the broad stone-faced road that runs parallel along the harbour in front of the city. HSBC and Dent & Co...
during the
Colonial Hong Kong
Colonial Hong Kong
In the 19th century the British, Dutch, French, Indians and Americans saw Imperial China as the world's largest untapped market. In 1840 the British Empire launched their first and one of the most aggressive expeditionary forces to claim the territory that would later be known as Hong Kong.In a few...
era. Bowring's plans were opposed by British merchants who held lands in the Central area, and in response, the government instead commenced work in land reclamation in the Chinese-populated Western District. By the time the reclamation was extended to Central, the newly reclaimed land in Western had already been settled, and there was a discontinuity between the two roads running along the western and middle portions of the reclaimed shoreline. Upon completion, the roads were named Bowring Praya West and Bowring Praya Central respectively.
Another series of extensive reclamation projects began in 1887 under then-Governor Des Voeux. Upon completion in 1904, Bowring Praya West and Bowring Praya Central (which by then were situated inland from the shoreline) were respectively renamed Des Voeux Road West and Des Voeux Road Central per the orders of then-Colonial Secretary and acting Governor
Francis Fleming
Francis Fleming
Sir Francis Fleming KCMG was a British colonial administrator.His father was James Fleming, Q.C.. He attended Downside College near Bath, and studied law at the Middle Temple, and was called to the bar in 1866....
during the
Duke of Connaught's
Prince Arthur, Duke of Connaught and Strathearn
Prince Arthur, Duke of Connaught and Strathearn was a member of the shared British and Saxe-Coburg and Gotha royal family who served as the Governor General of Canada, the 10th since Canadian Confederation.Born the seventh child and third son of Queen Victoria and Prince Albert of Saxe-Coburg and...
visit to Hong Kong in 1890.
Des Voeux Road Central
Des Voeux Road Central runs from Western to Central. It begins at the intersection with On Tai Street in Western and merges with
Queen's Road Central
Queen's Road
Queen's Road is the first road in Hong Kong built by the Government of Hong Kong between 1841 and 1843, spanning across Victoria City from Shek Tong Tsui to Wan Chai...
where it becomes
Queensway
Queensway, Hong Kong
Queensway is a major road in the Admiralty of Central, Hong Kong. It was originally a section of Queen's Road East to its westmost before the Hong Kong Government separated and renamed it as its present name in 1967...
(and, later, Hennessy Road).
Des Voeux Road West
Des Voeux Road West runs from Western
Shek Tong Tsui
Shek Tong Tsui
Shek Tong Tsui is a town in Sai Wan on the north shore of Hong Kong Island in Hong Kong. Administratively, it belongs to the Central and Western District....
. It reaches an alignment several blocks down at the junction with Connaught Road West and becomes Kennedy Town Praya in Shek Tong Tsui.
Renaming 1942-1945
From 1942 to 1945, the road was renamed
Shōwa
Showa
Shōwa is the name of several places, times, people and things in Japan.* Hirohito , the 124th Emperor of Japan, known posthumously as Emperor Shōwa...
-dori by the Japanese occupation government.
Public transportation
Des Voeux Road Central is shared between motor traffic and the
tram line
Hong Kong Tramways
Hong Kong Tramways is a tram system in Hong Kong and one of the earliest forms of public transport in Hong Kong. Owned and operated by Veolia Transport, the tramway runs on Hong Kong Island between Shau Kei Wan and Kennedy Town, with a branch circulating Happy Valley...
, with tracks and reserved lanes for the trams laid in the middle of the road. A
bus lane
Bus lane
A bus lane or bus only lane is a lane restricted to buses, and generally used to speed up public transport that would be otherwise held up by traffic congestion...
runs along the road for most of its length. Part of the
MTR
MTR
Mass Transit Railway is the rapid transit railway system in Hong Kong. Originally opened in 1979, the system now includes 211.6 km of rail with 155 stations, including 86 railway stations and 69 light rail stops...
Island Line
Island Line (MTR)
The Island Line is one of 10 lines of the MTR, the mass transit system in Hong Kong. It runs from Sheung Wan in the Central and Western District to Chai Wan in the Eastern District. The line first opened in 31 May 1985...
also runs underneath Des Voeux Road, currently terminating at
Sheung Wan Station
Sheung Wan (MTR)
Sheung Wan is the western terminus of the Hong Kong MTR Island Line.It was originally built in 1970 as Western Market but its construction was discontinued after further planning for the new lines. Upon the construction of the Island Line, the station was finally constructed and opened in May...
near the
Western Market
Western Market
Western Market is one of the oldest structures in Sheung Wan, Hong Kong Island, Hong Kong. The current structure was the North Block of the original Western Market. It is the oldest surviving market building in the city...
.
Due to the discontinuity between Des Voeux Roads Central and West, the tram line takes a detour along Connaught Road West and then continues along Des Voeux Road West towards
Kennedy Town
Kennedy Town
Kennedy Town is at the western end of Sai Wan on Hong Kong Island in Hong Kong. It was named after Arthur Edward Kennedy, the 7th Governor of Hong Kong from 1872 to 1877...
.
The
Central-Mid-Levels escalators
Central-Mid-Levels escalators
The Central–Mid-levels escalators in Hong Kong is the longest outdoor covered escalator system in the world. The entire system covers over 800 metres in distance and elevates over 135 metres from bottom to top...
link Des Voeux Road Central with Conduit Road in the Mid-levels, passing through narrow streets.
External links