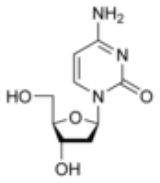 Deoxycytidine
Deoxycytidine
is a
deoxyribonucleoside
Deoxyribonucleoside
A deoxyribonucleoside is a type of nucleoside including deoxyribose as a component.An example is deoxycytidine....
. It is like
cytidine
Cytidine
Cytidine is a nucleoside molecule that is formed when cytosine is attached to a ribose ring via a β-N1-glycosidic bond...
, but with one
oxygen
Oxygen
Oxygen is the element with atomic number 8 and represented by the symbol O. Its name derives from the Greek roots ὀξύς and -γενής , because at the time of naming, it was mistakenly thought that all acids required oxygen in their composition...
atom removed.