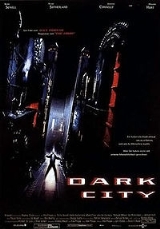 Dark City
Dark City
is a 1998
neo-noir
Neo-noir
Neo-noir is a style often seen in modern motion pictures and other forms that prominently utilize elements of film noir, but with updated themes, content, style, visual elements or media that were absent in films noir of the 1940s and 1950s.-History:The term Film Noir was coined by...
science fiction
Science fiction
Science fiction is a genre of fiction dealing with imaginary but more or less plausible content such as future settings, futuristic science and technology, space travel, aliens, and paranormal abilities...
film directed by
Alex Proyas
Alex Proyas
Alexander "Alex" Proyas is a Australian film director, screenwriter, and producer. He is best known for directing such films as The Crow, Dark City, I, Robot and Knowing. He is known for employing a stylish photographic techniques in his films, with dark overtones usually in a post-apocalyptic...
. It was adapted from a screenplay written by Proyas,
David S. Goyer
David S. Goyer
David Samuel Goyer is an American screenwriter, film director and comic book writer.-Early life:Goyer was born and raised in Ann Arbor, Michigan. He attended Hebrew school and has described himself as "half Jewish"...
and
Lem Dobbs
Lem Dobbs
Lem Dobbs is a British-American screenwriter, best known for the film The Limey. He is the son of the late painter, R.B. Kitaj...
. The film stars
Rufus Sewell
Rufus Sewell
Rufus Frederik Sewell is an English actor. In film, he has appeared in The Woodlanders, Dangerous Beauty, Dark City, A Knight's Tale, The Illusionist, Tristan and Isolde, and Martha, Meet Frank, Daniel and Laurence. On television, he starred in the 2010 mini-series The Pillars of the Earth...
,
Kiefer Sutherland
Kiefer Sutherland
Kiefer Sutherland is an English-born Canadian actor, producer and director, best known for his portrayal of Jack Bauer on the Fox thriller drama series 24 for which he has won an Emmy Award , a Golden Globe award , two Screen Actors Guild Awards and two Satellite...
,
Jennifer Connelly
Jennifer Connelly
Jennifer Lynn Connelly is an American film actress, who began her career as a child model. She appeared in magazine, newspaper and television advertising, before making her motion picture debut in the 1984 crime film Once Upon a Time in America...
, and
William Hurt
William Hurt
William McGill Hurt is an American stage and film actor. He received his acting training at the Juilliard School, and began acting on stage in the 1970s. Hurt made his film debut as a troubled scientist in the science-fiction feature Altered States , for which he received a Golden Globe nomination...
. Sewell plays John Murdoch, a man suffering from amnesia who finds himself accused of murder. Murdoch attempts to discover his true identity to clear his name while on the run from the police and a mysterious group known only as the "Strangers".
The majority of the film was shot at
Fox Studios Australia
Fox Studios Australia
Fox Studios Australia is a major movie studio located in Sydney, Australia, occupying the site of the former Sydney Showground at Moore Park...
.
First there was darkness. Then came the Strangers.

You are probably wondering why I keep appearing in your memories, John. It is because I have inserted myself into them.

The only place home exists is in your head.

[While being hung upside-down by Mr. Book] Maybe you have finally found what you are looking for and it's going to bite you on your--

This one is still warm. What is it? The recollections of a great lover? A cataloge of conquests? We will soon find out. [A Stranger gives him two vials] You wouldn't appreciate that, would you, Mr. Whatever-your-name-is?

I know this is gonna sound crazy, but what if we never knew each other before now? What if the first time we ever met was last night in our apartment. And everything you remember, and everything I'm supposed to remember never really happened. Someone just wants us to think it did.

[to John Murdoch] I have become the monster you were intended to be.

Instincts are irrational, Mr. Wall. We must follow where they lead, yes?

There used to be a ferry when I was a boy, biggest thing you ever saw, lit up like a floating birthday cake.

It seems you have discovered your unpleasant nature.