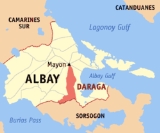 Daraga, Albay
Daraga
is a
1st class
municipality in the province of Albay,
Philippines
Philippines
The Philippines , officially known as the Republic of the Philippines , is a country in Southeast Asia in the western Pacific Ocean. To its north across the Luzon Strait lies Taiwan. West across the South China Sea sits Vietnam...
.
According to the 2007 census, it has a population of 110,625 people in 20,082 households.
February 1, 1814
was Mayon's deadliest eruption.
The Municipality of Daraga is located in the Southwest portion of Albay Province or at geographical coordinates of between 123 124 degrees longitude and between 13 14 degrees latitude.
Daraga
is a
1st class
municipality in the province of Albay,
Philippines
Philippines
The Philippines , officially known as the Republic of the Philippines , is a country in Southeast Asia in the western Pacific Ocean. To its north across the Luzon Strait lies Taiwan. West across the South China Sea sits Vietnam...
.
According to the 2007 census, it has a population of 110,625 people in 20,082 households.
History
Year
Event
12th Century
Early settlers were traders. The name Daraga came from a kind of tree that grew
in abundance in the hill where now stands the Catholic Church with Baroque architecture.
1587
Evangelization by Franciscan missionaries. They called the place Budiao and then renamed to Cagsawa.
1595
Cagsawa became a "visita" and was attached to the town of Camalig

Camalig, Albay

Camalig is a first class municipality in the province of Albay, Philippines. At the time of the 2007 census, it had a population of 60,319 people in 11,275 households....


.
1772
Cagsawa was changed to Salcedo by Simon de Anda and later renamed Daraga
1814
Eruption of Mayon Volcano that caused the destruction of Cagsawa.
1815
Government for the town of Daraga was formally organized with Venancio Espiritu Salomon as Barangay Captain.
1892
Under Becerra Law, Daraga became a constituent of the City of Legazpi
1922
Daraga regained her autonomy when the Philippine Assembly ordered separation of Daraga from the capital town of Albay, composed of Albay and Legazpi City

Legazpi City

The City of Legazpi is a first class city and capital of the province of Albay, Philippines. With 179,481 inhabitants according to the 2007 census, it is the largest city in the Bicol Region in terms of population, though not in land area...



1948
Under R.A. 306, Daraga was again incorporated to Legazpi as one of its district
1954
R.A. 993 creating the Municipality of Daraga
1959
Daraga's name was changed to Locsin
1967
R.A. 4994 restored the name Daraga
1973
P.D. 125, Daraga was incorporated as part of Legazpi City, but implementation of this decree was suspended
1974
The first 4x elected Mayor Hon. Viciente Jaucian earns awards.
2006
MUDFLOWS from the slopes of the Mayon volcano, triggered by heavy rains from typhoon "Reming" (international codename: Durian) buried at least eight villages. More than 20.000 Individuals were evacuated. Thousands lost their homes.
2007
The National Museum declared the four-century old Daraga "Our Lady of the Gate Parish Church" in this town as a national cultural treasure in the country.
2010
Mayor Gerry R. Jaucian continuously negotiating for the establishment of the Bicol International Airport with the proposed construction site in Barangay Alobo.
February 1, 1814
was Mayon's deadliest eruption.
Geographical location
The Municipality of Daraga is located in the Southwest portion of Albay Province or at geographical coordinates of between 123 124 degrees longitude and between 13 14 degrees latitude. It is bounded on the North by Legazpi City; on the south by the Province of Sorsogon particularly the municipality of Pilar; on the East by Legazpi City and on the West by the Municipalities of Camalig and Jovellar.
Demography
The 2007 municipal population of 110,625 is distributed among the urban and rural Barangays. The urban population is 48.54% while Rural Population completes the remaining 51.45%; and the Built-up Density is 5,659 Persons/ km
2
. It has a literacy rate of 96.08%. the municipality growth rate is 1.3%.
In terms of employment and livelihood, farming ranks high at 33.53%, crafts and related workers as well as elementary occupations follows second with 17.71% and 21.89% respectively.
Development
The legendary account gives meaning to the name DARAGA which refers to the more popular meaning of a Maiden. It is the local term for unmarried woman not only in the municipality of DARAGA but also in the entire Bicol Region. The early beginnings of Daraga dates back to 12th century where the settlement underwent several changes in location due to the constant threats posed by Mayon Volcano, adopting names from Budiao to Cagsawa and finally Daraga.
Daraga emerged to be progressive and prosperous in economy eventually becoming a first class municipality. The town economy, originally agriculture-based., has rapidly transformed into an eclectic emerging urban system enjoying the economic opportunities of being contiguously located to the urban center of Legazpi City. It draws trade relations with the island province of Masbate through the nearby Port of Pilar. It is strategically located along the Maharlika Highway being centrally accessible from Manila and the Visayas, as well as the other municipalities of Eastern Bicol Peninsula.
Climate
The municipality of DARAGA has a general climate characterized by Dry Season with a very pronounced Maximum Rainfall from November to December. Prevailing wind is in the general direction from North East to South West.
Area
A land-locked municipality, DARAGA has a total land area of 118.860 square kilometers. This is about 4.70% of the land area of Albay Province. This municipal land area is distributed among the present 12 urban barangays and 42 rural barangays. The urban barangays have aggregate areas of 9.08 square kilometers or 7.59% while the Rural barangays makes-up the remaining 110.78 square kilometers or 92.41% of the total Municipal land area.
Elevation
The Municipality of Daraga has predominantly Very Low Elevation (0–100 m) occupying about 80.63 square kilometers or 67.27% of the total municipal land area. The surface terrain is generally characterized by combination of levl to nearly level areas, Gentle to Undulating Areas and Undulating to Rolling Areas.
Soil
The different soil types to be found within the Municipality of Daraga are the Mayon Gravelly Sandy Loam, Annam Clay Loam, Gravelly Sandy Loam, Legazpi Fine Sandy Loam (Stoney Phase), Sevilla Clay Loam and Sevilla Clay .
The underlying geology are made up of several types, namely Alluvium, Shale and Sandstone Limestone and Basalt and Andesite Series. The prevalent geologic type is the Shale and Sandstone Sequence and other equally significant geologic types such as alluvium. Recent Volcanic, Crystalline Limestone and Psyroclastine Limestone are found near the base of Mayon Volcano mostly in the urban barangays.
Minerals
Minerals available within the municipality of Daraga are non-metallic consisting of Gravel, and Boulders. These minerals are abundant in Barangays Budiao, Busay, Bañadero and Matnog brought down from the slopes of Mayon Volcano during occurrences of volcanic eruptions and rains.
Drainage
The surface drainage pattern of the Municipality of Daraga is largely affected by the water run-off coming from Mayon Volcano coupled with those from other directions. Major river systems which conveys and acts as natural drainage channel as well as water source includes the 1) Yawa River in
Barangay
Barangay
A barangay is the smallest administrative division in the Philippines and is the native Filipino term for a village, district or ward...
Cullat, Malobago, Kilicao, Tagas, Binitayan & Bañag which connects to the Albay Gulf in Legazpi City; 2) Colabos Creek in Bañag, San Roque, Market Area, Sagpon, and Bagumbayan; 3) Quillarena River in Malabog & Budiao; 4) Gumacon Creek in Barangay Maroroy, Tagas; and 5) Gulang-Gulang Creek in Barangay Pandan.
Transportation
Transportation plays major supporting role in the social and economic development of a locality. It provides the means by which people and goods can circulate to and from any direction. The local government unit is mandated pursuant to Republic act 7160 otherwise known as the Local Government Code of 1991 to undertake measures to enhance its transportation system. The Municipality of Daraga possess a transportation system which supports its present functional role particularly in terms of economic development. Reasonable assessment is necessary in order to effectively enhance transportation system within the municipality.
The Municipality of Daraga has a total Road Network of about 129.01 kilometers. This is categorized either as National Roads, Provincial Roads, Municipal Roads and Barangay Roads. These barangay Roads comprised the bulk of the municipality road network system. About 24.97% are concrete paved while the remaining 75.03% remains in Asphalt, Gravel of Earth fill pavement conditions. These are about 25 bridges within the municipality and 66.22% of which are within barangay roads while the other bridges are part of national, provincial of barangay roads.
The Philippine National Railways passes through the Municipality of Daraga regularly on its way to Legazpi City or to Manila. It has a station in Barangay Market Area where the arrival and departure schedule is 5:14 AM and 3:30 PM respectively. However station facilities needs further improvement
Economy
Up to the present, Daraga has retained its title of being the most progressive town not only in the province of Albay but in the whole of the Bicol Region. For decades it has enjoyed the air of progress, being a long time first class municipality in the province.
- Daraga will be the future site of the
Bicol I][mkmkm nternational Airport
Legazpi City International Airport
Bicol International Airport is an under construction international airport that would serve Legazpi City, the capital of Albay and the regional center of Bicol Region, in the Philippines. The airport is currently under construction in the town of Daraga...
which will further boost tourism in the region and will introduce more opportunities especially in this town. Local officials are now eyeing it's cityhood in the near future or upon the completion of the said international airport, if that so, Daraga would be the fourth city in Albay.
Commerce
The municipality of Daraga has diverse existing industries. These industries are situated mostly in Urban Area as well as in strategic rural barangays. Such industries consists of the following: 1) Isarog Pulp & Papers, Co. Inc., 2) Various Abaca Handicraft Manufacturers; 3) Various Printing Press; 4) Various Furniture/Upholstery Shops; 5) Various Aluminum and Glass Manufacturers; 6) Various Rice and Feed Mills; 7) Gravel and Sand Quarrying 8) Various Concrete Products Manufacturing; 9) Various Repair Shops; 10) Various Welding Shops; 11) Various Machine Shop/Iron Works; 12) Rubber Craft; 13) Marble Works; 14) Electronics Repair Shop; 15) Various Gasoline Stations; 16) Various Bakeries/Bakeshop; 17) Cocolumber Processor; 18) Meat Products Processing; and 19) Floor Wax Repacker.
There are 927 existing commercial establishment spread around the municipality with 32 Banking and Financing agencies, 84 wholesaler and trading firms, 518 retailers, 252 service shops and offices and 40 real estate firms.
|
Tourism
The Municipality of Daraga possesses both existing and potential tourist spots or attractions. Its existing tourist spots/attractions are the
Cagsawa Ruins and Resort
Cagsawa Ruins
The Cagsawa Ruins are the remnants of an 18th century Franciscan church, the Cagsawa church, built in 1724 and destroyed by the 1814 eruption of the Mayon Volcano...
& Our Lady of the Gate Parish .
Cagsawa Ruins and Resort is located in Barangay Busay. Its prominent attraction is the Belfry of the Cagsawa Church which submerged in mudflow during the February 2, 1814 Mayon Volcano Eruption and killed 1,200 people. The site is presently developed and complete with facilities for rooms, lodging and food, toilets/bathrooms, stalls for native products /ornamentals, restaurant/eateries, telephones and administration office significant number of foreign and local tourist visit the site all year round and realizes a sizeable profit.
The Our Lady of the Gate Parish was constructed in 1773 atop Sta. Maria Hill in Brgy. San Roque and is uniquely known for its rich baroque architecture.
Potential tourist attractions abounds within the municipality and are presently considered for development, namely: 1) Naglaos Cave in Barangay Nabasan; 2) Kimantong Skydrive in Barangay in Kimantong; 3) Bigao Cave in Barangay Bigao; 4) Natural Spring in Barangay Canarom; 5) San Rafael Cave in Barangay San Rafael; 6) San Vicente Grande Cave in Barangay San Vicente Grande; 7) Sumlang Lake in Barangay Salvacion.
The annual celebration of Santacrusan in almost all barangays richly depicts the bicolano culture and tradition.
Existing tourism infrastructures such as hotels, pension houses and tourist lodges, restaurants and fast foods; nightclubs and pub houses, spas and resorts, novelty or crafts shops, Land and Air transportation; power, communication and transportation facilities are already in-place.
Barangays
Daraga is politically subdivided into 54
barangay
Barangay
A barangay is the smallest administrative division in the Philippines and is the native Filipino term for a village, district or ward...
s.
Barangays
Class
Population1
Area (ha)
Barangay head
Alcala
Rural
2501
116.1802
ESTER L. LLANDEZA
Alobo
Rural
683
160.6478
DEXTER L. MARMOL
Anislag
Urban
4823
858.4977
ALWEN L. NIMO
Bagumbayan
Urban
3289
132.5419
MARK C. MAGALONA
Balinad
Urban
1395
153.7430
ESTER LL. LONDONIO
Bañadero
Rural
1577
204.0003
PERFECTO E. LLENARESAS
Bañag
Urban
2798
27.3543
GAYZEL C. MANDANE
Bascaran
Urban
3392
423
TEODORO L. LEGSON
Bigao
Rural
887
296.0832
SALVADOR MIRAVALLES
Binitayan
Urban
4212
24.0552
CELILIA A. AREVALO
Bongalon
Rural
1053
73.4752
FERELYN M. SEVA
Budiao
Rural
1742
290.0678
JEFFERSON M. MAPULA
Burgos
Rural
999
148.6710
MERIAM M. MILLENA
Busay
Rural
2098
213.7914
AMADO B. LOREJO
Canarom
Rural
490
247.3559
EFREN M. LLASOS
Cullat
Rural
1420
30.7778
LUIS D. ESPEJO
de la Paz
Rural
734
73.1887
MARIA L. MARJALINO
Dinoronan
Rural
562
61.0673
HIRFA M. ESPADILLA
Gabawan
Rural
1802
93.1821
ROBERTO C. OBISPO
Gapo
Rural
1853
389.2490
JESUS M. MAGDAONG JR
Ibaugan
Rural
486
179.0034
RAUL LL. MALTO
Ilawod
Urban
1851
18.4240
TEDDY A. VILLANUEVA
Inarado
Rural
1621
682.2203
ROMMEL N. MARTICIO
Kidaco
Rural
1110
116.0303
AMELIA MAGALLANO
Kilicao
Urban
3752
379.4295
ERIBERTO M. MADRONA
Kimantong
Urban
1838
20.9764
JOEY M. MAÑAGO
Kinawitan
Rural
378
78.4592
EDUARDO N. LUBIANO
Kiwalo
Rural
1162
57.6508
JANET L. LORILLA
Lacag
Rural
2217
383.8633
ARTHUR L. LLABORE SR.
Mabini
Rural
573
124.8330
RANULFO N. LLORERA
Malabog
Rural
4049
287.4584
ALVIN L. MONTALLANA
Malobago
Rural
1205
61.5571
EDUARDO LL. MAZO
Maopi
Rural
1000
252.9489
ALEX M.LOTERIÑA
Market Area
Urban
2616
20.8215
WILFREDO N. NAYVE
Maroroy

Maroroy

Maroroy is one of the barangay, a subdivision of a municipality, located in the municipality of Daraga in the province of Albay, Philippines. It has a population of approximately 4,829 people, and an area of ....



Urban
4829
73.5990
AGNES O. MENDOZA
Matnog
Rural
1459
270.1466
BONIFACIO M. ODIVER
Mayon
Rural
1564
356.6953
ADORACION BLAZO
Mi-isi
Rural
862
518.1970
ELMER A. LORICA
Nabasan
Rural
597
552.1423
MENCHE A. LLAMASARES
Namantao
Rural
1558
363.0704
MARILOU LLANETA
Pandan
Rural
1321
94.3188
ROSALITO CIMANES
Peñafrancia
Urban
2503
193.7429
JOSE M. LOBAS
Sagpon
Urban
6876
29.6158
GUALBERTO C. MATUTINA
Salvacion
Rural
3212
551.6138
NELSON N. MABINI
San Rafael
Rural
278
32.6412
ALODEA M. LISAY
San Ramon
Rural
1518
784.9949
AIDAR L. LLAGUNO
San Roque
Urban
4388
41.9651
VICTOR U. PERETE
San Vicente Grande
Rural
960
346.5665
ELENA M. VIBAR
San Vicente Pequeño
Rural
312
63.6688
GONZALO N. MARFIL SR.
Sipi
Urban
3420
38.9200
DEXTER BILLY M. LORICA
Tabon-Tabon
Rural
2415
207.9939
RIC M. RODRIGUEZA
Tagas
Urban
7786
100.4492
CHERRY M. MAYOR
Talahib
Rural
515
341.9260
NIEVES M. JACOB
Villahermosa
Rural
2084
414.7122
ELADIO L. RODRIGUEZA
1
2007 census
Source:
Land Area and PB: Daraga Municipal and Developing Office
Population: NSO 2007 Census
Elementary#



Daraga North Central School1
Alcala ES
Alobo ES
Anislag ES
Bagtang ES
Balinad ES
Bañadero ES
Bañag ES
Bascaran ES
Bigao ES
Binitayan ES
Bongalon ES
Budiao ES
Burgos ES
Busay ES
Carolina ES
Cullat ES




Canarom ES
Dela Paz ES
Gabawan ES
Gapo ES
Ibaugan ES
Inarado ES
Kidaco ES
Kilicao ES
Kinawitan ES
Kiwalo ES
Lacag ES
Mabini ES
Upper Malabog ES
Malobago ES
Maopi ES
Maroroy ES
Matnog ES




Mayon ES
Mi-isi ES
Nabasan ES
Namantao ES
Pandan ES
Peñafrancia ES
IMPACT LC
San Rafael ES
San Ramon ES
San Vicente Grande ES
San Vicente Pequeño ES
Tabon-tabon ES
Tagas ES
Talahib ES
Villahermosa ES
Bicol University Integrated Laboratory School (BUCEILS)



#ES:Elementary School, LC: Learning Center
1DNCS covers Barangays Bagumbayan, Sipi,Ilawod, Market Area, Kimantong,San Roque and Sagpon (except Bagtang)
2Covers Sitio Bagtang
3Brgy. Salvacion
4Brgy Dinoronan
High School
Daraga NHS
Anislag NHS
Malabog NHS
Lacag NHS
Bascaran NHS
Banadero NHS
San Vicente Grande HS
Kilicao HS
Immaculate Concepcion College of Albay (ICCA) High School Department
United Institute (U.I.) High School Department
Mary's Child Science Oriented School (MCSOS) High School Department
Bicol College (BC) High School Department.
College
Daraga Community College (DComC)
Immaculate Concepcion College of Albay (ICCA)
Bicol University College of Education (BUCE)
Bicol University College of Business, Economics and Management (BUCBEM)
Bicol University College of Social Science and Philosophy (BUCSSP)
Bicol College (BC)
External links