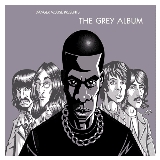 Danger Mouse
Brian Joseph Burton
better known by his
stage name
Stage name
A stage name, also called a showbiz name or screen name, is a pseudonym used by performers and entertainers such as actors, wrestlers, comedians, and musicians.-Motivation to use a stage name:...
Danger Mouse
, is an
American
United States
The United States of America is a federal constitutional republic comprising fifty states and a federal district...
musician, songwriter and
producer
Record producer
A record producer is an individual working within the music industry, whose job is to oversee and manage the recording of an artist's music...
. He came to prominence in 2004 when he released
The Grey Album
The Grey Album
The Grey Album is a mashup album by Danger Mouse, released in 2004. It uses an a cappella version of rapper Jay-Z's The Black Album and couples it with instrumentals created from a multitude of unauthorized samples from The Beatles' LP The Beatles...
, which combined vocal performances from
Jay-Z
Jay-Z
Shawn Corey Carter , better known by his stage name Jay-Z, is an American rapper, record producer, entrepreneur, and occasional actor. He is one of the most financially successful hip hop artists and entrepreneurs in America, having a net worth of over $450 million as of 2010...
's The Black Album with instrumentals from The Beatles'
White Album
The Beatles (album)
The Beatles is the ninth official album by the English rock group The Beatles, a double album released in 1968. It is also commonly known as "The White Album" as it has no graphics or text other than the band's name embossed on its plain white sleeve.The album was written and recorded during a...
.
He formed
Gnarls Barkley
Gnarls Barkley
Gnarls Barkley is an American soul duo comprising Danger Mouse and Cee Lo Green. Their first studio album St. Elsewhere was released in 2006; along with its first single "Crazy". Both single and album were a major commercial success and have been noted for their large sales by download...
with Cee Lo Green and produced their albums
St. Elsewhere
St. Elsewhere (album)
St. Elsewhere is the debut album by United States hip hop soul duo Gnarls Barkley. It was released on April 24, 2006 in the United Kingdom, where it debuted at number one on the UK Albums Chart, and on May 9, 2006 in the United States, although it was available for purchase one week earlier as a...
and
The Odd Couple
The Odd Couple (album)
The Odd Couple is the second studio album by Gnarls Barkley, released digitally on March 18 and in stores March 25, 2008. Due to an early leak of the album over the Internet in early March 2008, the duo decided to push up the release from April 8...
. He produced the second
Gorillaz
Gorillaz
Gorillaz is an English musical project created in 1998 by Damon Albarn and Jamie Hewlett. This project consists of Gorillaz music itself and an extensive fictional universe depicting a "virtual band" of cartoon characters...
album, 2005's
Demon Days
Demon Days
Demon Days is the second studio album by British virtual band Gorillaz, released in May 2005. The album features contributions from De La Soul, Neneh Cherry, Martina Topley-Bird, Roots Manuva, MF DOOM, Ike Turner, Bootie Brown of the Pharcyde, Shaun Ryder, Dennis Hopper, the London Community Gospel...
, as well as
Beck
Beck
Beck Hansen is an American musician, singer-songwriter and multi-instrumentalist, known by the stage name Beck...
's 2008 record,
Modern Guilt
Modern Guilt
Modern Guilt is the eleventh studio album by American alternative musician Beck. It was released on July 8, 2008. The album fulfills Beck's recording contract with Interscope Records...
and an album with
Joker's Daughter
Joker's Daughter (band)
Joker's Daughter was originally a musical collaboration between Greek-English singer/songwriter Helena Costas and producer Danger Mouse who released their debut album The Last Laugh in 2009...
in 2007.
London, one of the nerve centers of world government. And in the midst of a complex web of streets and buildings, in a quiet corner of Mayfair, lives the greatest guardian of peace and justice in the civilized world. A secret agent so secret that even his codename has a codename. Yes, Danger Mouse! To the down-trodden, a hero! To the evil, a ruthless enemy!

Danger Mouse's trusted assistant, Ernest Penfold. Codename: The Jigsaw, because when he's faced with a problem, he goes to pieces.

[As Penfold falls through the air at the end of the episode] Will it be Isaac Newton 1: Penfold nil? Tune in next time to find out!

London. And in mild Mayfair, within a peculiar perpendicular pillar box, disguised dome of the death-defying duo, Danger Mouse the daring and Penfold the pathetic!

And so we come to the confusion of another classically confusing conflict. Can the wretched robot be reconstructed or will he end up as rabbit rubbish? And what of Quark? Quark! Oh, gosh. To find out, join the tune, and see the next adventure of Danger Moose, I mean, Mouse. Sorry about that, J.J., or Jimmy, or...(fade out ad-lib)

[Repeated line] Penfold, shush.

[Repeated line] Good grief!

Good heavens, Penfold. I never knew you could run like that!

By the way, Penfold, your library books are overdue!