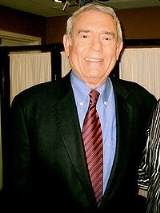 Dan Rather
Daniel Irvin "Dan" Rather, Jr.
(born October 31, 1931) is an American journalist and the former
news anchor
News presenter
A news presenter is a person who presents news during a news program in the format of a television show, on the radio or the Internet.News presenters can work in a radio studio, television studio and from remote broadcasts in the field especially weather...
for the
CBS Evening News
CBS Evening News
CBS Evening News is the flagship nightly television news program of the American television network CBS. The network has broadcast this program since 1948, and has used the CBS Evening News title since 1963....
. He is now managing editor and anchor of the television news magazine
Dan Rather Reports
Dan Rather Reports
Dan Rather Reports is a weekly news television show hosted by former CBS news anchor Dan Rather that airs on HDNet. After being broadcast, episodes are available on DVD and in the iTunes Store. Like all HDNet programming it is broadcast in high definition....
on the cable channel
HDNet
HDNet
HDNet is a men's interest television channel in the United States, broadcasting exclusively in high-definition format and available via cable and satellite television...
. Rather was anchor of the CBS Evening News for 24 years, from March 9, 1981, to March 9, 2005. He also contributed to CBS's
60 Minutes
60 Minutes
60 Minutes is an American television news magazine, which has run on CBS since 1968. The program was created by producer Don Hewitt who set it apart by using a unique style of reporter-centered investigation....
. Rather became embroiled in controversy about a disputed news report involving the 2004 U.S.
And to each of you, courage. For the "CBS Evening News," Dan Rather reporting. Good night.

Sign-off, Wednesday, March 9, 2005
We've shared a lot in the 24 years we've been meeting here each evening, and before I say 'Good night' this night, I need to say thank you. Thank you to the thousands of wonderful professionals at CBS News, past and present, with whom it's been my honor to work over these years. And a deeply felt thanks to all of you, who have let us into your homes night after night; it has been a privilege, and one never taken lightly.