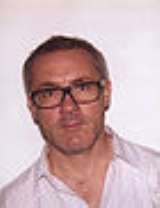 Damien Hirst
Damien Steven Hirst
is an English artist, entrepreneur and art collector. He is the most prominent member of the group known as the
Young British Artists
Young British Artists
Young British Artists or YBAs is the name given to a loose group of visual artists who first began to exhibit together in London, in 1988...
(or YBAs), who dominated the art scene in Britain during the 1990s. He is internationally renowned, and is reportedly Britain's richest living artist, with his wealth valued at £215m in the 2010
Sunday Times Rich List
Sunday Times Rich List
The Sunday Times Rich List is a list of the 1,000 wealthiest people or families in the United Kingdom, updated annually in April and published as a magazine supplement by British national Sunday newspaper The Sunday Times since 1989...
. During the 1990s his career was closely linked with the collector
Charles Saatchi
Charles Saatchi
Charles Saatchi is the co-founder with his brother Maurice of the global advertising agency Saatchi & Saatchi, and led that business - the world's largest advertising agency in the 1980s - until they were forced out in 1995. In the same year the Saatchi brothers formed a new agency called M&C...
, but increasing frictions came to a head in 2003 and the relationship ended.
Death is a central theme in Hirst's works.
The best spot painting you can have by me is one painted by Rachel.

On the Way to Work, p. 82, Faber and Faber, 2001.
I started taking cocaine and drink ... I turned into a babbling fucking wreck.

On the Way to Work, Faber and Faber, 2001.