 DFS Kopernikus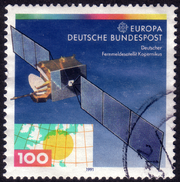 DFS-Kopernikus
meaning
Deutscher Fernmeldesatellit Kopernikus
) was the name of three geostationary satellite of
Deutsche Bundespost
Deutsche Bundespost
The Deutsche Bundespost was created in 1947 as a successor to the Reichspost . Between 1947 and 1950 the enterprise was called Deutsche Post...
and later Deutsche Telekom AG. They are no longer in use.
When DFS-Kopernikus 3 was nearing the end of its life,
SES Astra
SES Astra
Astra is the name for the geostationary communication satellites, both individually and as a group, which are owned and operated by SES S.A., a global satellite operator based in Betzdorf, in eastern Luxembourg. The name is sometimes also used to describe the channels broadcasting from these...
reached agreement with Deutsche Telekom to use the 23.5°East position and frequencies, and in August 2001,
Astra 1D
Astra 1D
Astra 1D was the fourth, and under original plans, last communications satellite from Société Européenne des Satellites , now SES Astra. It was launched to Astra's original solitary operational position at 19.2° east, and was intended as an in-orbit spare for Astra's 1A, 1B and 1C...
was moved there. The
Astra 23.5°E
Astra 23.5°E
Astra 23.5°E is the name for the group of communications satellites co-located at the 23.5° east position in the Clarke Belt owned and operated by SES Astra, a subsidiary of SES based in Betzdorf, Luxembourg...
position was officially opened in March 2002 with the launch and positioning there of
Astra 3A
Astra 3A
Astra 3A is a communications satellite owned and operated by SES Astra, launched in 2002 to the Astra 23.5°E orbital slot providing digital television and radio for DTH and cable, multimedia and interactive services, corporate networks, and occasional and other business services to central...
. Deutsche Telekom contracted for 10 transponders on that craft and shortly switched over all traffic from DFS-Kopernikus 3.
Station Keeping
The orbital station keeping manoeuvres of the satellites were conducted by the Flight Dynamics Group of the
German Aerospace Center
German Aerospace Center
The German Aerospace Center is the national centre for aerospace, energy and transportation research of the Federal Republic of Germany. It has multiple locations throughout Germany. Its headquarters are located in Cologne. It is engaged in a wide range of research and development projects in...
(German Space Operations Center) in
Oberpfaffenhofen
Oberpfaffenhofen
Oberpfaffenhofen is a village which is part of the municipality of Weßling in the district of Starnberg, Bavaria, Germany. It is 20 kilometers from the city center of Munich....
, Bavaria. The satellites were located at the following positions.
DFS-Kopernikus 1: 23,5° East, later 33,5° East (1989–1994?)
DFS-Kopernikus 2: 28,5° East (1990–2000?)
DFS-Kopernikus 3: 23,5° East (1992–2002)
German satellite TV market share in 1990
SES Astra

SES Astra

Astra is the name for the geostationary communication satellites, both individually and as a group, which are owned and operated by SES S.A., a global satellite operator based in Betzdorf, in eastern Luxembourg. The name is sometimes also used to describe the channels broadcasting from these...


: ca. 80%
Kopernikus: ca. 20%
TV-SAT 2: under 1%
External links