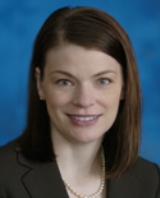 Cynthia L. Bauerly
Cynthia L. Bauerly
is a member of the United States
Federal Election Commission
Federal Election Commission
The Federal Election Commission is an independent regulatory agency that was founded in 1975 by the United States Congress to regulate the campaign finance legislation in the United States. It was created in a provision of the 1975 amendment to the Federal Election Campaign Act...
. She was nominated by President
George W. Bush
George W. Bush
George Walker Bush is an American politician who served as the 43rd President of the United States, from 2001 to 2009. Before that, he was the 46th Governor of Texas, having served from 1995 to 2000....
on May 6, 2008. Her appointment received the unanimous consent of the United States Senate on June 24, 2008.
Prior to her appointment, Ms. Bauerly served as Legislative Director for Senator Charles E. Schumer of New York. She directed all aspects of the Senator's legislative agenda by setting and implementing legislative priorities, managing policy staff, advising the Senator on floor strategy, campaign finance and ethics policy, overseeing committee and subcommittee activities, and coordinating with communications staff.
In 2004 and 2005, Ms. Bauerly specialized in intellectual property and business litigation with Fredrikson & Byron in Minneapolis, Minnesota. From February until November 2005, she was the policy director for
Amy Klobuchar
Amy Klobuchar
Amy Jean Klobuchar is the senior United States Senator from Minnesota. She is a member of the Minnesota Democratic-Farmer-Labor Party, an affiliate of the Democratic Party...
's successful United States Senate campaign in Minnesota.
From 2002 until 2004, Ms. Bauerly served as Senator Schumer's counsel on the Senate Judiciary Committee and Senate Rules Committee. In this position, she advised the Senator on a broad range of policy matters including election reform, campaign finance, technology, telecommunications, intellectual property, antitrust, legal process reform, and immigration.
Prior to her work for Senator Schumer, she specialized in complex litigation and appellate law at
Jones Day
Jones Day
Jones Day is an international law firm founded in Cleveland, Ohio on March 1, 1893, by Judge Edwin J. Blandin and William Lowe Rice. Jones Day is the eighth largest law firm in the world by revenue, and the fourth highest grossing firm in the US with annual revenues of US$1.4 billion...
in Washington, D.C. She previously served as a judicial clerk for the Honorable
Florence-Marie Cooper
Florence-Marie Cooper
Florence-Marie Cooper was a United States federal judge.-Early life and education:Cooper was born in Vancouver, British Columbia, Canada and moved to San Francisco with her family in 1952. Cooper graduated from high school in 1958 and began working as a legal secretary...
of the United States District Court for the Central District of California and the Honorable
Theodore R. Boehm
Theodore R. Boehm
Theodore R. Boehm is a Justice of the Indiana Supreme Court. He was appointed by then-Governor Evan Bayh on August 7, 1996....
of the Indiana Supreme Court.
Ms. Bauerly graduated cum laude from Indiana University School of Law – Bloomington and received a Master of Public Affairs from Indiana University's School of Environmental and Public Affairs. Ms. Bauerly is a
summa cum laude
graduate of Concordia College in Moorhead, Minnesota.