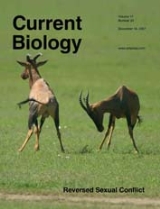 Current Biology
Current Biology
is a scientific journal that covers all areas of
biology
Biology
Biology is a natural science concerned with the study of life and living organisms, including their structure, function, growth, origin, evolution, distribution, and taxonomy. Biology is a vast subject containing many subdivisions, topics, and disciplines...
, especially
molecular biology
Molecular biology
Molecular biology is the branch of biology that deals with the molecular basis of biological activity. This field overlaps with other areas of biology and chemistry, particularly genetics and biochemistry...
,
cell biology
Cell biology
Cell biology is a scientific discipline that studies cells – their physiological properties, their structure, the organelles they contain, interactions with their environment, their life cycle, division and death. This is done both on a microscopic and molecular level...
,
genetics
Genetics
Genetics , a discipline of biology, is the science of genes, heredity, and variation in living organisms....
, neurobiology,
ecology
Ecology
Ecology is the scientific study of the relations that living organisms have with respect to each other and their natural environment. Variables of interest to ecologists include the composition, distribution, amount , number, and changing states of organisms within and among ecosystems...
and evolutionary biology. The journal is published twice a month and includes peer-reviewed research articles, various types of review articles, as well as an editorial magazine section.
Current Biology
was founded in 1991 by the Current Science group, acquired by
Elsevier
Elsevier
Elsevier is a publishing company which publishes medical and scientific literature. It is a part of the Reed Elsevier group. Based in Amsterdam, the company has operations in the United Kingdom, USA and elsewhere....
in 1998 and has since 2001 been part of
Cell Press
Cell Press
Cell Press, an imprint of Elsevier, publishes biomedical journals, including Cell, Neuron, Immunity, Molecular Cell, Developmental Cell, Cancer Cell, Current Biology, Structure, Chemistry & Biology, Cell Metabolism, American Journal of Human Genetics, and new titles – Cell Host & Microbe and Cell...
, a subdivision of Elsevier.