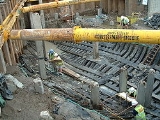 Cultural Heritage Management
Cultural heritage management (CHM)
is the vocation and practice of managing
cultural heritage
Cultural heritage
Cultural heritage is the legacy of physical artifacts and intangible attributes of a group or society that are inherited from past generations, maintained in the present and bestowed for the benefit of future generations...
. It is a branch of
cultural resources management
Cultural resources management
In the broadest sense, Cultural Resources Management is the vocation and practice of managing cultural resources, such as the arts and heritage. It incorporates Cultural Heritage Management which is concerned with traditional and historic culture. It also delves into the material culture of...
(CRM), although it also draws on the practices of conservation,
restoration
Building restoration
Building restoration describes a particular treatment approach and philosophy within the field of architectural conservation. According the U.S...
,
museology
Museology
Museology is the diachronic study of museums and how they have established and developed in their role as an educational mechanism under social and political pressures.-Overview:...
,
archaeology
Archaeology
Archaeology, or archeology , is the study of human society, primarily through the recovery and analysis of the material culture and environmental data that they have left behind, which includes artifacts, architecture, biofacts and cultural landscapes...
,
history
History
History is the discovery, collection, organization, and presentation of information about past events. History can also mean the period of time after writing was invented. Scholars who write about history are called historians...
and
architecture
Architecture
Architecture is both the process and product of planning, designing and construction. Architectural works, in the material form of buildings, are often perceived as cultural and political symbols and as works of art...
. While the term cultural heritage is generally used in Europe, in the USA the term cultural resources is in more general use specifically referring to cultural
heritage
resources. CHM has traditionally been concerned with the identification, interpretation, maintenance, and preservation of significant cultural sites and physical heritage assets, although intangible aspects of heritage, such as traditional skills, cultures and languages are also considered.