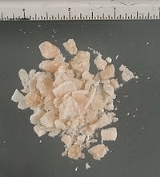 Crack cocaine
Crack cocaine
is the freebase form of
cocaine
Cocaine
Cocaine is a crystalline tropane alkaloid that is obtained from the leaves of the coca plant. The name comes from "coca" in addition to the alkaloid suffix -ine, forming cocaine. It is a stimulant of the central nervous system, an appetite suppressant, and a topical anesthetic...
that can be smoked. It may also be termed
rock
,
hard
,
iron
,
cavvy
,
base
, or just
crack
; it is the most addictive form of cocaine. Crack rocks offer a short but intense
high
Euphoria (emotion)
Euphoria is medically recognized as a mental and emotional condition in which a person experiences intense feelings of well-being, elation, happiness, ecstasy, excitement and joy...
to smokers. Crack appeared primarily in
impoverished
Poverty in the United States
Poverty is defined as the state of one who lacks a usual or socially acceptable amount of money or material possessions. According to the U.S. Census Bureau data released Tuesday September 13th, 2011, the nation's poverty rate rose to 15.1% in 2010, up from 14.3% in 2009 and to its highest level...
inner-city neighborhoods in
New York
New York City
New York is the most populous city in the United States and the center of the New York Metropolitan Area, one of the most populous metropolitan areas in the world. New York exerts a significant impact upon global commerce, finance, media, art, fashion, research, technology, education, and...
,
Los Angeles
Los Ángeles
Los Ángeles is the capital of the province of Biobío, in the commune of the same name, in Region VIII , in the center-south of Chile. It is located between the Laja and Biobío rivers. The population is 123,445 inhabitants...
, and Miami in late 1984 and 1985. Its rise to popularity can be attributed to the discovery that baking soda (
sodium bicarbonate
Sodium bicarbonate
Sodium bicarbonate or sodium hydrogen carbonate is the chemical compound with the formula Na HCO3. Sodium bicarbonate is a white solid that is crystalline but often appears as a fine powder. It has a slightly salty, alkaline taste resembling that of washing soda . The natural mineral form is...
, NaHCO
3
) was a low cost and simple replacement for the ether used in preparation of free base cocaine.