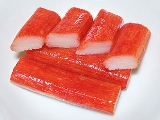 Crab stick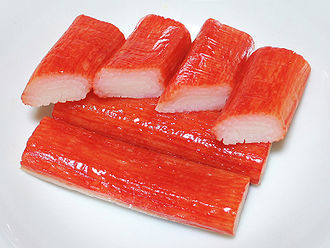 Crab sticks
are a form of
kamaboko
Kamaboko
is a type of cured surimi, a Japanese processed seafood product, in which various white fish are pureed, combined with additives such as MSG, formed into distinctive loaves, and then steamed until fully cooked and firm. The steamed loaves are then sliced and served unheated with various dipping...
, a processed seafood made of finely pulverized white fish flesh (
surimi
Surimi
Surimi is a Japanese loan word referring to a fish-based food product that has been pulverized to a thick paste and has the property of a dense and rubbery food item when cooked...
), shaped and cured to resemble crab leg meat.
Crab flakes
use the same mixture to form flakes instead of sticks to resemble crab meat or lobster meat.
of Japan first produced and patented crab sticks in 1973, as
Kanikama
. In 1976, The Berelson Company of San Francisco, CA USA, working with Sugiyo, introduced them internationally. This is still their common name in Japan, but internationally they are marketed under names including
Krab Sticks
,
Ocean Sticks
,
Sea Legs
and
Imitation Crab Sticks
. Legal restrictions now prevent them from being marketed as "Crab Sticks" in many places, as they usually do not have crab meat.
Alaska pollock
Alaska pollock
Alaska pollock or walleye pollock is a North Pacific species of the cod family Gadidae. While related to the common Atlantic pollock species of the same family, the Alaska pollock is not a member of the same Pollachius genus.The Norwegian pollock , a rare fish of Norwegian waters, may actually be...
from the North Pacific is commonly the main ingredient, often mixed with egg white (albumen) or other binding ingredient, such as the enzyme
transglutaminase
Transglutaminase
Transglutaminases are a family of enzymes that catalyze the formation of a covalent bond between a free amine group and the gamma-carboxamid group of protein- or peptide-bound glutamine. Bonds formed by transglutaminase exhibit high resistance to proteolytic degradation.Transglutaminases were...
. Crab flavouring is added (either artificial or crab-derived), and a layer of red food colouring is applied to the outside.
The sticks are packaged displayed in a transparent shrink wrap cover. Individual sticks in many forms are coloured red or yellowish red on the outside, with a rectangular cross-section or a cross-section fibre showing white inside meat. In some forms, strings can be torn from the stick in a similar manner to
string cheese
String cheese
Several different types of cheese are known as string cheese. It is peelable and when peeled, it does so in strings or strips from the larger cheese....
. The texture is rubbery, with a salty taste and smell similar to steamed crab. Cross fibre is manufactured to be similar to the texture and fibre of Snow Crab or King Crab legs.
Quality imitation crab is usually lower in
cholesterol
Cholesterol
Cholesterol is a complex isoprenoid. Specifically, it is a waxy steroid of fat that is produced in the liver or intestines. It is used to produce hormones and cell membranes and is transported in the blood plasma of all mammals. It is an essential structural component of mammalian cell membranes...
than real crab meat, but is also highly processed. Because it is created from fish, it can be
kosher
Kashrut
Kashrut is the set of Jewish dietary laws. Food in accord with halakha is termed kosher in English, from the Ashkenazi pronunciation of the Hebrew term kashér , meaning "fit" Kashrut (also kashruth or kashrus) is the set of Jewish dietary laws. Food in accord with halakha (Jewish law) is termed...
, but only if it does not contain crab-derived flavouring, as shellfish is treif (non-kosher).
Since they are cooked during the curing process, Crab Sticks can be eaten cold from the package. They are often used in seafood salads.
Uses in cuisine
A
California roll
California roll
The California roll is a maki-zushi, a kind of sushi roll, usually made inside-out, containing cucumber, crab meat or imitation crab, and avocado. In some countries it is made with mango instead of avocado...
is a sushi roll made with imitation crab meat, avocado, and
cucumber
Cucumber
The cucumber is a widely cultivated plant in the gourd family Cucurbitaceae, which includes squash, and in the same genus as the muskmelon. The plant is a creeping vine which bears cylindrical edible fruit when ripe. There are three main varieties of cucumber: "slicing", "pickling", and...
(sometimes) rolled with sesame seeds on the outside. Russian, American, and European deli counters have salads prepared with imitation crab meat, eggs, vegetables and herbs chopped together and seasoned with
mayonnaise
Mayonnaise
Mayonnaise, , often abbreviated as mayo, is a sauce. It is a stable emulsion of oil, egg yolk and either vinegar or lemon juice, with many options for embellishment with other herbs and spices. Lecithin in the egg yolk is the emulsifier. Mayonnaise varies in color but is often white, cream, or pale...
.
See also
Fish ball

Fish ball

Fish balls are a common food in southern China and overseas Chinese communities made from surimi . They are also common in Scandinavia, where they are usually made from cod or haddock.-Terminology:...



Kamaboko

Kamaboko

is a type of cured surimi, a Japanese processed seafood product, in which various white fish are pureed, combined with additives such as MSG, formed into distinctive loaves, and then steamed until fully cooked and firm. The steamed loaves are then sliced and served unheated with various dipping...



Surimi

Surimi

Surimi is a Japanese loan word referring to a fish-based food product that has been pulverized to a thick paste and has the property of a dense and rubbery food item when cooked...



Fish sticks
External links