 Corps de ballet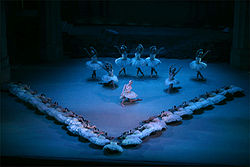 In
ballet
Ballet
Ballet is a type of performance dance, that originated in the Italian Renaissance courts of the 15th century, and which was further developed in France and Russia as a concert dance form. The early portions preceded the invention of the proscenium stage and were presented in large chambers with...
, the
corps de ballet
(from
French
French language
French is a Romance language spoken as a first language in France, the Romandy region in Switzerland, Wallonia and Brussels in Belgium, Monaco, the regions of Quebec and Acadia in Canada, and by various communities elsewhere. Second-language speakers of French are distributed throughout many parts...
,
body of the ballet
) is the group of dancers who are not soloists. They are a permanent part of the
ballet company
Ballet company
A ballet company is a group of dancers who perform ballet, plus managerial and support staff. Most major ballet companies employ dancers on a year-round basis, except in the United States, where contracts for part of the year are the norm...
and often work as a
backdrop
Backdrop
Backdrop may refer to:* Theatrical scenery* Photography backdrops used in studio photography circa 1860-1920.* Filming location* A pro wrestling move that's also called a belly to back suplex....
for the
principal dancer
Principal dancer
A principal dancer is a dancer at the highest rank within a professional dance company, particularly a ballet company....
s. A
corps de ballet
works as one, with synchronized movements and corresponding positioning on the stage. Specific roles are sometimes made for the corps de ballet, such as the Snow Corps de Ballet and the Flower corps in Nutcracker.