 Contraception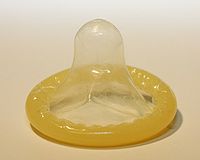 Contraception
is the prevention of the fusion of gametes during or after sexual activity. The term
contraception
is a contraction of
contra
, which means
against
, and the word
conception
, meaning fertilization. Contraception can occur both naturally and via artificial means in humans and in animals.
Naturally occurring contraception
When a mother feeds her baby only with her breast milk, this might possibly prevent the release of hormones which cause ovulation
This occurs naturally, but it can also be manipulated as a method of birth control called the
Lactational amenorrhea method
Lactational Amenorrhea Method
The lactational amenorrhea method is a method of avoiding pregnancies which is based on the natural postnatal infertility that occurs when a woman is amenorrheic and fully breastfeeding...
.
Contraception as a form of birth control
The techniques of birth control can be classified by the stage of reproduction during which it is active. A form of birth control which prevents the sperm from fertilizing the egg is a contraceptive agent. A form of birth control which acts after fertilization to prevent or interrupt the
implantation
Implantation
In humans, implantation is the beginning of pregnancy, in which the embryo Adheres to the wall of the uterus. At this stage of prenatal development, the embryo is a blastocyst...
of the embryo into the uterine lining is a contragestive agent. After implantation has occurred, an agent which ends gestation by terminating the pregnancy is an abortifacient. These mechanisms of action are not always mutually exclusive. One substance or device can have more than one potential effect depending upon when it is used. For example, while
mifepristone
Mifepristone
Mifepristone is a synthetic steroid compound used as a pharmaceutical. It is a progesterone receptor antagonist used as an abortifacient in the first months of pregnancy, and in smaller doses as an emergency contraceptive. During early trials, it was known as RU-38486 or simply RU-486, its...
is best known as an abortifacient, it can also function as a contragestive agent. Likewise, the IUD can be used as a contraceptive or a contragestive depending upon when it is inserted.
All contraception methods, other than the use of a condom, are applied by the female. There are a variety of laws in many countries which prohibit or regulate the availability of contraceptive devices. The laws range from outright prohibition to prohibition of some forms of contraception, to minimum ages for availability, to whether a prescription is required, etc.
Contraceptives are devices, techniques and methods used to prevent fertilization. Barrier contraceptives are devices which attempt to prevent
pregnancy
Pregnancy
Pregnancy refers to the fertilization and development of one or more offspring, known as a fetus or embryo, in a woman's uterus. In a pregnancy, there can be multiple gestations, as in the case of twins or triplets...
by physically preventing
sperm
Sperm
The term sperm is derived from the Greek word sperma and refers to the male reproductive cells. In the types of sexual reproduction known as anisogamy and oogamy, there is a marked difference in the size of the gametes with the smaller one being termed the "male" or sperm cell...
from entering the
uterus
Uterus
The uterus or womb is a major female hormone-responsive reproductive sex organ of most mammals including humans. One end, the cervix, opens into the vagina, while the other is connected to one or both fallopian tubes, depending on the species...
. Devices in common use include
condom
Condom
A condom is a barrier device most commonly used during sexual intercourse to reduce the probability of pregnancy and spreading sexually transmitted diseases . It is put on a man's erect penis and physically blocks ejaculated semen from entering the body of a sexual partner...
s,
female condom
Female condom
A female condom is a device that is used during sexual intercourse as a barrier contraceptive and to reduce the risk of sexually transmitted infections and unintended pregnancy...
s,
cervical cap
Cervical cap
The cervical cap is a form of barrier contraception. A cervical cap fits over the cervix and blocks sperm from entering the uterus through the external orifice of the uterus, called the os.-Terminology:...
s, and
diaphragm
Diaphragm (contraceptive)
The diaphragm is a cervical barrier type of birth control. It is a soft latex or silicone dome with a spring molded into the rim. The spring creates a seal against the walls of the vagina.-Use:...
s.
SILCS diaphragm
SILCS diaphragm
The SILCS diaphragm is a silicone barrier contraceptive device which is inserted vaginally to cover the cervix. The SILCS device was developed by the Program for Appropriate Technology in Health and SILCS, Inc...
s are still in clinical testing. Hormonal contraceptives inhibit female
ovulation
Ovulation
Ovulation is the process in a female's menstrual cycle by which a mature ovarian follicle ruptures and discharges an ovum . Ovulation also occurs in the estrous cycle of other female mammals, which differs in many fundamental ways from the menstrual cycle...
or fertilization. These include injectable and
oral contraceptive
Oral contraceptive
The combined oral contraceptive pill , often referred to as the birth-control pill or colloquially as "the Pill", is a birth control method that includes a combination of an estrogen and a progestin . When taken by mouth every day, these pills inhibit female fertility...
s. The most common hormonal contraceptives are the combined oral contraceptive pill, commonly referred as "The Pill", which includes a combination of an
estrogen
Estrogen
Estrogens , oestrogens , or œstrogens, are a group of compounds named for their importance in the estrous cycle of humans and other animals. They are the primary female sex hormones. Natural estrogens are steroid hormones, while some synthetic ones are non-steroidal...
and a
progestin
Progestin
A progestin is a synthetic progestogen that has progestinic effects similar to progesterone. The two most common uses of progestins are for hormonal contraception , and to prevent endometrial hyperplasia from unopposed estrogen in hormone replacement therapy...
(progestogen), and the minipill that contains only synthetic progestogens and do not contain estrogen.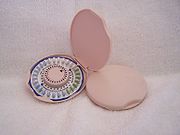 Emergency contraceptive
Emergency contraception
Emergency contraception , or emergency postcoital contraception, refers to birth control measures that, if taken after sexual intercourse, may prevent pregnancy.Forms of EC include:...
s, or "morning-after pills", are drugs that disrupt ovulation or fertilization in order to prevent pregnancy taken after sexual intercourse. An IUD can also be used as an emergency contraceptive, if it is implanted early enough, although it has a contragestive effect when it is implanted later.
Contraception in non-human animals
Contraception occurs naturally in non-human animals just as it does in humans. For example the same hormonal effect of breastfeeding occurs both in humans and in chimpanzees Artificial contraception is now being considered as an alternative to hunting as a means of controlling the population of animals which overbreed.
See also