 ConocoPhillips Alaska
ConocoPhillips Alaska, Inc.
is a subsidiary of
ConocoPhillips
ConocoPhillips
ConocoPhillips Company is an American multinational energy corporation with its headquarters located in the Energy Corridor district of Houston, Texas in the United States...
, with its headquarters in Anchorage,
Alaska
Alaska
Alaska is the largest state in the United States by area. It is situated in the northwest extremity of the North American continent, with Canada to the east, the Arctic Ocean to the north, and the Pacific Ocean to the west and south, with Russia further west across the Bering Strait...
. The company has major lease holdings on the
North Slope
North Slope
North Slope can refer to:* Alaska North Slope* North Slope Borough, Alaska* North Slope, Tacoma, Washington* North Slope, an Inupiaq language dialect...
and is Alaska's largest producer of oil and gas, employing about 1,000 persons.
Operations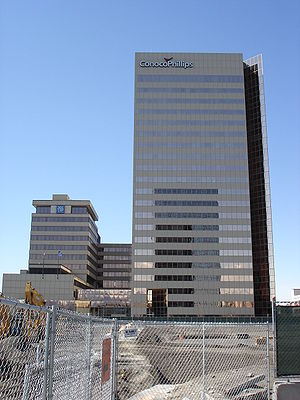 ConocoPhillips Alaska operates the
Kuparuk oil field
Kuparuk oil field
The Kuparuk oil field, located in North Slope Borough, Alaska, United States, is the second largest oil field in North America by area. It produces approximately of oil and is estimated to have of recoverable oil reserves. It is named for the Kuparuk River....
, the Alpine oil field and has interests in the
Prudhoe Bay Oil Field
Prudhoe Bay oil field
Prudhoe Bay Oil Field is a large oil field on Alaska's North Slope. It is the largest oil field in both the United States and in North America, covering and originally containing approximately of oil.. BP. August 2006...
. In January 2010 the company announced that it was delaying its latest
North Slope
North Slope
North Slope can refer to:* Alaska North Slope* North Slope Borough, Alaska* North Slope, Tacoma, Washington* North Slope, an Inupiaq language dialect...
project due to a failure to secure a permit from the U.S. Army Corps of Engineers to construct a bridge needed for the project.
In the Cook Inlet Area, the company operates the Kenai
liquefied natural gas
Liquefied natural gas
Liquefied natural gas or LNG is natural gas that has been converted temporarily to liquid form for ease of storage or transport....
export terminal, the
Tyonek
Tyonek, Alaska
Tyonek is a census-designated place in Kenai Peninsula Borough in the U.S. state of Alaska. As of the 2000 census the population was 193. In 1973, Tyonek formed Tyonek Native Corporation under ANCSA and is federally recognized.- History :...
oil platform in the North Cook Inlet field and the Beluga River natural gas field.
ConocoPhillips Alaska has also teamed with
BP
BP
BP p.l.c. is a global oil and gas company headquartered in London, United Kingdom. It is the third-largest energy company and fourth-largest company in the world measured by revenues and one of the six oil and gas "supermajors"...
on a project to construct the long discussed Alaska gas pipeline to retrieve
stranded gas
Stranded gas reserve
A stranded gas reserve is found in a natural gas field which has been discovered, but remains unusable for either physical or economic reasons. Gas that is found within an oil well is conventionally regarded as associated gas and has historically been flared...
from the North Slope, but a competing project by TransCanada Corporation has some support from both the state and federal government.
Relationship with Alaska and the federal government
Oil companies often have a rocky relationship with the state government of Alaska, as they are a highly valued class of corporate taxpayers who sometimes portray themselves as carrying too much of the state's tax burden. Alaska is one of the few states that does not have a statewide
sales tax
Sales tax
A sales tax is a tax, usually paid by the consumer at the point of purchase, itemized separately from the base price, for certain goods and services. The tax amount is usually calculated by applying a percentage rate to the taxable price of a sale....
or
income tax
Income tax
An income tax is a tax levied on the income of individuals or businesses . Various income tax systems exist, with varying degrees of tax incidence. Income taxation can be progressive, proportional, or regressive. When the tax is levied on the income of companies, it is often called a corporate...
, instead relying heavily on revenue from leasing land for energy development and taxing profits on extracted resources such as oil and gas. Conoco Phillips Alaska asked the Alaska legislature in 2010 to reconsider some provisions of the law known as the
Alaska's Clear and Equitable Share
, which sets a baseline tax of 25% on all revenue from Alaskan oil, which can increase to up to 75% as the price of a barrel of oil increases.
Corporate giving
Oil companies in Alaska are important taxpayers and donors to public and private causes, and CPA is no exception. In 2008 the company donated fifteen million dollars to the University of Alaska for construction of new science education facility, the largest donation the University has ever received. The company has also supported athletic competitions in winter sports in Alaska, including sponsoring cross-country skiing competitions in Alaska and supporting the U.S. Olympic cross-country team.
Jim Bowles
On Saturday February 13, 2010, the president of ConocoPhillips Alaska, Jim Bowles, died in an
avalanche
Avalanche
An avalanche is a sudden rapid flow of snow down a slope, occurring when either natural triggers or human activity causes a critical escalating transition from the slow equilibrium evolution of the snow pack. Typically occurring in mountainous terrain, an avalanche can mix air and water with the...
. South-central Alaska had been experiencing an unusually warm, wet winter and numerous avalanches occurred during this time period.
External links