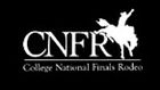 College National Finals Rodeo

The
College National Finals Rodeo
(CNFR) is held every June. Since 2001 the CNFR has been hosted in Casper, WY at the
Casper Events Center
Casper Events Center
The Casper Events Center is a 8,395-seat multi-purpose arena in Casper, Wyoming in the United States. The arena was built in April 1982, and also seats up to 9,700 for concerts and meetings. It is home to the Wyoming Cavalry arena football team and the Broadway in Casper theatre series. In addition...
.. The CNFR is an event where men and women involved in Rodeo come to compete in order to obtain the honor of national champion in their event. The CNFR boasts some of the best young athletes in the country.
National Intercollegiate Rodeo Association
National Intercollegiate Rodeo Association
The National Intercollegiate Rodeo Association, based in Walla Walla, WA, was established in 1949. NIRA sanctions more than 100 college rodeos every year in the United States, and represents over 3,500 student athletes attending more than 135 member colleges and universities...
CNFR 2006
Men's All-Around - Final
As of June 17, 2006 9:55 PM MDT
Rank Num Name School Name Points
1. 360 Londo, Ben J. Cal Poly State University - San Luis Obispo 220.0
2. 288 Lee, Flint D. University of Nevada-Las Vegas 200.0
3. 068 Hall, Jared R. Univ of Arkansas-Monticello 175.0
4. 208 Garwood, Miles W. National American University 155.0
5. 321 Wade, Jake University of Nevada-Las Vegas 145.0
6. 209 Guy, Nick J. National American University 120.0
7. 039 McDaniel, Justin O. Vernon College 120.0
CNFR 2006
Women's All-Around - Final
As of June 17, 2006 9:55 PM MDT
Rank Num Name School Name Points
1. 048 Eppert, Kirby S. Tarleton State University 250.0
2. 370 Ferguson, Jaclyn K. Walla Walla Community College 170.0
3. 008 Dobson, Courtney J. Weber State University 145.0
----
CNFR 2006 Reserve and Grand Champions
Saddle Bronc
1. Monroe, Jarrett L. UMTW
2. Atchison, Stephen (Ty) UTNM
Bareback Riding
1. Schlegal, Jerad D. VERNON
2. Gunderson, Joseph R. SDSU
Bull Riding
Bull riding
Bull riding refers to rodeo sports that involve a rider getting on a large bull and attempting to stay mounted while the animal attempts to buck off the rider....
1. Craig, Jarrod M. HILL
2. Murphy, Bandy A. SWOKSU
Calf Roping
Calf roping
Calf roping, also known as tie-down roping, is a rodeo event that features a calf and a rider mounted on a horse. The goal of this timed event is for the rider to catch the calf by throwing a loop of rope from a lariat around its neck, dismount from the horse, run to the calf, and restrain it by...
1.Prichard, Matthew S. WHARTN
2.Currey, Casey C. MTSU
Steer Wrestling
Steer wrestling
Steer wrestling, also known as bulldogging, is a rodeo event in which a horse-mounted rider chases a steer, drops from the horse to the steer, then wrestles the steer to the ground by twisting its horns. Like all rodeo events, there are concerns from the animal rights community that the competition...
1. Cobb, Zachery T. WTXAMU
2. Shofner, Benjamin C. Yes MCNSU
Team Roping
Team roping
Team roping also known as heading and heeling is a rodeo event that features a steer and two mounted riders. The first roper is referred to as the "header," the person who ropes the front of the steer, usually around the horns, but it is also legal for the rope to go around the neck, or go around...
1.Garza, Matt T. NMSU
1.Means, Chance (Meansy) H. CAZC
2. 233 Hawley, Edward C. MTSU
2. 238 Sporer, Sid J. NWC
Barrel Racing
Barrel racing
Barrel racing is a rodeo event in which a horse and rider attempt to complete a clover-leaf pattern around preset barrels in the fastest time. Though both boys and girls compete at the youth level and men compete in some amateur venues, in collegiate and professional ranks, it is primarily a rodeo...
1. Kochie, Adriane M. UWIPV
2. Sandoval, Alicia D. NMJC
Breakaway Roping
1.Painter, Jessica (Jess) J. NAU
2.Gardner, Raelyn M. ENMU
Goat Tying
Goat tying
Goat tying is a fast-paced rodeo event that is typically seen in junior/wrangler, high school and college rodeos. The object is to race to the end of the rodeo arena to where a goat is staked out on a 10' rope...
1. Nelson, Kayla J. UWY
2. Eppert, Kirby S. TARLET
External links