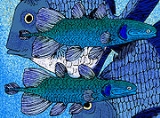 Coelacanthidae
Coelacanthidae
is an extinct
family
Family (biology)
In biological classification, family is* a taxonomic rank. Other well-known ranks are life, domain, kingdom, phylum, class, order, genus, and species, with family fitting between order and genus. As for the other well-known ranks, there is the option of an immediately lower rank, indicated by the...
of
coelacanth
Coelacanth
Coelacanths are members of an order of fish that includes the oldest living lineage of Sarcopterygii known to date....
s found throughout the world, originating during the
Permian
Permian
The PermianThe term "Permian" was introduced into geology in 1841 by Sir Sir R. I. Murchison, president of the Geological Society of London, who identified typical strata in extensive Russian explorations undertaken with Edouard de Verneuil; Murchison asserted in 1841 that he named his "Permian...
, and finally dying out during the
Jurassic
Jurassic
The Jurassic is a geologic period and system that extends from about Mya to Mya, that is, from the end of the Triassic to the beginning of the Cretaceous. The Jurassic constitutes the middle period of the Mesozoic era, also known as the age of reptiles. The start of the period is marked by...
.
The modern-day
genus
Genus
In biology, a genus is a low-level taxonomic rank used in the biological classification of living and fossil organisms, which is an example of definition by genus and differentia...
Latimeria
Latimeria
Latimeria is a genus comprising the living species of coelacanth.-Biological characteristics:Based on growth rings in their ear bones , scientists infer that individual coelacanths may live as long as 80 to 100 years. Coelacanths live as deep as 700 m below sea level, but are more commonly...
is often erroneously thought to be in this family, when, in fact, it is in the more advanced family Latimeriidae, which appeared some time during the
Triassic
Triassic
The Triassic is a geologic period and system that extends from about 250 to 200 Mya . As the first period of the Mesozoic Era, the Triassic follows the Permian and is followed by the Jurassic. Both the start and end of the Triassic are marked by major extinction events...
.
External links
Mikko's Phylogeny Archive
Mikko's Phylogeny Archive
Mikko's Phylogeny Archive is an amateur paleontology website maintained by Mikko Haaramo, a student at the University of Helsinki's Department of Geology, Division of Geology and Palaeontology....
on
Coelacanthiformes