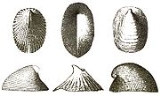 Cocculinidae
Cocculinidae
is a
family
Family (biology)
In biological classification, family is* a taxonomic rank. Other well-known ranks are life, domain, kingdom, phylum, class, order, genus, and species, with family fitting between order and genus. As for the other well-known ranks, there is the option of an immediately lower rank, indicated by the...
of sea
snail
Snail
Snail is a common name applied to most of the members of the molluscan class Gastropoda that have coiled shells in the adult stage. When the word is used in its most general sense, it includes sea snails, land snails and freshwater snails. The word snail without any qualifier is however more often...
s, deep-sea
limpet
Limpet
Limpet is a common name for a number of different kinds of saltwater and freshwater snails ; it is applied to those snails that have a simple shell which is more or less conical in shape, and either is not spirally coiled, or appears not to be coiled in the adult snails.The name limpet is most...
s,
marine
Marine (ocean)
Marine is an umbrella term. As an adjective it is usually applicable to things relating to the sea or ocean, such as marine biology, marine ecology and marine geology...
gastropod mollusks in the
clade
Clade
A clade is a group consisting of a species and all its descendants. In the terms of biological systematics, a clade is a single "branch" on the "tree of life". The idea that such a "natural group" of organisms should be grouped together and given a taxonomic name is central to biological...
Cocculiniformia (according to the
taxonomy of the Gastropoda by Bouchet & Rocroi, 2005
Taxonomy of the Gastropoda (Bouchet & Rocroi, 2005)
The taxonomy of the Gastropoda as it was revised by Philippe Bouchet and Jean-Pierre Rocroi is currently the most up-to-date overall system for classifying gastropod mollusks...
).
Genera
Genera within the family Cocculinidae include:
Genus Coccocrater Haszprunar, 1987

Coccocrater pocillum
Coccocrater portoricensis (Dall & Simpson, 1901)

Genus Coccopigya

Coccopigya

Coccopigya is a genus of sea snails, deep-sea limpets, marine gastropod mollusks in the family Cocculinidae.-Species:Species within the genus Coccopigya include:* Coccopigya lata...


Marshall, 1986

Coccopigya barbatula
Coccopigya crebriflamina
Coccopigya crebrilamina
Coccopigya crinita
Coccopigya hispida
Coccopigya lata

Coccopigya lata

Coccopigya lata is a species of sea snail, deep-sea limpet, a marine gastropod mollusk in the family Cocculinidae....


(Warén, 1996)
Coccopigya mikkelsenae
Coccopigya oculifera
Coccopigya okutanii
Coccopigya punctoradiata

Coccopigya punctoradiata

Coccopigya punctoradiata is a species of sea snail, deep-sea limpet, a marine gastropod mollusk in the family Cocculinidae....


(Kuroda & Habe, 1949)
Coccopigya spinigera

Coccopigya spinigera

Coccopigya spinigera is a species of sea snail, deep-sea limpet, a marine gastropod mollusk in the family Cocculinidae.-Distribution:* Range: 39.7°N to 28°N; 83°W to 0°W.* Eastern Atlantic: Iceland* North West Atlantic...


(Jeffreys, 1883)
Coccopigya viminensis

Coccopigya viminensis

Coccopigya viminensis is a species of sea snail, deep-sea limpet, a marine gastropod mollusk in the family Cocculinidae.-External links:* at National Center for Biotechnology Information...


(Rocchini, 1990)

Genus Cocculina

Cocculina

Cocculina is a genus of sea snails, deep-sea limpets, marine gastropod mollusks in the family Cocculinidae.-Species:Species within the genus Cocculina include:* Cocculina agassizii Dall, 1908* Cocculina baxteri McLean, 1987...


Dall, 1882

Cocculina adunca
Cocculina alveolata
Cocculina angulata
Cocculina cingulina
Cocculina emsoni McLean & Harasewych, 1995
Cocculina fenestrata

Cocculina fenestrata

Cocculina fenestrata is a species of sea snail, deep-sea limpet, a marine gastropod mollusk in the family Cocculinidae....


Ardila & Harasewych, 2005
Cocculina japonica
Cocculina leptalea

Cocculina leptalea

Cocculina leptalea is a species of sea snail, deep-sea limpet, a marine gastropod mollusk in the family Cocculinidae.-Distribution:* Range: 38.88°N to 28°N; 80°W to 69.14°W.* USA: New Jersey, North Carolina, Florida; Florida: East Florida...


A. E. Verrill, 1884
Cocculina leptoglypta

Cocculina leptoglypta

Cocculina leptoglypta is a species of sea snail, deep-sea limpet, a marine gastropod mollusk in the family Cocculinidae....


Dautzenberg & H. Fischer, 1897
Cocculina mamilla
Cocculina messingi

Cocculina messingi

Cocculina messingi is a species of sea snail, deep-sea limpet, a marine gastropod mollusk in the family Cocculinidae....


McLean & Harasewych, 1995
Cocculina oblonga
Cocculina ovata
Cocculina pacifica
Cocculina rathbuni
Cocculina striata
Cocculina subcompressa
Cocculina subquadrata
Cocculina surugaensis
Cocculina tenuitesta
Cocculina tosaensis

Genus Fedikovella

Fedikovella

Fedikovella is a genus of sea snails, deep-sea limpets, marine gastropod mollusks in the family Cocculinidae.-Species:Species within the genus Fedikovella include:* Fedikovella beanii...


Moskalev, 1976

Fedikovella beanii

Fedikovella beanii

Fedikovella beanii is a species of sea snail, deep-sea limpet, a marine gastropod mollusk in the family Cocculinidae.- Further reading :...


(Dall, 1882)
Fedikovella caymanensis

Genus Macleaniella

Macleaniella

Macleaniella is a genus of sea snails, deep-sea limpets, marine gastropod mollusks in the family Cocculinidae.-Species:Species within the genus Macleaniella include:* Macleaniella moskalevi Leal & Harasewych, 1999...


Leal & Harasewych 1999

Macleaniella moskalevi

Macleaniella moskalevi

Macleaniella moskalevi is a species of sea snail, deep-sea limpet, a marine gastropod mollusk in the family Cocculinidae.-Description:The shell of Macleaniella moskalevi is small and cap-shaped. The maximum recorded shell length is 5.17 mm....


Leal & Harasewych, 1999

Genus Paracocculina Haszprunar, 1987

Paracocculina cervae
Paracocculina laevis

Genus Tentaoculus

Tentaoculus

Tentaoculus is a genus of sea snails, deep-sea limpets, marine gastropod mollusks in the family Cocculinidae.-Species:Species within the genus Tentaoculus include:* Tentaoculus granulatus Warén & Bouchet, 2009...


Moskalev, 1976

Tentaoculus granulatus

Tentaoculus granulatus

Tentaoculus granulatus is a species of sea snail, deep-sea limpet, a marine gastropod mollusk in the family Cocculinidae....


Warén & Bouchet, 2009