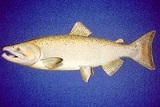 Chinook salmon
The
Chinook salmon
,
Oncorhynchus tshawytscha
, is the largest
species
Species
In biology, a species is one of the basic units of biological classification and a taxonomic rank. A species is often defined as a group of organisms capable of interbreeding and producing fertile offspring. While in many cases this definition is adequate, more precise or differing measures are...
in the pacific (Oncorhynchus)
salmon
Salmon
Salmon is the common name for several species of fish in the family Salmonidae. Several other fish in the same family are called trout; the difference is often said to be that salmon migrate and trout are resident, but this distinction does not strictly hold true...
family
Family (biology)
In biological classification, family is* a taxonomic rank. Other well-known ranks are life, domain, kingdom, phylum, class, order, genus, and species, with family fitting between order and genus. As for the other well-known ranks, there is the option of an immediately lower rank, indicated by the...
. Other commonly used names for the species include
King salmon
,
Quinnat salmon
,
Spring salmon
and
Tyee salmon
. Chinook are an anadromous
fish
Fish
Fish are a paraphyletic group of organisms that consist of all gill-bearing aquatic vertebrate animals that lack limbs with digits. Included in this definition are the living hagfish, lampreys, and cartilaginous and bony fish, as well as various extinct related groups...
native to the north Pacific Ocean and the river systems of western North America ranging from California to Alaska.