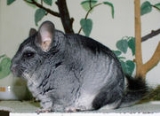 Chinchillidae
The family
Chinchillidae
contains the
chinchilla
Chinchilla
Chinchillas are crepuscular rodents, slightly larger and more robust than ground squirrels, and are native to the Andes mountains in South America. Along with their relatives, viscachas, they make up the family Chinchillidae....
s,
viscacha
Viscacha
Viscachas or vizcachas are rodents of two genera in the family Chinchillidae. They are closely related to chinchillas, and look similar to rabbits...
s, and their
fossil
Fossil
Fossils are the preserved remains or traces of animals , plants, and other organisms from the remote past...
relatives. They are restricted to southern and western
South America
South America
South America is a continent situated in the Western Hemisphere, mostly in the Southern Hemisphere, with a relatively small portion in the Northern Hemisphere. The continent is also considered a subcontinent of the Americas. It is bordered on the west by the Pacific Ocean and on the north and east...
, often in association with the
Andes
Andes
The Andes is the world's longest continental mountain range. It is a continual range of highlands along the western coast of South America. This range is about long, about to wide , and of an average height of about .Along its length, the Andes is split into several ranges, which are separated...
. They are large rodents, weighing from 800 g (28.2 oz) to 8 kg (17.6 lb), with strong hind legs and large ears. All species have thick, soft
fur
Fur
Fur is a synonym for hair, used more in reference to non-human animals, usually mammals; particularly those with extensives body hair coverage. The term is sometimes used to refer to the body hair of an animal as a complete coat, also known as the "pelage". Fur is also used to refer to animal...
, which is considered valuable in some species.
Classification
There are three extant and three fossil genera currently recognized.
†Eoviscaccia incertae sedis
Subfamily Chinchillinae

Chinchilla

Chinchilla

Chinchillas are crepuscular rodents, slightly larger and more robust than ground squirrels, and are native to the Andes mountains in South America. Along with their relatives, viscachas, they make up the family Chinchillidae....


- chinchillas
Lagidium

Lagidium

Lagidium is a genus of rodent in the family Chinchillidae.It contains the following species:* Northern Viscacha * Southern Viscacha * Wolffsohn's Viscacha...


- mountain viscachas

Subfamily Lagostominae

Lagostomus

Lagostomus

Lagostomus is a South American genus of rodents in the family Chinchillidae. It contains a single living species, the plains viscacha, and it is the only recent genus in the subfamily Lagostominae....


- plains viscachas
†Pliolagostomus
†Prolagostomus