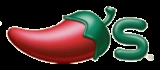 Chili's
Chili's Grill & Bar
is a restaurant chain founded by Larry Lavine. The chain has more than 1400
casual dining
Casual dining
This is a list of casual dining restaurant chains around the world, arranged in alphabetical order. A casual dining restaurant is a restaurant that serves moderately-priced food in a casual atmosphere...
restaurants, mostly located in the
United States
United States
The United States of America is a federal constitutional republic comprising fifty states and a federal district...
and
Canada
Canada
Canada is a North American country consisting of ten provinces and three territories. Located in the northern part of the continent, it extends from the Atlantic Ocean in the east to the Pacific Ocean in the west, and northward into the Arctic Ocean...
. Chili's is currently owned by
Brinker International
Brinker International
Brinker International, Inc. , is the parent company of Chili's and Maggiano's Little Italy.-History:It was founded in 1975 as Chili's Bar and Grill, purchased by restaurateur Norman E. Brinker in 1983 and rechristened Brinker International in 1990; it now has more than 1,500 restaurants worldwide...
, which also owns
Maggiano's Little Italy
Maggiano's Little Italy
Maggiano's Little Italy is an Italian-style chain of casual dining restaurants with locations throughout the United States, Mexico, Canada, and Northern Ireland founded in Chicago's River North neighborhood in 1991 by Richard Melman's Lettuce Entertain You and named for Melman's late partner,...
.
History
Chili's first location, a converted postal station on Greenville Avenue in Dallas,
Texas
Texas
Texas is the second largest U.S. state by both area and population, and the largest state by area in the contiguous United States.The name, based on the Caddo word "Tejas" meaning "friends" or "allies", was applied by the Spanish to the Caddo themselves and to the region of their settlement in...
, opened in 1975 (this location moved to a new building near the same site in 1981, and was shut down in 2007). Lavine's concept was to create an informal, full-service dining restaurant with a menu featuring different types of hamburgers offered at an affordable price. The brand proved successful, and by the early 1980s there were 28 Chili's locations in the region, all featuring similar Southwest decor.
In 1983, Lavine sold the company to restaurant executive
Norman E. Brinker
Norman E. Brinker
Norman Eugene Brinker was a prominent restaurateur who was responsible for the creation of new business concepts within the restaurant field, such as the salad bar.-Biography:He was born on June 3, 1931...
, formerly of the Pillsbury restaurant group that owned Bennigans. Chili's now has locations in all 50
U.S. state
U.S. state
A U.S. state is any one of the 50 federated states of the United States of America that share sovereignty with the federal government. Because of this shared sovereignty, an American is a citizen both of the federal entity and of his or her state of domicile. Four states use the official title of...
s, 30 international locations and two territories.
Menu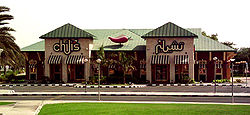 Chili's serves
American food
Cuisine of the United States
American cuisine is a style of food preparation originating from the United States of America. European colonization of the Americas yielded the introduction of a number of ingredients and cooking styles to the latter...
influenced by Tex-Mex cuisine. They also offer a
veggie burger
Veggie burger
A veggie burger is a hamburger-style patty that does not contain meat. The patty of a veggie burger may be made, for example, from vegetables, textured vegetable protein , legumes, nuts, dairy products, mushrooms, wheat, or eggs....
(non vegan) that is supplied by the Kellogg Company.
Jingle
"Chili's (Welcome to Chili's!)" is an advertising jingle used in Chili's Restaurant commercials to advertise the restaurant's line of baby back ribs. The ad features a
doo-wop
Doo-wop
The name Doo-wop is given to a style of vocal-based rhythm and blues music that developed in African American communities in the 1940s and achieved mainstream popularity in the 1950s and early 1960s. It emerged from New York, Philadelphia, Chicago, Baltimore, Newark, Pittsburgh, Cincinnati and...
quartet singing
a cappella
A cappella
A cappella music is specifically solo or group singing without instrumental sound, or a piece intended to be performed in this way. It is the opposite of cantata, which is accompanied singing. A cappella was originally intended to differentiate between Renaissance polyphony and Baroque concertato...
. The song was written by Guy Bommarito and produced by Tom Faulkner Productions for GSD&M Advertising of
Austin, Texas
Austin, Texas
Austin is the capital city of the U.S. state of :Texas and the seat of Travis County. Located in Central Texas on the eastern edge of the American Southwest, it is the fourth-largest city in Texas and the 14th most populous city in the United States. It was the third-fastest-growing large city in...
. Faulkner sings both "I want my baby back, baby back, baby back...", as well as the melodic theme. The deep "Bar-B-Q Sauce" was sung by famed New York bass vocalist, Willie McCoy.
Advertising Age
Advertising Age
Advertising Age is a magazine, delivering news, analysis and data on marketing and media. The magazine was started as a broadsheet newspaper in Chicago in 1930...
magazine named the song first on its list of "10 songs most likely to get stuck in your head" in 2004.
In the sitcom
Scrubs
Scrubs (TV series)
Scrubs is an American medical comedy-drama television series created in 2001 by Bill Lawrence and produced by ABC Studios. The show follows the lives of several employees of the fictional Sacred Heart, a teaching hospital. It features fast-paced screenplay, slapstick, and surreal vignettes...
,
Ted Buckland
Ted Buckland
Theodore "Ted" Buckland, Esq., most commonly referred to as Ted Buckland , is a fictional character played by Sam Lloyd in Bill Lawrence series Scrubs and Cougar Town, and the only character to appears in both series.Created for Scrubs, Ted is the depressive, suicidal and incompetent lawyer of the...
's
a cappella
A cappella
A cappella music is specifically solo or group singing without instrumental sound, or a piece intended to be performed in this way. It is the opposite of cantata, which is accompanied singing. A cappella was originally intended to differentiate between Renaissance polyphony and Baroque concertato...
group "The Worthless Peons" sing the jingle on a number of occasions: once to celebrate
Carla's
Carla Espinosa
Carla Espinosa, RN is a fictional character in the American comedy-drama Scrubs, portrayed by Judy Reyes.Carla has appeared in every episode during the first eight seasons except three Season 8 episodes, "My Happy Place", "My Cookie Pants" and "My Full Moon"...
pregnancy (it was the only song they knew with the word "baby" in it), and again to "torture" one of Dr. Cox's employees. In the latter instance, they repeat the bridge incessantly, never saying "ribs".
Chili's has made several appearances on the
NBC
NBC
The National Broadcasting Company is an American commercial broadcasting television network and former radio network headquartered in the GE Building in New York City's Rockefeller Center with additional major offices near Los Angeles and in Chicago...
series
The Office
. In the episode "The Client" Michael Scott switches an important business meeting from a hotel to the local Chili's, which leads to a rendition of the "Baby Back Ribs" jingle. He also hosted the "Dundie" Awards at the Chili's in the episode "
The Dundies
The Dundies
"The Dundies" is the second season premiere of the American comedy television series The Office—the show's seventh episode overall. Written by Mindy Kaling and directed by Greg Daniels, who is also a producer for the show, the episode originally aired in the United States on September 20, 2005 on...
", and in the episode "Halloween" Michael attempts to give a Chili's gift certificate to a recently laid off employee, which he rips up.
In 2008, the chain aired parody ads for "P. J. Bland's", a fictional restaurant chain with cardboard foods.
Global locations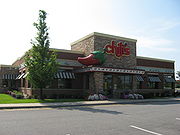 (Taiwan) (Gone into Administration)
Legal problems
In October 2008, Chili's
Australia
Australia
Australia , officially the Commonwealth of Australia, is a country in the Southern Hemisphere comprising the mainland of the Australian continent, the island of Tasmania, and numerous smaller islands in the Indian and Pacific Oceans. It is the world's sixth-largest country by total area...
was prosecuted and fined $300,000 by the NSW Office of Industrial Relations for underpaying staff, pressuring employees to sign an
Australian workplace agreement
Australian Workplace Agreement
Australian workplace agreements were formalized individual agreements negotiated by the boss and employee. Employers could offer "take it or leave it" AWAs as a condition of employment. They were registered by the employment advocate and did not require a dispute resolution procedure. These...
and failing to pay $45,000 in owed wages by a deadline set by the Office of Industrial Relations. In the same year, Chili's announced that it would be closing all of its Australian branches.
In June 2011, a branch of Chili's in Abu Dhabi was shut down by the Food Control Authority for violating hygiene standards.
External links