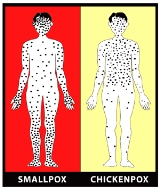 Chickenpox
Chickenpox
or
chicken pox
is a highly
contagious
Infectious disease
Infectious diseases, also known as communicable diseases, contagious diseases or transmissible diseases comprise clinically evident illness resulting from the infection, presence and growth of pathogenic biological agents in an individual host organism...
illness caused by primary
infection
Infection
An infection is the colonization of a host organism by parasite species. Infecting parasites seek to use the host's resources to reproduce, often resulting in disease...
with
varicella zoster virus
Varicella zoster virus
Varicella zoster virus is one of eight herpes viruses known to infect humans . It commonly causes chicken-pox in children and Herpes zoster in adults and rarely in children.-Nomenclature:...
(VZV). It usually starts with vesicular skin
rash
Rash
A rash is a change of the skin which affects its color, appearance or texture. A rash may be localized in one part of the body, or affect all the skin. Rashes may cause the skin to change color, itch, become warm, bumpy, chapped, dry, cracked or blistered, swell and may be painful. The causes, and...
mainly on the body and head rather than at the periphery and becomes itchy, raw pockmarks, which mostly heal without scarring. On examination, the observer typically finds lesions at various stages of healing.
Chickenpox is an
airborne disease
Airborne disease
Airborne diseases refers to any diseases which are caused by pathogenic microbial agents and transmitted through the air. These viruses and bacteria can be aerosolized through coughing, sneezing, laughing or through close personal contact...
spread easily through coughing or sneezing of ill individuals or through direct contact with secretions from the rash.