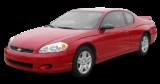 Chevrolet Monte Carlo
The Chevrolet Monte Carlo was an American-made two-door coupe introduced for model year 1970, and manufactured over six generations through model year 2007. It was marketed as a personal-luxury coupe through most of its history, with the last model version being classified as a full-sized coupe. When it was discontinued in 2007, it had outlived many competitors that were either discontinued many years earlier or changed in concept to either a four-door sedan or small sport coupe.
The Monte Carlo endured six design generations.