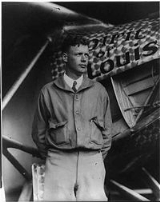 Charles Lindbergh
Charles Augustus Lindbergh (February 4, 1902 – August 26, 1974) (nicknamed "Slim", "Lucky Lindy", and "The Lone Eagle") was an American aviator, author, inventor, explorer, and social activist.
Lindbergh, a 25-year-old
U.S. Air Mail
Airmails of the United States
Airmails of the United States or U.S. Air Mail relates to the servicing of flown mails by the U.S. postal system within the United States, its possessions, and/or territories, marked as "Via Air Mail" , appropriately franked, and afforded any then existing class or sub-class of U.S...
pilot, emerged from virtual obscurity to almost instantaneous world fame as the result of his
Orteig Prize
Orteig Prize
The Orteig Prize was a $25,000 reward offered on May 19, 1919, by New York hotel owner Raymond Orteig to the first allied aviator to fly non-stop from New York City to Paris or vice-versa. On offer for five years, it attracted no competitors...
-winning solo
non-stop flight
Non-stop flight
A non-stop flight, especially in the aviation industry, refers to any flight by an aircraft which does not involve any intermediate stops. A "direct flight" is not the same as a "non-stop flight"...
on May 20–21, 1927, from Roosevelt Field located in
Garden City
Garden City, New York
Garden City is a village in the town of Hempstead in central Nassau County, New York, in the United States. It was founded by multi-millionaire Alexander Turney Stewart in 1869, and is located on Long Island, to the east of New York City, from mid-town Manhattan, and just south of the town of...
on New York's
Long Island
Long Island
Long Island is an island located in the southeast part of the U.S. state of New York, just east of Manhattan. Stretching northeast into the Atlantic Ocean, Long Island contains four counties, two of which are boroughs of New York City , and two of which are mainly suburban...
to
Le Bourget Field
Paris – Le Bourget Airport
Paris – Le Bourget Airport is an airport located in Le Bourget, Bonneuil-en-France, and Dugny, north-northeast of Paris, France. It is now used only for general aviation as well as air shows...
in Paris, France, a distance of nearly 3600 smi, in the single-seat, single-engine
monoplane
Monoplane
A monoplane is a fixed-wing aircraft with one main set of wing surfaces, in contrast to a biplane or triplane. Since the late 1930s it has been the most common form for a fixed wing aircraft.-Types of monoplane:...
Spirit of St. Louis
Spirit of St. Louis
The Spirit of St. Louis is the custom-built, single engine, single-seat monoplane that was flown solo by Charles Lindbergh on May 20–21, 1927, on the first non-stop flight from New York to Paris for which Lindbergh won the $25,000 Orteig Prize.Lindbergh took off in the Spirit from Roosevelt...
.
1927 At 07:52 Charles Lindbergh takes off from Roosevelt Field in Long Island, New York, on the world's first solo non-stop flight across the Atlantic Ocean. He touched down at Le Bourget Field in Paris at 22:22 the next day.
1927 Charles Lindbergh touches down at Le Bourget Field in Paris, completing the world's first solo nonstop flight across the Atlantic Ocean.
1927 Aviator Charles Lindbergh receives a ticker-tape parade down 5th Avenue in New York City.
1928 Charles Lindbergh is presented the Medal of Honor for the first solo trans-Atlantic flight.
1932 The son of Charles Lindbergh, Charles Augustus Lindbergh III, is kidnapped.
1932 Ten weeks after his abduction Charles Jr., the infant son of Charles Lindbergh is found dead in Hopewell, New Jersey, just a few miles from the Lindberghs' home.
1935 Bruno Hauptmann goes on trial for the murder of Charles Lindbergh, Jr., infant son of aviator Charles Lindbergh
1935 A jury in Flemington, New Jersey finds Bruno Hauptmann guilty of the 1932 kidnapping and murder of the Lindbergh baby, the son of Charles Lindbergh.
1936 Bruno Richard Hauptmann is executed for the kidnapping and death of Charles Augustus Lindbergh II, the baby son of pilot Charles Lindbergh.
1941 Charles Lindbergh testifies before the U.S. Congress and recommends that the United States negotiate a neutrality pact with Adolf Hitler.
Shall we now give up the independence we have won, and crusade abroad in a utopian attempt to force our ideas on the rest of the world; or shall we use air power, and the other advances of modern warfare, to guard and strengthen the independence of our nation?

A speech on "Air Power" (29 August 1941)
What the German has done to the Jew in Europe, we are doing to the Jap in the Pacific.

Journal entry (21 July 1944)
It was a love of the air and sky and flying, the lure of adventure, the appreciation of beauty. It lay beyond the descriptive words of men — where immortality is touched through danger, where life meets death on equal plane; where man is more than man, and existence both supreme and valueless at the same time.

Thoughts on his first parachute jump in The Spirit of St Louis (1953)
Life — a culmination of the past, an awareness of the present, an indication of a future beyond knowledge, the quality that gives a touch of divinity to matter.

"Is Civilization Progress?" in Reader's Digest (July 1964)