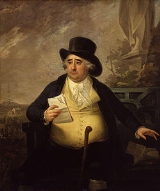 Charles James Fox
Charles James Fox
PC (24 January 1749 – 13 September 1806), styled
The Honourable
from 1762, was a prominent
British
Kingdom of Great Britain
The former Kingdom of Great Britain, sometimes described as the 'United Kingdom of Great Britain', That the Two Kingdoms of Scotland and England, shall upon the 1st May next ensuing the date hereof, and forever after, be United into One Kingdom by the Name of GREAT BRITAIN. was a sovereign...
Whig
British Whig Party
The Whigs were a party in the Parliament of England, Parliament of Great Britain, and Parliament of the United Kingdom, who contested power with the rival Tories from the 1680s to the 1850s. The Whigs' origin lay in constitutional monarchism and opposition to absolute rule...
statesman
Statesman
A statesman is usually a politician or other notable public figure who has had a long and respected career in politics or government at the national and international level. As a term of respect, it is usually left to supporters or commentators to use the term...
whose parliamentary career spanned thirty-eight years of the late 18th and early 19th centuries and who was particularly noted for being the arch-rival of
William Pitt the Younger
William Pitt the Younger
William Pitt the Younger was a British politician of the late 18th and early 19th centuries. He became the youngest Prime Minister in 1783 at the age of 24 . He left office in 1801, but was Prime Minister again from 1804 until his death in 1806...
. The son of an old, indulgent Whig father, Fox rose to prominence in the
House of Commons
House of Commons of Great Britain
The House of Commons of Great Britain was the lower house of the Parliament of Great Britain between 1707 and 1801. In 1707, as a result of the Acts of Union of that year, it replaced the House of Commons of England and the third estate of the Parliament of Scotland, as one of the most significant...
as a forceful and eloquent speaker with a notorious and colourful private life, though his opinions were rather conservative and conventional.
The worst of revolutions is a restoration.

Speech to the House of Commons (December 10, 1785)
How much the greatest event it is that ever happened in the world! and how much the best!

On the fall of the Bastille