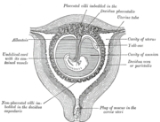 Cervix
The
cervix
is the lower, narrow portion of the
uterus
Uterus
The uterus or womb is a major female hormone-responsive reproductive sex organ of most mammals including humans. One end, the cervix, opens into the vagina, while the other is connected to one or both fallopian tubes, depending on the species...
where it joins with the top end of the
vagina
Vagina
The vagina is a fibromuscular tubular tract leading from the uterus to the exterior of the body in female placental mammals and marsupials, or to the cloaca in female birds, monotremes, and some reptiles. Female insects and other invertebrates also have a vagina, which is the terminal part of the...
. It is cylindrical or conical in shape and protrudes through the upper anterior vaginal wall. Approximately half its length is visible with appropriate medical equipment; the remainder lies above the vagina beyond view.
The portion projecting into the vagina is referred to as the
portio vaginalis
Vaginal portion of cervix
The vaginal portion of the cervix projects free into the anterior wall of the vagina between the anterior and posterior fornices vaginae.On its rounded extremity is a small, depressed, somewhat circular aperture, the external orifice of the uterus, through which the cavity of the cervix...
or ectocervix.