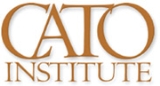 Cato Institute
The
Cato Institute
is a
libertarian
Libertarianism
Libertarianism, in the strictest sense, is the political philosophy that holds individual liberty as the basic moral principle of society. In the broadest sense, it is any political philosophy which approximates this view...
think tank
Think tank
A think tank is an organization that conducts research and engages in advocacy in areas such as social policy, political strategy, economics, military, and technology issues. Most think tanks are non-profit organizations, which some countries such as the United States and Canada provide with tax...
headquartered in Washington, D.C. It was founded in 1977 by Edward H. Crane, who remains president and CEO, and Charles Koch, chairman of the board and chief executive officer of the conglomerate
Koch Industries, Inc.
Koch Industries
Koch Industries, Inc. , is an American private energy conglomerate based in Wichita, Kansas, with subsidiaries involved in manufacturing, trading and investments. Koch also owns Invista, Georgia-Pacific, Flint Hills Resources, Koch Pipeline, Koch Fertilizer, Koch Minerals and Matador Cattle Company...
, the largest privately held company by revenue in the United States.
The Institute's stated mission is "to increase the understanding of public policies based on the principles of limited government, free markets, individual liberty, and peace.